Industry Insights
The global zeolite molecular sieve market is anticipated to grow on account of its increasing demand in manufacturing detergent and catalysts. In addition, it is also extensively used as an absorbent on account of its sieve-like structure. These sieves are used for separation and adsorption across numerous industries including detergents, oil & gas, and water treatment. Growing demand for detergents on account of rising hygiene awareness among consumers is expected to drive demand as a builder in liquid and powder detergents.
Global zeolite molecular sieve market, by application, 2012 - 2022 (Kilo Tons)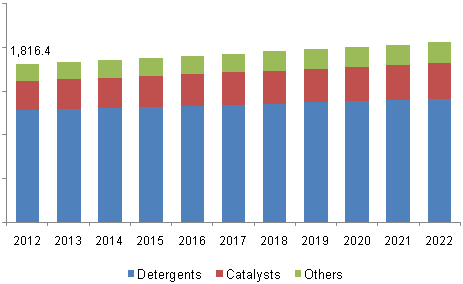 In addition, expansion of oil & gas industries coupled with growing demand for catalysts that provide higher yield is expected to augment zeolite molecular sieve market over the next seven years. Furthermore, increasing water treatment activities for treating waste water as well as purification of water is anticipated to propel product demand as adsorbents. However, the presence of enzymes, metals and other chemical compounds as a substitute to zeolite catalysts is expected to hamper market growth. The emergence of silver infused sieves as an antimicrobial is expected to open new opportunities for market growth over the forecast period.
Application Insights
Detergents were the largest application segment of zeolite molecular sieve market in 2014, with extensive use as binders in detergents. Growing demand for detergents on account of rising consumer awareness regarding hygiene is expected to subsequently augment market growth. Catalysts are anticipated to be the fastest growing segment within the global zeolite molecular sieve industry owing to the expansion of oil & gas industries. Growing demand for high-performance catalysts which yield higher output is expected to drive market growth. Other applications include its use as an adsorbent for waste water treatment and separator in the gas industry. The growth of the gas and waste water treatment industries is expected to drive market demand over the forecast period.
Regional Insights
European zeolite molecular sieve market dominated global demand in 2014, a trend that is anticipated to continue over the forecast period. Regulatory inclination towards the restriction of green house gas emissions coupled with a robust manufacturing base of refrigerants and detergents in Germany, France, Netherlands, and Belgium is anticipated to fuel growth. In 2009, the European Commission passed a directive under the name, Renewable Energy Directive (RED), mandating 20% of EU energy production from biomass by 2020. This policy is expected to augment the production of bio-based chemicals. Asia-Pacific is expected to witness the fastest growth within the industry over the forecast period on account of growing demand for detergents and catalysts. Rising focus on environmental protection by numerous governments has resulted in a growing utilization of zeolites for water purification and purifying gas streams. Increasing infrastructure expenditure in countries including China and India is likely to enhance market growth owing to increasing use in producing lightweight construction material as well as being an important ingredient in producing asphalt concrete mix. Detergents were the largest application segment within the Asia Pacific zeolite molecular sieve market in 2014 accounting for over 70% of volume share. Latin America is anticipated to witness above average growth on account of rapid industrialization. Catalysts were the largest application segment of the Latin America zeolite molecular sieve market accounting for over 50% of the revenue share.
Competitive Insights
Tosoh Corporation, Arkema, BASF, UOP, Grace Catalysts Technologies, Zeox Corporation, Chemiewerk Bad Köstritz and Union Showa K K. dominated global zeolite molecular sieve market share in 2014. Chemiewerk Bad Köstritz, Arkema and Union Showa K K. are integrated players, engaged in the production of at least one primary raw material which is captively utilized for manufacturing sieves. Other companies such as Tosoh Corporation and BASF are chemical and material manufacturing companies, which offer a wide range of other products. These companies have a limited product portfolio for zeolites, as they cater to specific industries. For instance, Tosoh Incorporation offers two grades one of which is used as an adsorbent for gases generated during semiconductor manufacturing processes and impurities during polymerization processes. The other grade is used in solvents bioethanol dehydration, drying of refrigerants and cracking gas, brake pads, cosmetics, removal of moisture in the polymerization. BASF manufactures only molecular sieve adsorbents which are used in the oil & gas industry. Fraunhofer e.V, a research organization based in Germany, announced that it was developing a zeolite for consumption in the biogas industry to store energy for a long term purpose.