Industry Insights
The global temperature sensitive coating market size was USD 268.0 million in 2015. Rising demand from household/decorative, pharmaceutical, and industrial sector is anticipated to drive the market growth over the next eight years.
Increasing R&D initiatives to develop temperature-sensitive paints for niche applications such as road traffic marking is expected to raise demand in near future. Temperature sensitive coating is used in thermometer labels including forehead, fridge, nursery and aquarium thermometers. Growing application scope in household/decorative sector particularly in emerging economies such as China, India, Vietnam and Brazil owing to rising consumer disposable income is anticipated to drive the market in future.
Favorable government norms such as IATA Temperature Control Regulations regarding heat modification in the transportation of pharmaceuticals mandates labels use in shipments. The factor above is anticipated to raise product demand over the forecast period.
High product cost coupled with rising need for temperature sensitive, accurate products at cost-effective prices is projected to hinder market growth over the forecast period. Liquid crystals are employed in temperature sensitive coating, including room & refrigeration thermometers, forehead thermometers, and food quality indicators. This technology may be used in a variety of application; however, their demand is currently low owing to highly specialized manufacturing techniques.
Rising leuco dye demand in various applications including manufacturing & process control, consumer packaging, advertising, security printing and product labels is anticipated to raise product demand in near future. Some niche applications where leuco dyes are used include promotional items, plastics & mugs, textiles, and toys.
U.S. temperature sensitive coating market revenue estimates and forecast, by product, 2014-2024 (USD Million)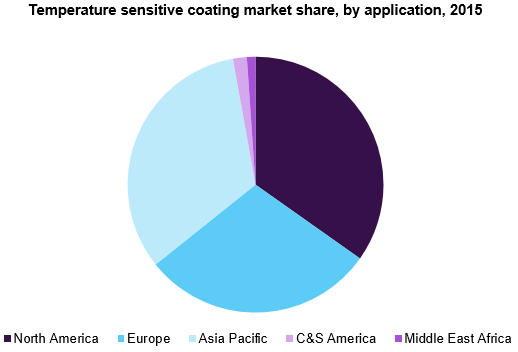 Rising demand for irreversible temperature sensitive products in various applications such as metalworking, annealing, welding and riveting for quality purposes is expected to raise product demand in industrial applications.
Product Insights
Reversible temperature sensitive coating was the largest product segment and accounted for 68.6% of the global market in 2015. High demand from the application industries such as household/ decorative and pharmaceuticals may be attributed to the significant market share. Reversible products are manufactured by various technologies including leuco dye and liquid crystal.
Leuco dye technology is preferred over liquid crystal owing to lower costs and broad application scope including quality control, process control, packaging, labeling, graphics, and advertising. This technology is used where larger temperature differences are present, and accuracy is less significant.
Liquid crystals possess acute thermal sensitivity and are employed in thermometers where the temperature difference is as small as 0.2ºF.Chemical indicators are used as one-time products and undergo a phase change when they reach their desired temperature. These coatings are mainly used for providing evidence of attained temperature and monitoring applications.
Application Insights
Household/decorative was the largest application segment in 2015 and is estimated to grow at a CAGR of 6.8% from 2016 to 2024. The segment is projected to witness significant growth on account of increasing application scope for decorative products such as heat sensitive mugs & pencils and color changing toys. In addition, growing product demand from emerging economies such as India, China, and Vietnam is anticipated to drive the market growth over the forecast period.
Product demand in the healthcare sector is projected to witness high growth over the forecast period and is expected to reach USD 64.3 million by 2024.Favorable government regulations regarding handling and transportation of pharmaceutical products are anticipated to drive product demand in near future. For instance, IATA Temperature Control Regulations caters to temperature management issues in the pharmaceutical industry. Such regulations have made the use of product labels mandatory in pharmaceutical shipments.
Industrial is anticipated to be the fastest growing application segment, growing at an estimated CAGR of 7.0% from 2016 to 2024. Rising product demand in a variety of industrial applications including crack detection, the colouration of paper and brand protection is anticipated to drive the market over the forecast period. In addition, innovations in the automotive industry such as color changing cars by Lamborghini are projected to increase market penetration in this segment over the next eight years.
Regional Insights
Europe dominated the global temperature sensitive coating market and accounted for over 35% of the global demand in 2015.This trend is anticipated to continue over the forecast period. High consumer disposable income coupled with the need to decorate household may be attributed to the current high market share.
North America is expected to witness stagnant growth at a CAGR of 6.6% from 2016 to 2024. North American market is characterized by strict regulations in the healthcare sector. Rising pharmaceutical industry is anticipated to raise temperature sensitive labels demand in the region over the forecast period.
Asia Pacific is expected to witness the highest growth over the forecast period owing to rising product demand in household, pharmaceutical and industrial sector especially in emerging economies including China, Indonesia, Vietnam, and India. In addition, technological innovation coupled with rising demand for accurate temperature sensitive products is expected to drive the market in the region.
Competitive Insights
Key players operating in the global market include LCR Hallcrest, CAPCO, LA-CO Industries, B&H Colour Change, TIP Temperature Products, SFXC, LakfbriekKorthals BV and Good Life Innovations, Ltd.Currently, few companies are operating in the market, and new players are anticipated to emerge in future on account of growing application scope of the product. As the product prices are high, players are expected to gain competitive advantage based on their pricing.