Industry Insights
The global Therapeutic Bed Market size was valued at USD 2.6 billion in 2015 and is expected to grow at a CAGR of 5.3% over the next eight years. The prevalence of conditions, such as cancer, heart disorders, neurological disorder, and gynecological disorders, is on a rise. The treatment of these disorders includes hospitalization and long-term care at certain times, facilitating the demand for Durable Medical Equipment (DME), including therapeutic beds.
The introduction of technological advancements on the ground of portability, patient comfort, utilities, and cost-effectiveness is projected to fuel market growth. Technological innovations, such as adjustable side railings, fiber-made body, automatic height adjustability; multi-storage facility, and lightness are some notable technological advancements.
North America clinical Therapeutic Bed Market, by product, 2014 - 2024 (USD Million)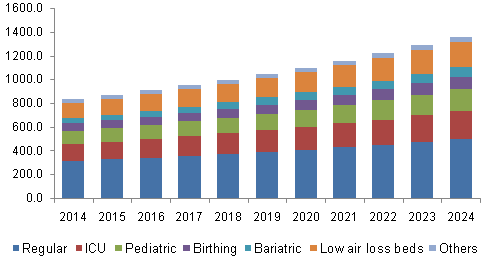 Population aged over 60 years are prone to neurological diseases, cardiac problems, cancers, and spinal injuries. They also have lower immunity levels. The growing prevalence of this population group is expected to boost demand over the forecast period.
Product Insights
The product segmentation is done on the basis of the utility of the therapeutic beds. It has been classified as clinical, household beds, and accessories. Over the forecast period, accessories are anticipated to witness a lucrative growth owing to the volume of repetitive purchase and the introduction of various mobility assisting products, such as railings and slings and technological advancements, in their usage.
In terms of revenue, the clinical bed segment contributes over 30.0% of share in 2015and is expected to dominate over the forecast period due to the increasing demand by hospitals owing to the expansion and infrastructural changes planned by these hospitals.
Type Insights
On the basis of type, the Therapeutic Bed Market has been segmented into acute care, critical care, and long-term care. As of 2015, acute care beds held about 60.0% of the market share. This can be attributed to their multifunctional applications such as manage labor (maternity), provide treatment to the injury, reduce the severity of mental illness, protect against exacerbation or complications, and perform diagnostic or therapeutic procedures.
However, the critical care segment is anticipated to witness significant growth over the forecast period. The growing prevalence of chronic conditions, such as coronary heart diseases, which at a certain time require surgical removal and critical care, is anticipated to help this segment grow over the forecast period.
Regional Insights
Europe dominated the industry in terms of revenue share in 2015 at over 32.0%. This can be attributed to extensive public funding in the healthcare system, which helped to bring health settings such as hospitals and primary care centers. Moreover, the growing prevalence of various chronic diseases in this region, sophisticated healthcare facilities, and favorable reimbursement policies have led to an increased hospital admission rate, which in turn is expected to boost the usage rates in this region.
Asia Pacific is expected to witness a lucrative CAGR of over 6.0% over the forecast period. Key factors attributed to the market growth include supportive government initiatives to give healthcare access to the huge population. This is anticipated to deploy various public and private hospitals and other healthcare settings, boosting the demand for these products. For instance, LifeSeeds-The China Rural Health Initiative (CRHI) is expected to provide healthcare access to unattended parts of china, thus opening up avenues for industry players.
Competitive Market Share Insights
Key players in this industry include ArjoHuntleigh, Bakare Beds Limited, Invacare Corporation, Hill Rom, Inc., Stryker Corporation, Gendron, Inc., Hard Manufacturing Co., GF Health Products, Sunrise Medical, and Medline Industries.
Advanced product launches and strategic collaborations are notable initiatives in the industry. For instance, in May 2015, ArjoHuntleigh announced that the company launched Citadel Patient Care System, which has better quality mattresses with high-pressure redistribution. 
Analyst Perspective
The study is inclusive of various products and types of therapeutic beds. The estimates and forecasts are based on multiple approaches and models. Commodity flow is one such approach utilized in the estimation, wherein the global numbers are calculated by analyzing product demand, penetration, and the regional presence.
The validation of estimates was done by primary interviews. Insights from the Key Opinion Leader (KOL), hospital managers, sales managers, and other technicians were used to finalize the market size.
This industry is dynamic and is backed by extensive R&D initiatives. A few top market players are dominating the market, which defines the oligopolistic nature of the industry. The regional scope of the report is limited to assure the proportion of the study; however, it can be further customized as per the requirement.