Industry Insights
The global thermal imaging market size was valued at USD 3.2 billion in 2012. High demand across the commercial as well the as residential sector is expected to be a key growth factor. Mass production has led to the availability of cost-effective cameras. Surge in demand across a diverse range of application areas is the primary factor expected to drive the thermal imaging systems market over the forecast period.
North America thermal imaging market by application, 2012 - 2020 (USD Million)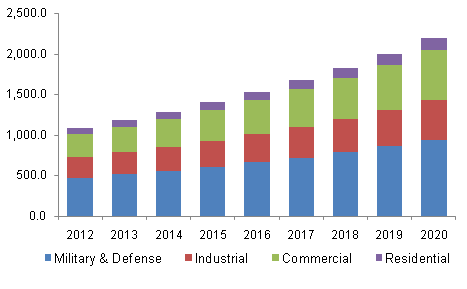 Technology innovation has led to the development of microbolometers, which is expected to provide several growth opportunities over the forecast period. Further, the aforementioned development has resulted into increased commercialization of thermal imagers, and is anticipated to spur the demand.
Growing demand in security and surveillance applications across private and public environment is expected to drive thermal imaging market growth. This may be attributed to the need for increased security among citizens and employees. Rapid urbanization is expected to impose increased demand for additional advanced security solutions. Rising investment in infrastructural systems along with surging demand for professional surveillance is expected to positively impact thermal imaging systems market growth over the forecast period.
The market may experience a setback owing to decline in defense budget in several countries such as the U.S., Canada, Italy, and France. However, high demand across several commercial applications offers potential avenues for thermal imaging camera market.
Application Insights
The technology is primarily used in commercial, residential, military & defense, and industrial applications. In an industrial setting, thermal imagers enable monitoring of critical manufacturing processes to detect hot spots in electrical or mechanical installations. Commercial applications mainly comprise airport security and building diagnosis. Further, surging demand across numerous security applications is also expected to positively impact the demand in future. The residential sector is expected to witness an upsurge owing to high production penetration and availability of low cost devices. The technology helps reduce time-consuming and expensive invasive investigations, and is used extensively in conducting energy audits, detection of moisture in ceilings, walls, or roofs, and plumbing leaks or blockages.
Regional Insights
On account of high demand for thermal imaging devices across several law enforcement activities, North America thermal imaging market is expected to emerge as the dominant region. Further, growth across both industrial and commercial sectors is expected to drive the product demand over the forecast period. Growing demand in surveillance and security applications is anticipated to fuel the demand in Europe. Asia-Pacific is expected to witness growth owing to rising defense budget.
Thermal Imaging Market Share Insights
Major market players include DRS Technologies Inc., FLIR Systems Inc., BAE Systems Inc., and Raytheon Company. The market is characterized by constant price wars and is highly competitive in nature. To sustain competition and preserve thermal imaging systems market share, the high significance is laid on developing technologically advanced and cost-effective products. Further, product differentiation is also a part of key business growth strategy. For example, FLIR Systems Inc. introduced smartphones with thermal imaging ability, thereby expanding its product portfolio. Other industry participants include Ulis, Testo AG, Nippon Avionics, Safran, Lockheed Martin, Sofradir EC, Inc., Thermoteknix Systems Ltd., Axis Communications, and Honeywell.
Manufacturers focus on global deployment, innovation of new technologies and unique products, ability to design for large volumes, and at the same time lower the production cost, rapid product development cycles, enhanced customer service, and controlling multiple production inputs through vertically integrated operations. There exist a high degree of vertical integration between the suppliers and the manufacturers.
Vertical integration helps companies maintain a control over certain key component technologies. Additionally, the integrated approach helps manufacturers lower cost and improve functionality of key components, thereby adding value to its supply chain operations. This approach also helps minimize the dependence on third-party supplier for critical components allowing companies to deliver products in a more timely and cost-effective manner. For instance, FLIR system has built a vertically integrated manufacturing model in order to optimize its manufacturing output and reduce its dependence on third-party vendors for supply of critical components. This integrated approach helps the company lower its cost and at the same time enhance the functionality of its product-critical components.
Recent Industry Developments
In September 2019, FLIR Systems, Inc. have announced FLIR T860, the newest addition to their T-Series line. It will be the first one to feature an onboard Inspection Route software, which is great for streamlining critical aspect inspection, which involves manufacturing equipment, distribution lines, components of power substation, or the electrical and mechanical systems in the facility. This will allow thermal inspectors to create survey reports without much hassle and spending less time in the field.
Optical Gas Imaging (OGI) technology is expected to help companies have a better view of equipment leakage, which would enable them to adhere to regulatory guidelines as well as minimizing product losses. Anadarko Petroleum Corporation, which is now a part of Occidental Petroleum, has established FLIR camera inspections at all its onshore facilities by 2018.
In March 2019, Seek Thermal, which specializes in thermal imaging products and sensors, joined hands with the Los Angeles Fire Department, providing each one of the 3,350 firefighters the RevealFirePRO, a device that enables them to do quick primary searches, and locate victims faster during crunch times, while also helping in safe evacuation.
Caterpillar, which has been synonymous with construction equipment and machinery, expanded its smartphone product line in 2018 with the launch of Cat S61, in collaboration with the Bullitt Group.