Industry Insights
The global Third Party Logistics (3PL) market size was estimated at USD 672.38 billion in 2015. Variation in transportation capabilities and increased shipping demand have enabled service providers to enhance their supply chain activities. The third party logistics market is expected to progress as service providers are moving towards the use of automated freight payment and audit services to reduce costs. These providers are gaining competitive advantages by reducing capital expenditure (CAPEX), mitigating risks, managing inventory, and focusing on the core competencies of their business operations.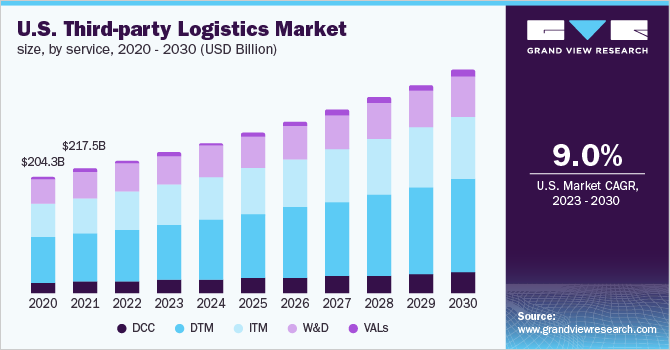 The emergence of Big Data and availability of industry-specific logistics services are expected to be the key driving factors boosting the industry growth. Lack of necessary internal control has resulted in the increase in outsourcing of these services by the middle market companies (including wholesalers and retailers) to overcome the logistic challenges.
The manufacturers and end-use industries in the emerging countries lack the internal control required for addressing logistics challenges. This has provided an impetus to the 3PL industry growth. Additionally, the key vendors are adopting cloud-based Customer Relationship Management (CRM) solutions to enhance the shipper-vendor relationship and reduce the supply chain complexities by providing increased visibility in the process. However, the economic downturn is dampening the interest of 3PL providers in making capital investments.
Moreover, the industry growth is enabling the freight brokers to include freight brokerage and value-added services to their service offerings. The increased need for freight and transportation activities to comply with the government regulations has enabled key players to enhance their supply chain activities for improving services and costs. Several end use industries have implemented the 3PL business model in order to utilize their unused warehouse space and resources.
Automation of logistics services and the growing popularity of IoT-based services are expected to provide new growth avenues over the next few years. Implementation of automatic systems has led to improved logistics performance and increased efficiency. For instance, intelligent warehouse automation enhances efficiency, reduces errors, and improves logistics process. As providers seek ways to maximize their throughput, they are increasingly adoption automation solutions.
Service Insights
The Domestic Transportation Management (DTM) segment captured a market share of over 30% in 2015. Globalization has consequently increased international and domestic trades, resulting in end-users demanding increased efficiency in logistics and transportation activities to fulfil on-time delivery. The efficient management of a purchased transportation process, to reduce complexity & cost, and improve control, regardless of whether the supply chain is international or domestic, is gaining momentum.
The increased supply chain management and continued growth in global economic activity and have led to a substantial increase in demand for international transportation management services. Moreover, the introduction of trade liberalization policies has boosted international trade, thereby propelling the demand for these services. Increase in cross-border logistics activities is further expected to provide significant growth opportunities.
The Value Added Logistics services (VALs) segment is expected to witness the fastest growth rate of 9.5% from 2016 to 2025. These services are becoming attractive opportunities for companies to reduce their spending on transportation and back-office functions such as order taking, warehousing, and packaging.
Dedicated Contract Carriage (DCC) is a fast-growing segment of the trucking and distribution industry. Prominent companies, such as Kroger, Target, and Wal-Mart, use DCC to reduce costs and increase truck capacity. Several major corporations requiring a truck fleet have stepped down from ownership for their trucking operations.
Transport Insights
The 3PL market via roadways was valued at over USD 390 billion in 2015. Growing number of government initiatives and the increasing investments to develop road transport networks to boost freight forwarding have led vendors to adopt road transportation modes. A cohesive aim to develop the logistics infrastructures and growth in new road-concession models are propelling the growth of 3PL services through roadways.
For instance, in 2015, the government of Brazil launched the second phase of the Logistics Investment Program (PIL) to offer concessions for highways, airports, railways, and port investments. Furthermore, a huge opportunity exists in India for increasing the reach of railways and developing national highways.
Service providers have increasingly deployed transport Management Systems (TMS) over the last five years. TMS helps companies in moving freight from the origin to the destination in an efficient, reliable, and cost-effective manner. TMS includes planning, execution, and fleet management solutions. The technology helps companies achieve considerable cost savings by lowering their freight spending. TMS helps in providing real-time dashboards, handling numerous tasks, enhancing transportation efficiency, and enabling better decision-making that cannot be addressed by spreadsheets, faxes, and phones.
End-use Insights
The manufacturing sector held a revenue share of over 19% in 2015. The growing number of manufacturing units in the high-growth economies of Mexico and India has increased outsourcing of logistics activities. Further, several government initiatives are expected to bolster the demand for 3PL services. For instance, Indian government's 'Make In India' initiative has put a strong emphasis on the domestic manufacturing sector, which has triggered the local industry growth.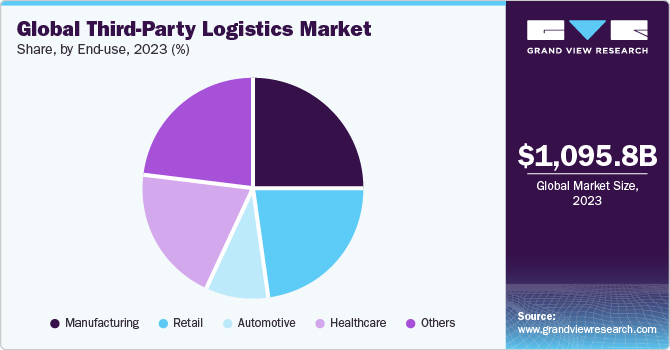 Retailers and manufacturers are ramping up to outsource their logistics operations to the third-party providers in order to cope with the associated challenges. Retailers are adopting 3PL services for data-driven analytical solutions for predictive analytics to manage their fleet, design, and distribution strategies and reduce their inventory management costs.
The demand for 3PL services in the automotive sector was valued at USD 124.32 billion in 2015. Automotive manufacturers are spinning off their internal logistics departments and distribution networks in the wake of adopting these services. Moreover, manufacturers with unused warehouse spaces are establishing their in-house 3PL businesses to maximize the use of assets and cope with the increasing outsourcing trends.
Regional Insights
The Asia Pacific 3PL market captured over 29% of the industry share in 2015. Economic growth in India and China is augmenting the regional growth. Economic revival, GST implementations, and rising e-commerce penetration are key factors contributing to the industry growth in India. Increasing ongoing investments in railways, roads, and airways across the emerging economies of the region are expected to bolster warehousing and logistics demand over the forecast period. Furthermore, continued retail formalization and the establishment of low-cost manufacturing units in the region are offering new growth opportunities for third party service providers.
The North American regional market is anticipated to witness significant growth, owing to the increasing demand for logistics software. The growing investments for visibility and route optimization are expected to trigger the demand for 3PL services in the region. Additionally, the need for tailored transportation and supply chain services for ensuring coordinated movement of goods is boosting the regional growth. Stringent product tracking requirements coupled with the increasing need for cold chain is expected to drive the industry growth positively.
Europe is anticipated to witness slow growth over the forecast period, owing to the increasing concerns regarding labor shortage and talent management issues. The slow growth in Europe is driven by the need for more efficient logistics operations, with the UK spearheading the uptake of these services. However, the sector is expected to revive driven by the strong investor and tenant demand in the regional 3PL sector. Restructuring of supply chain activities and the expanding e-commerce sector is expected to impact the industry growth positively over the next few years.
Third Party Logistics Market Share Insights
The major players include Kuehne + Nagel International AG, DHL, C.H. Robinson Worldwide, UPS Supply Chain Solutions, and FedEx Corporation. 3PL providers are positioning themselves for growth by collaborating with freight payment and audit companies to handle back-office freight payment processing. The 3PL providers are collaborating with regional players, owing to their knowledge of the local market and higher profit margins to lower overhead costs. The key providers are sub-contracting services to these players to maintain their competitiveness.
The industry is highly fragmented with several small participants entering the 3PL arena leading to mergers and acquisitions. Acquisitions coupled with diffused customer concentration enable the 3PL providers to secure add-on offerings to realize growth in new geographies. However, the numbers of acquisitions and mergers activities are expected to slow down, as the industry needs a substantial amount of time to adapt to the tremendous acquisitions that took place in the past few years and focus on organic growth.
key players are compelling innovation in the number of areas such as real-time electronic tracking & communication, route optimization, and incentivized scheduling. The companies are turning to on-demand deliveries, crowd-sourcing solutions, and value-added delivery services. To meet the demand, the providers are leveraging their employees to add value to the shippers and offering them competitive advantage.
Segments Covered in the Report
This report forecasts revenue growth at global, regional, and country levels and provides an analysis on latest industry trends in each of the sub-segments from 2014 to 2025. For the purpose of this study, Grand View Research has segmented the global Third Party Logistics (3PL) market report based on service, transport, end-use, and region:
Service Outlook (Revenue, USD Billion, 2014 - 2025)

Dedicated Contract Carriage (DCC)/Freight forwarding

Domestic Transportation Management (DTM)

International Transportation Management (ITM)

Warehousing & distribution

Value added logistics services

Transport Outlook (Revenue, USD Billion, 2014 - 2025)

Roadways

Railways

Waterways

Airways

End-Use Outlook (Revenue, USD Billion, 2014 - 2025)

Manufacturing

Retail

Healthcare

Automotive

Others

Regional Outlook (Revenue, USD Billion, 2014 - 2025)

North America

Europe

Asia Pacific

China

India

Japan

Australia

Latin America

Middle East and Africa