Increasing rate of injuries and government reimbursement are expected to expand the market over the forecast period
The global trauma and extremities market was valued at USD 8.0 billion in 2015 and is projected to grow at a CAGR of 7.9% over the forecast period. The high growth is attributed to the rising urbanization in the developing countries causing innumerable road accidents and the improving healthcare facilities in these regions.
The percentage of road accidents in the low-income countries is as high as 24% as opposed to 9% observed in the high-income countries. This serves as an attractive opportunity for smaller companies to expand their business into these regions. Local implants are preferred in low-income countries due to their low prices thus adding to the advantages of these devices for the sector players.
North American trauma and extremities market, by Type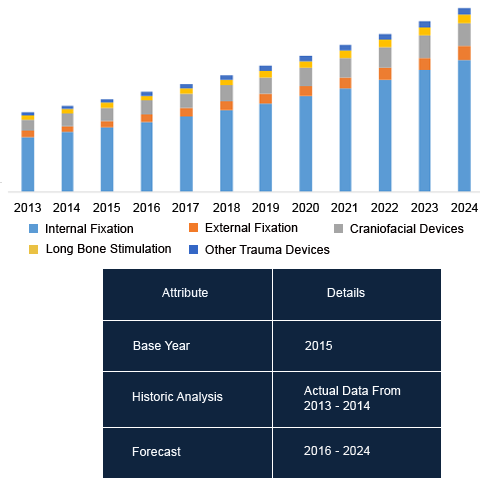 The prevalence of diabetes has risen to 422 million in 2014 and is forecasted to grow rapidly, especially in the middle-income countries. Other complications, such as diabetic foot, also affect a large cohort of diabetes patients. Almost 7% of the diabetics are afflicted with diabetic foot annually, causing 20% of them to be hospitalized. This accounts for USD 13 billion excluding the costs associated with diabetes. Diabetic foot is managed by external fixators thus increasing its popularity. External fixators enable skeletal alignment by providing mechanical stability to structurally deficient bones. Rising prevalence of diabetic foot is expected to lead to an upsurge in the demand for external fixators over the forecast period.
Internal fixation segment dominated the market in 2015
The market is segmented on the basis of type of fixation into external and internal. Internal fixation held a majority share in 2015 owing to the lesser price, fewer scars, broad indications, and absence of casts & fracture blisters. The material used for internal fixators are durable, non-corrosive, and stable. These are also compatible with CT scans and MRI scans. Use of bone grafts is also increasing with the sector players introducing new products to cater to the growing demand. In June 2016, Medtronic obtained a second confirmation from the U.S. FDA for the INFUSE bone graft that was originally approved in 2013. It had reached net sales of USD 1 billion in late 2015 and was approved for two more indications by the FDA.
North America presents the largest regional trauma and extremities market followed by Europe
In 2015, North America accounted for the maximum revenue share. The presence of industry giants, such as DePuy Synthes, Stryker Corporation, Zimmer Biomet Holdings, Inc. and Wright Medical Group, Inc., boosts the market in this region. In 2015, Smith and Nephew recorded 5% growth in the net sales in the U.S. Moreover, Wright Medical Technology, Inc. estimated a market worth USD 300 million for their bone graft, AUGMENT, indicated for foot and ankle fusion.
Asia Pacific is expected to emerge as the fastest growing region over the forecast period. The growing number of road accidents in this region is the key driving factor. Improving healthcare reforms and economic conditions are facilitating the high demand. Also, it is compelling the manufacturers to provide biocompatible implants, which are anatomically closer to their native structure, entailing procedures that are minimally invasive and cost efficient.
In 2015, the Asia Pacific Medical Technology Association was formed by industry giants such as, Baxter, Medtronic, B. Braun Melsungen AG, Stryker, Zimmer Biomet, Johnson & Johnson Services, Inc., Becton, Dickinson and Company, GE Healthcare, Cardinal Health, Koninklijke Philips N.V., Siemens, Boston Scientific Corporation, and Abbott. The sole purpose of this association was to establish a focused platform for medical devices in Asia. It is headquartered in Singapore and the focus lies in developing cost effective products in compliance with government and ethical regulatory frameworks.
The trauma and extremities market is dominated by a few players
Some of the sector players operating in the market include DePuy Synthes, Stryker, Zimmer Biomet, and Medtronic. These companies provide a wide range of products with customized fixations and durable materials.

The vertical has witnessed dynamic activities of mergers and acquisitions in the recent years. This contributes to the large share captured by the few industry giants. In May 2016, DePuy Synthes acquired BioMedical Enterprises, Inc. on undisclosed terms. The company is expected to provide a more comprehensive product portfolio for hands, wrist, feet, and ankle.
In April 2016, Stryker Corporation completed the acquisition of Stanmore Implants Worldwide Limited. The transaction was worth USD 39.61 million and was projected to expand the orthopedic oncology solution capabilities of the company.
New product development is one of the key factors for the augmentation of the market. Industry players invest in research and development and launch new and improved products composed of better material and providing ease of use. For instance, in May 2016, Acumed launched two new products, small fragment base set and ankle plating system 3. The company anticipates a strong revenue growth, thus strengthening its position as a leader. Also, in July 2016, the company's wrist fixation implants, Acu-Loc and Acu-Loc 2, reached a sale count of 0.5 million worldwide. This product was introduced in 2014 and it achieved the set target in 2 years.