Industry Insights
The global tumor ablation market size was valued at USD 756.0 million in 2015 and is expected to grow at a CAGR of 11.1% over the forecast period. Technological advancements in the field of thermal ablation technologies contributed towards market growth.
Rising prevalence of cancer is directly proportional to market growth. According to statistics published by the World Health Organization (WHO), cancer accounts for 13.0% deaths worldwide. Moreover, 70% increase in cancer incidences is expected over the next couple of decades. Over 100 types of cancer exist, which require unique therapy, thereby propelling the growth of this market.
North America tumor ablation market share, by technology, 2015 - 2022 (USD Million)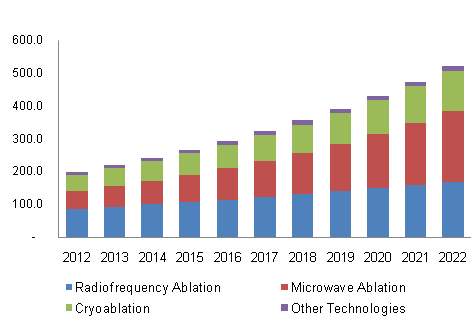 The population is aging rapidly. As per the WHO, the geriatric proportion of world's population is expected to nearly double from 12.0% in 2015 to 22.0% by 2022. Rapidly growing geriatric population is expected to be the vital driver for the growth of this industry.
The demand for Minimally Invasive Surgeries (MIS) is on the rise. These procedures cause lesser trauma to patient and faster recovery than invasive procedures. Procedures such as radiofrequency ablation are minimally invasive and their rising demand is expected to contribute towards market growth.
The introduction of technological advancements on the grounds of accuracy, portability, and cost-effectiveness is expected to serve this market as an impact rendering factor over the forecast period. Technological innovations such as image-guided procedures, High-Intensity Focused Ultrasound (HIFU), and irreversible electroporation play major roles pertaining to technological advancements.
Technology Insights
Key technologies analyzed in this study include radiofrequency, microwave, cryoablation, and other technologies such as radioiodine, HIFU, and laser ablation. Radiofrequency dominated the technology segment with approximately 35.0% share in 2015. This can be attributed to its prominent application in solid tumor removal in the body. Moreover, this method is highly specific and targets at tissue level without damaging surrounding cells.
On the other hand, microwave ablation technology is anticipated to witness remunerative growth over the forecast period owing to benefits offered by this technology. Minimum procedure time (5 to 10 minutes), improved efficacy with minimal complications, and reduced hospital stay are expected to drive the growth in this segment.
Treatment Insights
The market is divided into surgical procedures, laparoscopic procedures, and percutaneous procedures on the basis of mode of treatment. Surgical procedures segment held a prominent share of around 38.0% in 2015. Increasing prevalence of liver and breast cancers that demand open surgical procedures contributed towards the market growth.
However, percutaneous procedures are expected to witness lucrative growth over the forecast period due to rising demand for minimally invasive procedures offering faster recovery and increased safety.
Application Insights
The major application areas of tumor ablation include liver cancer, breast cancer, lung cancer, prostate cancer, and other cancers such as kidney cancer, bone metastasis, and ENT cancer. Liver cancer accounted for the largest shares in 2015. Liver cancer, prominent in males, along with rising incidences of the bile duct and primary liver cancer is expected to further drive market growth.
On the contrary, lung cancer is anticipated to witness lucrative growth in the coming seven years. Sedentary lifestyle, increasing incidences of smoking, and rising air pollution are contributing to growing prevalence of lung cancer.
Regional Insights
Geographically, the tumor ablation market is divided into North America, Europe, Asia-Pacific, Latin America, and the Middle East & Africa. North America dominated this industry with over 32.0% share in 2015, owing to its advanced healthcare infrastructure. As per data published by the American Cancer Society, reported incidences of cancer in the U.S. are 300.2 cases annually per 100,000 people. Similarly, in Canada, this number accounts for 296.6 cases, which is significantly more than the global average. Thus, rising prevalence of cancer in this region is high-impact rendering driver for this industry. Moreover, availability of favorable reimbursement structure coupled with rising disposable income is assisting the growth of the North American market.
Asia Pacific is expected to register the fastest growth rate during the forecast period. Huge population base coupled with favorable economic developments in countries such as India and China opens up great opportunities for market players. In addition, the healthcare infrastructure in Asia Pacific is improving with government assistance, which is anticipated to further fuel growth of this region over the forecast period.
Competitive Market Share Insights
Key players operating in this market include HealthTronics, Galil Medical Inc., Angiodynamics, Medtronic Plc. (Covidien), Boston Scientific Corporation, SonaCare Medical, Misonix Inc., EDAP TMS S.A., and Neuwave Medical Inc. New product launches, collaborations, technological advancements, mergers, and acquisitions are the most popular initiatives in this industry.
For instance, in February 2015, Misonix, Inc. acquired Bonescalpel business from Aesculap. This acquisition helped in gaining competitive advantage in ultrasound surgical devices.
Analyst Perspective
The study encompasses technologies in tumor ablation and mode of treatment along with their applications in the treatment of various types of cancer. Market estimates and forecasts are based on multiple approaches and models. One such approach includes top-down market estimation, where in the parent market, "ablation technology" is estimated and then "tumor ablation technology market" is extracted.
The study exemplifies the holistic view of trends, demand, government initiatives, and key player strategies. This will help in understanding market thoroughly and facilitate reasoned decision-making. Primary interviews were used in order to validate the estimates. Analysis of insights from KOLs, end-users such as oncologists, radiologists, and other technicians was utilized to finalize the market size.
The market involving tumor ablation devices is very dynamic and involves extensive R&D initiatives. The study focuses on a wide scope and includes representation mostly on technology and product types. Regional scope, however, is kept limited in an attempt to ensure study proportions. Customization on any segment of this study will be available upon request.