Industry Insights
Global curcumin market is expected to witness high growth on account of its increasing demand in food, cosmetics and pharmaceuticals. Curcumin is extracted from turmeric (curcuma longa) and is used in the abovementioned end-use industries for its anti-inflammatory and anti-oxidation properties. Rising consumer awareness regarding health benefits of the product is expected to play an important role in driving market growth over the forecast period. On account of its therapeutic qualities, turmeric is a widely used ingredient in food and medical products, particularly in the Indian subcontinent. Over the past few years, there has been an increasing demand for ayurvedic medicinal formulations across the globe. It is the presence of curcumin that gives turmeric its unique therapeutic qualities.
Global curcumin market, by application, 2012 - 2022 (Tons)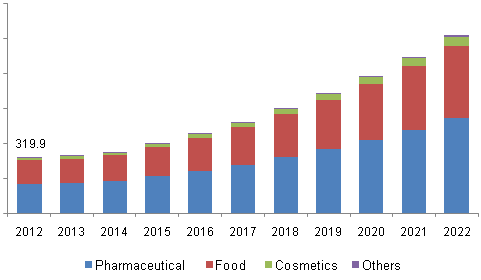 However, the bioavailability of curcumin through consumption of turmeric in food is a bare minimum. Growing demand for curcumin-based nutritional supplements on account of increasing consumer awareness regarding its anti-cancer properties is expected to significantly expand the market over the forecast period. Curcumin is also gaining popularity as an ingredient in herbal skin care and cosmetic products. Growing demand for herbal/ayurvedic skin care products is also expected to augment further global curcumin market. Furthermore, research and development activities suggest application of curcumin in dye-sensitized PV technologies and therefore expected to open new market avenues for the product in the near future.
Application Insights
Curcumin finds use in pharmaceutical, food, cosmetics and other applications including dye-sensitized PV technology and textiles. Pharmaceutical was the largest application market for curcumin in 2014 on account of increasing demand for curcumin-based supplements. These supplements are available over-the-counter without the existence of any regulations and hence have a huge market potential. Curcumin can be used in the treatment of arthritis, Alzheimer's, gastric ailments, viral infections, and tumors. Shifting consumer preference towards food products employing natural food coloring substances is expected to increase demand for curcumin in food application. However, the existence of cheaper synthetic food colors is expected to be a restraining factor for the adoption of curcumin based food color in Asia Pacific and RoW market. Curcumin is also known to be a remedy for several skin diseases and hence employed in numerous herbal skin care formulations. Increasing demand for herbal cosmetic products is expected to propel demand for curcumin in cosmetic application. Furthermore, research and development activities in dye-sensitized solar PV technology employing curcumin are expected open new markets for curcumin globally.
Regional Insights
North America was the largest market for curcumin in 2014 and is expected to witness significant growth on account of growing demand for curcumin-based dietary supplements. Increasing demand for curcumin for applications in cosmetic formulations is expected further expand the North American market. Europe was the second largest market and is expected to witness the highest market growth over the forecast period on account of increasing demand for curcumin in pharmaceutical and food applications. Research and development activities suggesting application of curcumin for treatment of cancer is expected to be a major driver for market expansion in the European region. Demand for curcumin in Asia Pacific is expected to be driven by growing demand from several cosmetics and skin care manufactures whose herbal products are fast gaining penetration in European and North American markets.
Competitive Insights
Manufacturers of curcumin are largely concentrated in India on account of proximity to raw material suppliers and relatively high content of curcumin in Indian turmeric varieties. Curcumin content in Indian turmeric varieties ranges from 3%-9%. Varieties of turmeric with high curcumin content include Suroma, Roma, Rajendra Sonia, Suguna and IISR Prabha. Supply of raw material varies by seasonal climatic fluctuations and yield of the local turmeric variety. Some of the major players in curcumin market include Biomax Life Sciences Ltd., Synthite Industries Ltd., Hindustan Mint & Agro Products Pvt. Ltd., Arjuna Natural Extracts Ltd., SV Agrofood, Star Hi Herbs Pvt. Ltd., Herboveda India Pvt. Ltd., Helmigs Prima Sejahtera PT., Hebei Food Additive Co. Ltd., Tri Rahardja PT. and Konark Herbals & Health Care. Some of the popular brands of herbal cosmetics and skin care products employing curcumin include Himalaya Herbals, Vicco, and Shahnaz.Husain.