Industry Insights
The global UAV payload market size was valued at USD 4.34 billion in 2014 and is poised for high growth over the forecast period owing to the dynamic applicability of drones in several sectors. Technological proliferation increased government spending on military drone operations, and increasing applications for commercial drones across various industry verticals are expected to drive the global UAV payload market over the forecast period.
North America UAV payload market revenue by equipment, 2012-2022, (USD Million)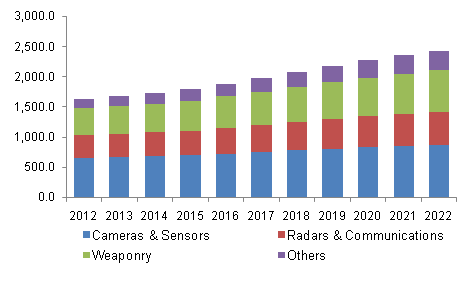 Governments all over the world are planning on using UAVs in infrastructure, scientific research and R&D, environmental studies, and disaster management activities. Rapidly declining camera prices and innovations in wireless communication technology are expected to drive the global drone equipment market.
Commercial drones are gaining popularity across the globe for their wide range of applications. Increased applications in agriculture and law enforcement sectors are expected to favorably impact the industry over the forecast period. Moreover, UAVs equipped with high-resolution cameras are used for commercial production of TV programs and movies, thereby driving the growth of imaging and filming equipment.
However, stringent regulations issued by the aviation regulatory bodies such as the European Aviation Safety Agency (EASA) and the U.S. Federal Aviation Administration (FAA) regarding the commercial use of the UAVs are expected to hinder the market's growth prospects over the next few years.
Equipment Insights
UAV payload is comprised of equipment ranging from cameras, sensors, radars, communication equipment, weaponry, and others. Camera and sensing equipment segment dominated the industry acquiring over 40% of the market revenue share in 2014. Camera and sensing equipment are essentially a part of all UAV systems as they assist in drone maneuvering and providing real-time video feeds to the ground controller.
Vendors offer a range of high-resolution cameras and sensing equipment that falls in line with the UAV's operational requirement. Advanced EO/IR cameras installed in most of the UAVs provide crisp images even at night in the military or commercial Intelligence, Surveillance, and Reconnaissance (ISR) operations ensuring higher success rates during the mission.
Radars and communication equipment forms a crucial component of the UAS as it enables communication between UAV to ground stations as well as between two UAVs. Conventionally, military UAVs extensively use SATCOMs for communications and mission control. However, with the proliferation of drone technology and increased adoption in commercial applications, vendors have now started offering 4G/LTE communications in drone systems.
Regional Insights
North America dominates the global UAV payload market and accounted for over 40% of the total revenue share in 2014. Increasing military drone activities, along with increasing commercial and recreational application of drones has opened up greater avenues for the payload industry. Moreover, the presence of major drone and payload vendors in the U.S. has fueled market growth in the region.
Countries from the European region are increasingly introducing revised regulations regarding the use of drones in commercial applications and have spurred the growth of drones and payload industry in the region. Asia-Pacific region is projected to surface as a profitable region for the drone and equipment industry with major countries such as China and India expected to invest heavily in military and commercial UAS.
Competitive Market Share Insights
Key industry participants are drone manufacturers such as Elbit Systems, Israel Aerospace Industries, Lockheed Martin Corporation, and Northrop Grumman along with payload vendors such as Gilat Satellite Networks, FreeWave Technologies, and Barnard Microsystems. Vendors focus on product enhancement as their strategy to build dominance over competitors in the market.
There exists a high degree of integration between the raw material and technology suppliers and the drone manufacturers. Such collaborations are aimed at developing integrated drone camera systems for applications such as aerial photography and surveillance activities.
Military drone manufacturers offer integrated communication and imaging equipment along with weaponry to an extent considering the operational criticality and the minimal scope for failure. However, drones used in commercial applications can be customized and can be used as sensing and communication equipment.