Industry Insights
Global UV disinfection equipment market size was USD 1,263.7 million in 2014. The market is expected to witness substantial growth over the forecast period owing to its widespread use in water & waste water treatment. Also, the presence of stringent water treatment policies and regulations in developed region is expected to augment product growth over the forecast period.
Increasing investment from various companies for development of new technologies is expected to open new avenues for the product over the next seven years. Decreasing sources of usable water has created the need to process waste water for reuse in various regions which in turn is expected to propel industry growth.
Increasing demand for safe drinking water from emerging economies including India and China to avoid various diseases including typhoid and diarrhea is expected to drive UV disinfection equipment market. Growing industrial sector in these countries has resulted in water pollution. These factors are expected to open new avenues for water purification and disinfection systems over the forecast period.
North America UV disinfection equipment market revenue, by application, 2012-2022 (USD Million)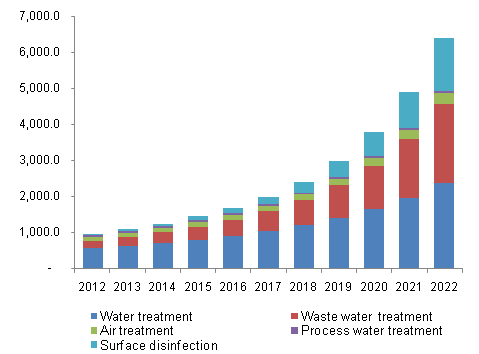 The capital cost of UV disinfection system is significantly higher which lowers its adoption rate. However, commercial & large scale plants are expected to invest in UV disinfection owing to its long-term cost advantages which in turn is expected to have a positive impact on the market over the forecast period.
Application Insights
Process water treatment demand was valued at over USD 44.0 million in 2014. Among the various industrial sectors, process water treatment is the most significant aspect of the food & beverage industry as it needs to be efficiently disinfected before using it in production processes. In other industrial sectors such as automotive, oil & gas, petrochemical, pulp & paper and semiconductors, the water is treated according to industrial process needs, which is expected to fuel growth over the next seven years.
Surface disinfection demand was valued at over USD 73.5 million in 2014. Rising utilization of UV disinfection on wall surfaces of rooms to provide a clean environment in homes and commercial buildings or healthcare facilities is expected to fuel industry growth over the projected period.
 
Regional Insights
Asia Pacific UV disinfection equipment demand was valued at over USD 200.0 million in 2014. Rising population and industrialization have led countries to be the largest consumers of water, which is expected to propel growth over the next seven years. In addition, growing health awareness among consumers coupled with rising disposable income is expected to be the key driving force for the market.
RoW UV disinfection equipment market demand was valued over USD 95.0 million in 2014 and is expected to witness significant growth owing to the rising need from various end-use industries. Countries in Latin America, Middle-East, and Africa are adapting UV technologies to increase treated wastewater for various uses such as landscape and irrigation. Growing population and agricultural demand are expected to be key drivers for the market.
Competitive Market Share Insights
Key market participants include Severn Trent Services, Calgon Carbon Corporation, Trojan Technologies, Xylem Inc, Atlantium Technologies, Aquionics, Atlantic Ultraviolet Corporation, First Light Technologies Inc., Evoqua Water Technologies, Greenway Water Technologies, Xenex Disinfection Services LLC, Advanced UV, Inc., Enaqua, Koninklijke Philips N.V. and American Ultraviolet, Inc.
Manufacturers including Spectral Innovations Ltd, Greenway Technologies, and Atlantic Ultraviolet Corp. have adopted forward integration strategies to increase their product portfolio and earn higher profit margins. These products are widely employed in applications including air treatment for health facilities and residential & commercial applications. In addition, the equipment finds application in waste water, surface water, and process water treatment.