Industry Insights
The U.S. frozen food market size was USD 51.97 billion in 2015. There has been a steady rise in income in the U.S. thus causing a change in lifestyle. This change in lifestyle is facilitating the U.S. frozen food market growth.
Frozen food caters to the convenience demand from consumers. They are easy to store, easy to use and easy to carry. They do not require much preparation prior consumption. All these factors have benefitted the market in the recent past and are expected to do so over the forecast period.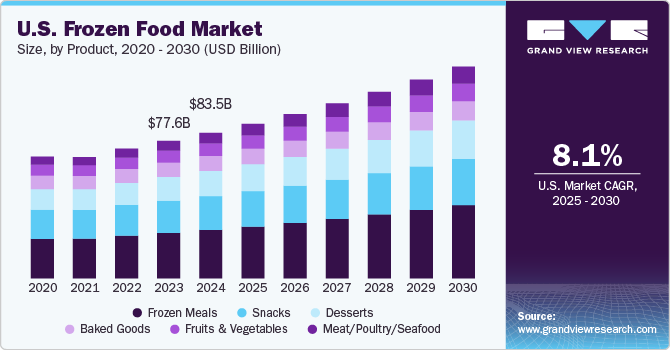 Frozen foods such as fruits & vegetables are subjected to freezing at the peak of their ripeness thus locking in their nutrient value. Recent advancements in freezing techniques ensure that the product does not lose its nutrient value. They are priced relatively lower than their fresh counterparts.
U.S. frozen ready meals come in individual portion and require less time to be prepared. There is a wide product range of frozen ready meals, available in the market. All these factors are expected to drive the demand for frozen ready meals over the next eight years.
Regulations have been imposed to ensure the quality of frozen products. Governments have banned the excessive use of harmful substances such as trans fats. Regulations about the label of frozen foods are also in place.
Frozen food provides an excellent option to consumers having limited cooking skill and expertise. They are precut, prewashed, and then frozen, which makes them ready to use. It is easily portable and has longer shelf life. These attributes are expected to cause a rise in demand in the U.S.
Furthermore, the advancements in packaging techniques have made frozen foods more appealing and, at the same time, these techniques have also added to the convenience of consumers regarding carrying, holding, and storing such products easily. It is anticipated that all these factors are expected to benefit the U.S. frozen food market growth positively over the forecast period.
Increasing disposable incomes has augmented consumer preference for fast staple food consumption. Consumers are demanding wholesome staple food, which is both hygienic and can be prepared in minimal time. They serve this demand of consumers and, hence, have found a wide acceptance among the U.S. consumers, and this trend is expected to continue over the forecast period.
Time constraint is a major effect of changing lifestyle. Convenience has become a major demand from consumers and frozen food caters to this demand. Frozen vegetables do not require chopping or peeling. The efforts required for thawing out frozen meat and preparation is minimal. All these convenience factors of frozen food work in the favor of changing lifestyle of consumers. Thus, it is predicted that these factors will positively affect the growth of the U.S. frozen food industry over the forecast period.
Major industry participants impose strict quality checks on raw material procurement process. This is done in order to meet stringent federal regulations. The industry is characterized by the presence of a large number of raw material suppliers.
The industry is characterized by the presence of a vast number of industry participants. Production process optimization for efficient raw material utilization is a key characteristic of the participants. Recent technological advancements in plastic packaging have extended the shelf life of frozen food. Refrigeration techniques and conveyor techniques have also undergone changes in the recent past, and many companies are implementing these new technologies in their work processes.
Product Insights
Frozen ready meals were the largest segment regarding sales in 2015 and accounted for more than 35% market share. They are conveniently available. The presence of a large number of industry participants has resulted in a large number of product options.
Options serving a wide range of tastes and preferences are available in the market. Moreover, the availability of staple food in the form of frozen ready meals is expected to benefit the market growth over the next eight years.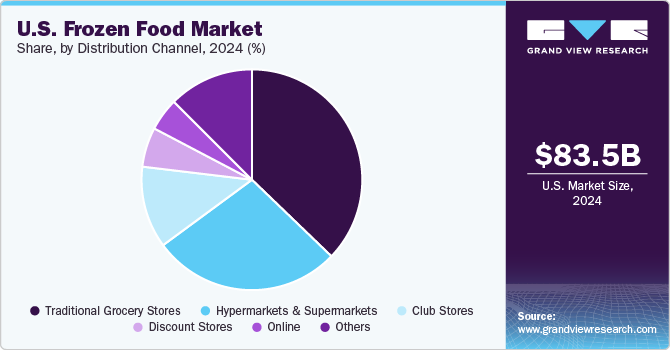 Indian market is expected to grow at a CAGR of 4.6% from 2015 to 2022. Rising awareness about high nutritional diet and increasing need to impart ethnic taste are playing a key role in accelerating demand.
The Middle East is likely to be a high potential market owing to growing domestic consumption coupled with government support to attract new investment. Rising consumption of red meat particularly, beef in Middle East countries such as Saudi Arabia, is expected to promote growth over the forecast period.
U.S. Frozen Food Market Share Insights
The U.S. frozen food market is characterized by the presence of many industry participants. Manufacturers are developing new packaging methods to extend shelf life, ease of usage and storage. Also, new product variants and cuisines such as Mexican, Chinese, and Latin food are being introduced in the market.
The market participants procure raw material from across the globe. They source their raw materials either from the local producers or from the international players. The manufacturers impose strict regulations pertaining to the quality of raw materials.
McCain, Inn Foods, ConAgra Foods, Pinnacle Foods groups, General Mills Inc., Bellisio Foods, Jeanie Marshall Foods Inc., El Sembrador, and Goya Foods are some of the major market participants.