"Changing lifestyle is expected to aid the industry demand"
The global frozen food market size exceeded USD 250 billion in 2015. Busy lifestyle coupled with shifting preferences among consumers towards ready to cook meals owing to conveniences and hygiene is expected to remain a key driving factor for the overall industry.
Compared to the fresh ones, these products contain maximum vitamins and minerals. This is only because freezing preserves the products for extended periods without any preservatives and deters against any microbial growth that causes food spoilage.
Increasing online purchase of staple food is gaining popularity across developed nations. This, in turn, is also expected to have a positive influence on the overall industry over the next eight years. They also help in increasing the shell life of fruits and vegetables. Also, availability of refrigeration media for commercial and industrial freezing is further expected to benefit the industry growth.
Frozen, chilled beef import allowance from Australia by the Chinese government had a positive impact on high-end food services and retail customers. Outlets such as Pizza Hut, McDonalds, and Burger King are engaged in maintaining the inventory in frozen media that helps in catering fast food demand and ensuring availability of the same for a longer time.
However, large unorganized industry participants, particularly in Asia such as China and South East Asian countries, face significant challenges regarding their price offerings and product quality as compared to large multinational corporations. High maintenance and logistics cost at a cryogenic temperature for these foods are expected to pose a hindrance for the industry participants over the forecast period.
The market for fruits and vegetables continues to gain momentum as the leading manufacturers help in commercializing the benefits of fruits & vegetables as a part of healthy diet. Owing to their busy lifestyle, the consumers nowadays want to get rid of fresh vegetable concept. As a result, the processors are indulging themselves in innovating garnished, spiced and seasoned fruits and vegetables, which can tantalize the taste buds for consumers.
The World Trade Organization (WTO) helps in creating opportunities for the market by reducing tariff barriers and promotes export subsidy measures for several products. Domestic exhibitions coupled with various product display options in fairs is expected to aid the overall industry over the next eight years.
U.S. Frozen Food Market Revenue By Product, 2014 - 2024 (USD Billion)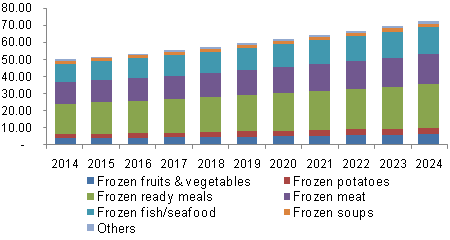 "Frozen ready meals was the largest segment in 2015"
Products include fruit, vegetables, fish & seafood, potatoes, a variety of meat products, soups, ready meal products and others. Other products commonly include bakery related items.
Frozen ready meal emerged as the leading product segment and accounted for over 30% of the total market in 2015. Frozen ready meals products are presumed to witness significant growth owing to their increased popularity on account of hygiene and timely preparation. Growing population of women workforce is also expected to be a key element for assisting the growth in future years.
Frozen potatoes are presumed to exhibit the fastest growth at an estimated CAGR of 4.7% from 2016 to 2024. These have a high nutritional value and are also delicious in nature. Moreover, potatoes are mostly gluten free and are considered a carbohydrate source in a balanced diet.
"Asia Pacific is expected to witness the highest CAGR from 2016 to 2024"
European frozen food market dominated the global industry and accounted for over 35% of the total revenue in 2015. Consumer preference towards hygiene related frozen products coupled with the new trend of online grocery purchase is expected to have a positive impact on the regional growth over the forecast period. Moreover, the European Food Safety Authority is also imposing a restriction on the usage of artificial flavors, additives, and other contact materials. This factor is also presumed to aid the overall industry from 2016 to 2024.
Asia Pacific is expected to witness significant growth at a CAGR of 5.0% over the next eight years due to rapid expansion in fast food outlets in countries such as India, Singapore, Indonesia, Malaysia and China. Growing urbanization coupled with rising disposable income are the major factors in these countries, which have augmented consumer's preference towards fast food.
Emerging economies such as South Africa and Brazil are anticipated to witness significant growth regarding demand for these products. The emergence of supermarkets and online stores is expected to ensure the product availability in these countries.
"The market is fragmented with the presence of both national and international market participants"
The global frozen food market is highly fragmented that involved both multinational corporations and domestic companies. In recent years, manufacturers haveadopted new freezing technologies to preserve the nutritional content and also reduce any material loss.Top few companies in the industry include General Mills Inc, Ajinomoto Co. Inc., Nestle, Unilever Plc, Allens, Inc, Heinz, and Amy's Kitchen Inc.