Industry Insights
The U.S. medical device outsourcing market size was valued at USD 13.4 billion in 2014. Key drivers of the market include rising demand for medical devices and subsequent rise in demand for cost containment. Furthermore, associated benefits such as reduction in production cost and focus on core competencies by the organizations are expected to propel the growth over the forecast period.
Growing complexities in product engineering, coupled with an increase in small-sized manufacturers, are expected to present this market with future growth opportunities. Rapidly increasing geriatric population base prone to chronic medical conditions are also anticipated to drive market growth by widening the target patient base.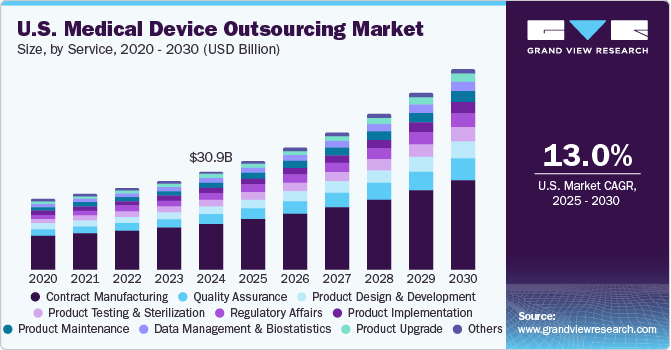 The medical device industry is currently facing challenging headwinds. Sharp cutbacks in public spending in the U.S. are a major issue faced by medical device manufacturers. Increasing price, profitability pressure, growing competition coupled with high degree of industry maturity has a great impact on this market.
Increasing incidence rate of cardiovascular diseases, traumatic injuries, and cancers is expected to boost demand for surgeries and in turn, surgical equipment, thereby propelling overall industry growth.
According to the National Center for Health Statistics in 2009, approximately 48 million surgical procedures were performed in the US. As per the International Society of Aesthetic Plastic Surgery, approximately 3.1 million people in the U.S had cosmetic surgery in 2011 and the number is expected to increase further over the forecast period.
Application Insights
Key application segments of the U.S. medical device outsourcing market are class I, class II and class III. Class II medical devices held 48.4% of the share in 2014 and it is expected to witness the fastest growth at a CAGR of 9.8% over the forecast period.
These equipment possess lower risk potential of injury or life threat to the patients which include infusion pumps, powered wheelchairs, surgical drapes, and other minimal risk equipment. Relatively simpler technologies, compared to class III and moderate risk make this equipment class as most outsourced one.
Services Insights
Product design and development services dominated the outsourcing market in 2014 with over 25.0%. Product design and development is the most capital extensive manufacturing phase and therefore, expected to witness the highest rates of outsourcing.
Outsourcing of medical equipment manufacturing involves attainment of licenses and regulatory compliance, which is done by the third party. Regulatory services held the second-largest share and are an extremely popular service in the industry.
Along with the regulatory service, the consultants also help in implementing a competitive strategy, wherein the device development costs, development cycles, and profitability concerns are also met. Outsourcing of such facilities helps the manufacturing firm and companies in focusing on the core competency and also provides for excellent rapport with the regulatory agency officials and reviewers.
Product implementation services are expected to grow at a lucrative CAGR of over 11.0%. Growing adoption of process overlapping as a profitable option and the simultaneous execution of product design and implementation processes are some factors accounting for its rapid growth.
Competitive Insights
Accellent Inc., Active Implants Corporation LLC, MDMI Technologies Inc., Kinetics Climax, Inc, Omnica Corporation, Teleflex Medical OEM, and Avail Medical Products, Inc are some major players operating in the U.S. medical device outsourcing market. The players are constantly involved in providing a wide range of these services and equipment which can be an effective cost curbing tool for the recipient organization.
Participants are also involved in mergers and acquisitions in order to increase penetration. For example, In February 2014, Accellent Inc. announced the acquisition of Lake Region Medical. This collaboration enabled the company to create a leading interventional vascular business in the widened geographic territory of the U.S.