Industry Insights
Global Ventricular Assist Device (VAD) market was valued at USD 762.9 million in 2014 and is expected to witness positive growth over the forecast period. VAD's are specifically used in Class III and IV advanced heart failure patients as defined by the New York Heart Association ("NYHA") or in those patients who are awaiting heart transplantation. Key factors attributing to the market growth include increasing the prevalence of cardiovascular diseases such as hypertension, coronary artery disease, and heart failure.
In 2013, according to the data published by the American Heart Association it has been estimated that in the U.S. nearly 6.6 million people suffered from heart failure and nearly 600,000 new cases are diagnosed each year.
U.S. ventricular assist device market, by product, 2012 - 2022 (USD Million)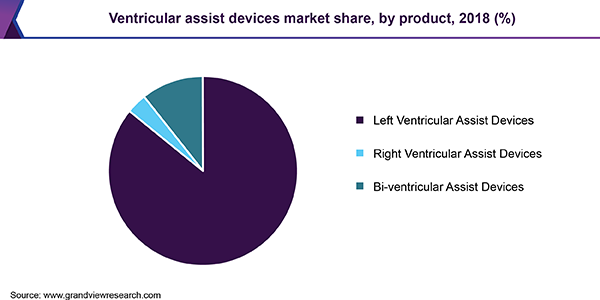 As per data published by the Organ Procurement and Transplantation Network (OPTN) and Scientific Registry of Transplant Recipients (SRTR), in 2014, approximately 2,431 heart transplants were conducted and as of February 2015, the number of people awaiting the heart transplantation reached 3,986.
Furthermore, increasing the prevalence of diabetes, genetic factors, lifestyle factors such as junk food, tobacco consumption, substance abuse, alcohol addiction are also expected to significantly contribute to the end-stage cardiovascular disease population.
The above-mentioned disease prevalence rates, coupled with a wide gap in the number of organ donors available and the number of people awaiting a heart transplant, project a positive growth trend for ventricular assist device over the forecast period.
Product Insights
Left ventricular assist device (LVAD), Right ventricular assist device (RVAD), Bi-ventricular assist device (BI-VAD) are amongst key product segments included in the scope of the study. VADs replicate the functions of the heart by pumping blood throughout the body and allow the heart to recover to its normal functioning capacity. In cases, where the heart cannot recover to its normal function these devices act as long-term treatment options and significantly improve healthcare outcomes. VADs can be used as bridge-to-transplant (BTT), bridge-to-recovery or destination therapies (DT).
These products provide cardiac support for patients with late-stage heart failure (HF) and are waiting for a donor's heart. It has been estimated that nearly 40% to 50% of the patients who are on the organ transplant waiting list in the U.S. are treated using a VAD i.e bridge-to-transplant therapy. However, due to an increasing number of patients on the waiting list for organ transplantation, use of these products for destination therapy is expected to witness lucrative growth over the forecast period.
Technology advancements in product design, development, raw material, and manufacturing have significantly contributed to the industry expansion since the launch of first generation device which were equipped with pulsatile volume displacement pumps are were powered using pneumatic or electrical drive systems. To overcome certain limitations and defects second generation products with continuous flow were developed.
These products are light weight, more efficient and compact. The continuous flow device includes axial flow and centrifugal pumps. Some of the key products in this category are Jarvik 2000,the Impella Pump System, and Thoratec Heartmate II. Furthermore, the third generation products such as Dura Heart,Ventr Assist, Heart Mate III LVAD are expected to be commercialized post clinical trials and regulatory approvals in the near future
In 2014, LVAD accounted for the maximum market share of 74% owing to a high number of cases with left ventricular damage. Usage of LVAD is higher due to cardiomyopathy, heart stroke, and heart failure conditions across the globe. These products support the systolic function of the heart and help in maintaining adequate blood flow to rest of the body. Furthermore, this segment is expected to retain the high market share over the forecast period.
Regional Insights
The industry is segmented on the basis of the region as North America, Europe, Asia Pacific, MEA and Latin America. The North America held the largest market share of over50% in 2014. This may be attributed to increasing prevalence of cardiovascular diseases such as hypertension, stroke coronary heart disease, and heart failure. Furthermore, the presence of high-quality healthcare infrastructure, high patient awareness levels and better reimbursement policies for implantation procedures are expected to propel the usage rates over the forecast period.
Asia Pacific is expected to be the fastest growing regional market with a CAGR of over 15% over the next seven years. Rising prevalence of cardiovascular disease which in turn leads to stroke, heart failure, and other end-stage CVD diseases and constantly improving healthcare infrastructure are key factors driving the industry growth.
Furthermore, increasing out of pocket healthcare expenditure along with the expansion of health insurance services across major tier-I, tier-II cities, and rural centers are expected to promote the growth of this industry. High promotion of medical tourism activities by various governments and disproportionate increase in waiting list for organ transplants compared to a number of organs donors are some of the other key factors expected to significantly boost the VAD market over the forecast period.
Competitive Insights
Key players operating in the industry include Abiomed, Heart Ware International, Thoratec, Berlin Heart, Cardiac Assist, Jarvik Heart, and Reliant heart. Thoratec accounts for the maximum share of over 71.00% and is followed by HeartWare International. Entry of new players and technological advancements are expected to further intensify competition over the forecast period.