Industry Insights
Vetiver oil market size was USD 44.5 million in 2014. The market is expected to witness surging demand owing to its profound usage in food & beverage, fragrance, and pharmaceutical applications.
Growing demand for vetiver oil in fragrance industry on account of its woody and smoky aroma is expected to drive market demand over the forecast period. Vetiver oil is extensively utilized in manufacturing varied fragrant materials such as aromatic kaolin, aromatic wax, potpourri, and aromatic soap. Increasing usage of the product in perfume industry is attributed to its unique odor, thus promoting its use as an essential oil. Furthermore, the presence of vetiver oil enhances miscibility in high solubility alcohols, thus promoting its use in the fragrance industry.
Vetiver oil has extensive usage in medical applications wherein the product is utilized in the treatment of biliousness, blood-related diseases, and joint stiffness. The product helps to provide relief to insomnia patients and also speeds up the eradication of scars and healing process.
U.S vetiver oil market revenue, by application, 2012 - 2022 (USD Million)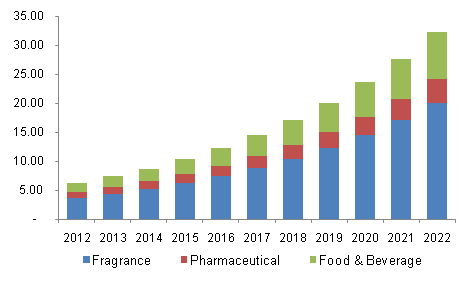 Furthermore, the oil helps in treating bruises, burns and swelling properties which are expected to impact favorably the market demand over the forecast period. The product provides relief from inflammation in both circulatory as well as nervous system and is thereby, used to treat irritation caused due to dehydration and sun stroke.
Application Insights
Vetiver oil used in fragrance industry was valued at over USD 26.0 million in 2014. Vetiver oil and its constituents have profound usage in blending oriental type of perfumes as well as floral compounds on account of its fixative properties for volatile compounds. Furthermore, this can be attributed to the pleasing aroma and slow evaporation rate of the product which makes it a preferred ingredient in perfumes.
Rising demand for the essential oil in medical applications is expected to drive market growth over the forecast period. The pharmaceutical application is likely to witness steady growth among its counterparts, growing at a CAGR of over 18.0% from 2015 to 2022. Increasing application scope in the treatment of gout, arthritis, muscle aches, cramps, and rheumatism is expected to propel demand. Furthermore, the product is used in digestive, antiasthmatic, antimicrobial, antigout and diuretic ailments.
Regional Insights
Asia Pacific market demand is expected to witness significant growth over the forecast period. Growing demand for the product in flavor and medical applications is expected to spur market demand. Vetiver oil is used in food & beverage applications wherein it is used as a flavoring agent, particularly in khus syrups. The product is also used as a flavoring agent for ice creams, milkshakes, and yogurts. The product has widespread usage in varied medical applications wherein it acts as a sedative, helps in easing out mental stress, and depression. Furthermore, the product exhibits anti-microbial properties which are expected to increase its usage in the ointments.
North America accounted for over 21.0% of the global volume share in 2014. Increasing applications of vetiver oil in the pharmaceutical industry is expected to witness surging demand over the forecast period owing to anti-inflammatory, vulnerary and healing properties of the product. Furthermore, the product helps in the formation of new tissues to accelerate healing as well as recovery of skin wounds and thereby remove scars on the skin.
Competitive Insights
Leading companies emphasize on the ecological as well as sustainable cultivation techniques for vetiver roots cultivation. For instance, Unikode developed an efficient method of oil extraction which provides improved quality, oil yield, profitability, and appearance. Furthermore, the company has started modern distillery set up with nearly 20 MT production capacities for Haiti vetiver oil. Additionally, Unikode uses oil extraction method to establish a system which values and compensates the participation of vetiver root producers.
Rajkeerth Aromatics and Biotech Pvt Ltd., are engaged in the manufacture of vetiver oil through processes such as solvent extraction process, functional distillation, hydro & steam distillation, perfume compounding, and resinoid benzoin. The company manufactures vetiver oil which has widespread usage in erosion control, perfumery & aromatherapy, medicinal use, and in-house uses (In South Asia, vetiver roots are utilized for the replacement of wood or straw shaving pads in evaporative coolers). Key market participants include Unikode S.A, Fleurchem, Inc., Aromatic Herbals Private Limited, Frager SA, Rajkeerth Aromatics and Biotech Pvt Ltd, Manohar Botanical Extracts Pvt. Ltd., Imperial Extracts and Amphora Aromatics Ltd.