Report Overview
The global virtual events market size was valued at USD 94.04 billion in 2020 and is expected to expand at a compound annual growth rate (CAGR) of 23.7% from 2021 to 2028. The increased adoption of communication and collaboration tools across various industries, such as education, manufacturing and construction, healthcare, and retail and e-commerce, is expected to drive market growth. With the rising deployment of Unified Communication as a Service (UCaaS) in organizations, educational institutions, and enterprises, the demand for digital proceedings has been positively impacted. The implementation of UCaaS technology has benefited the market by allowing companies or employees to virtually participate in all business activities, thereby enabling a more efficient and effective workflow. UCaaS trending tools that are largely preferred by corporates include Zoom Video Communications, Inc.'s online platform Zoom, Microsoft Corporation's service offering Microsoft Teams, and Google LLC's Hangouts.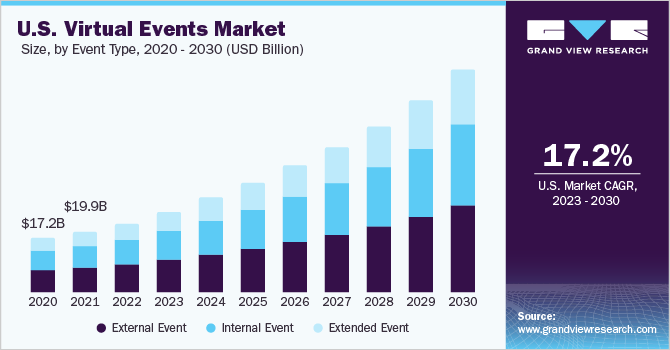 Digital platforms enable individuals to participate in any event irrespective of their location. Many web-based platforms are used to connect participants from various parts of the world to attend events. Furthermore, with the integration of Virtual Reality (VR), Augmented Reality (AR), and Artificial Intelligence (AI), online communication and collaborative activities are fulfilling all facets of a physical event. The trend amongst businesses to deploy digitally simulated platforms to manage time and resources effectively is driving the growth of the virtual events market. The typical digitally simulated events include trade shows or exhibitions, video/audio conferences, summits, job fairs, and sales meetings.
The Work From Home (WFH) policy implemented by several companies as a response to the lockdowns imposed by governments to curb the Covid-19 outbreak has resulted in an upsurge in the growth of the market. The market is witnessing increased development prospects as a result of stay-at-home initiatives, as virtual events enable corporates to carry out their business processes on the digital. Companies are launching new solutions to cater to the growing need of businesses that are incorporating various networking tools for easy communication and collaboration between internal teams. For instance, in January 2021, Avaya Inc., an American technology provider, partnered with TBI, Inc., a technology brokerage firm in Chicago, to strengthen communication and collaboration solutions for its providers. TBI, Inc. offers Avaya Inc.'s cloud UCaaS solution, Cloud Office by RingCentral, and Avaya OneCloud CCaaS contact center solutions.
Software as a Service (SaaS) and UCaaS-based models are gaining traction in the industry, especially among Small and Medium-sized Businesses (SMBs), which account for most global businesses and largely contribute to the market development. The digitally simulated platforms are deployed in the education, healthcare, hospitality, banking, and finance sectors. Many corporates deploy digitally simulated channels to connect and advertise their products to the general public, particularly during product launches. Companies are actively attempting to cater to these industry demands and gain a competitive advantage by introducing innovative services or solutions. The market is expected to grow extensively due to corporations' ongoing attempts to broaden their global presence, which raises the need for a connectivity network that can reach masses across geographical boundaries.
Information convergence is crucial for enhancing market opportunities, resulting in increased demand for intercontinental connectivity services. As a result, service providers are highly vulnerable to cyber-attacks when operating in a virtual world. Several regulations and uniform policies are being enforced to protect users' data and encourage the growth of the market for virtual events. The availability of many open-source and free event management solutions, on the other hand, is expected to hinder the market growth over the forecast period. Various communication and collaboration solutions and tools are incorporated with significant virtual event management functions, such as invoicing, group task management, mobile event management, client management, and email marketing which may pose security risks for the industry.
Event Type Insights
The external event segment accounted for the largest revenue share of over 40.0% in 2020 and is anticipated to dominate the market throughout the forecast period. This is attributed to the increasing need for organizations to communicate with external entities for the growth of their businesses. Many businesses collaborate with tech companies to enable advanced technological developments and serve their customer base with high-end services. The growing demand for digitally simulated tools by companies for conducting or attending any tradeshow, product launch event, press release, client conference, or any other communiqué with external parties is expected to drive the growth of the segment. The rising tendency of outsourcing makes it crucial for corporates to connect regularly with the remotely positioned service provider for discussion meetings, data sharing, and training, thereby driving the growth of the external virtual events segment.
The extended events segment is expected to witness the fastest CAGR of nearly 25.0% from 2021 to 2028. This is attributed to the rising deployment of virtually simulated platforms for the remote audience to participate in any occasion or gathering at a distant place in real-time. Furthermore, the demand for internal events has increased majorly during the Covid-19 pandemic due to the work from home policy imposed by the governments. Many key players introduced various platforms to help businesses carry out their daily communiqué tasks virtually for easy departmental functioning and workflow management. For instance, in September 2020, Microsoft Corporation introduced a fully managed communication platform, Azure Communications Services, to help working professionals while working from home.
Service Insights
The communication segment accounted for the largest market share of over 35.0% in 2020 due to the significant surge in digitally simulated gatherings that is transforming the communication landscape. Communication solutions and tools are deployed for various purposes, from small meetings to large business gatherings. The increased adoption of online platforms for real-time corporate discussions, declarations, meetings, and announcements has positively impacted segment growth. Furthermore, the augmented usage of virtual event solutions in the recruitment of candidates from remote locations for the convenience of employers and employees is fueling the growth of the recruitment service segment. The practice of online recruitment offers a higher range of accessibility to both parties and saves time and overhead.
The training service segment is expected to witness the fastest CAGR of over 25.0% from 2021 to 2028, which can be attributed to the significant demand for in-house employee training. The in-house training facility enables employees to undergo learning and development irrespective of their location, allowing easy access to skill development. The Covid-19 pandemic has resulted in increased deployment of virtual platforms for conducting training sessions for employees. Moreover, the sales and marketing service is expected to witness substantial growth over the forecast period owing to the increased promotional activities carried out by businesses to sustain market competition. The importance of communication & collaboration solutions has been widely recognized in the sales and marketing function as it helps in creating awareness of the product or service to potential customers, thereby increasing the company's revenue.
Establishment Size Insights
The large enterprises segment captured the largest revenue share of over 50.0% in 2020 owing to the rising demand for the deployment of digital platforms in large corporates. The growing trend of big corporates adopting 'glocal' strategies and having employees, clients, and other business stakeholders across various geographical locations has boosted the demand for more virtual events from this segment. The need for virtual communication and collaborative platforms for large-scale enterprises is widespread as it is imperative to have a proper flow of work across various locations. In the wake of the Covid-19 pandemic, virtual platforms have enabled companies to efficiently carry on with their work irrespective of any physical impediment. For instance, in July 2020, OnePlus, an Android smartphone manufacturer, held a virtual product launch and unveiled OnePlus Nord.
The small and medium-sized businesses segment is anticipated to register the highest CAGR from 2021 to 2028. This is attributed to the lockdown restrictions across different geographies that have led to the adoption of the WFH policy by all companies. Effective communication and preparation are crucial for achieving positive results, whether the organization is a global conglomerate or a small business. SMBs have small resources for training, marketing and sales, and operations; therefore, virtual event solutions serve as an essential tool for easy communication. Virtual events are increasingly critical in contributing to SMBs' agility in areas that require creativity, efficiency, and decision-making. With advanced technological developments in cloud-based solutions and virtualized infrastructure, SMBs are increasingly contributing to the industry's growth.
End-use Insights
The enterprises segment accounted for the largest market share of over 55.0% in 2020 and is anticipated to dominate the market over the forecast period. The increased adoption of digitally simulated platforms by various private and public corporates is expected to drive the segment growth. Enterprises utilize online platforms for promoting their business, collaborating with their target customers, and numerous other business purposes. Furthermore, the deployment of online communication platforms has significantly increased by the organizations segment, particularly in the medical sector. Healthcare practitioners utilize virtual events as a prospect for interacting with allied professionals and exchanging their experiences and knowledge. The healthcare sector observed a peak in online meetings and webinars during the Covid-19 pandemic. Technologies such as VR and AR are fueling the demand for virtual events in several medical institutions as they enable 3D live streaming of medical conferences and seminars.
The others segment, which includes collaborative groups sharing a common interest, informal groups of students, and individuals, is expected to witness the fastest CAGR from 2021 to 2028. Moreover, the educational institutions segment is anticipated to witness substantial growth over the forecast period. This is attributed to the increased adoption of virtual platforms for educational purposes by institutions. The rapid adoption of online courses by students, working professionals, and other professionals from various artistic fields, is expected to fuel the demand for digitally simulated platforms. Several key industry participants offer specialized courses on digitally simulated platforms due to the increased deployment of virtual event tools and solutions. For instance, Cisco Systems, Inc. offers various courses through its Cisco Networking Academy that focus on the specialization of Internet of Things (IoT), Operating System (OS), and Information Technology (IT), programming, cybersecurity, and information automation.
Industry Vertical Insights
The Information Technology (IT) segment captured the largest revenue share of over 20.0% in 2020. This is attributed to the globalization and early adoption of technology platforms for communication. The manufacturing sector is also expected to witness substantial growth owing to the continuous innovation in the automotive and aerospace sectors. Furthermore, the healthcare sector captured a substantial revenue share in 2020 and is expected to register a considerable CAGR from 2021 to 2028. This is attributed to the increased adoption of telehealth services offered by healthcare professionals and the rising number of medical conferences using digital platforms to address audiences across different regions. Moreover, the telecom sector is expected to witness substantial growth due to the incorporation of advanced platforms for external and internal interactions, to offer their customers quick and high-quality services.
The Banking, Financial Services, and Insurance (BFSI) segment is expected to witness the fastest CAGR of over 25.0% from 2021 to 2028. This is attributed to the emerging significance of internal communication within the banking and financial sectors to incorporate the latest developments and easy customer interaction. Many key players are focusing on developing specific virtual platform tools and solutions for the BFSI sector for secured communication and a convenient banking experience. For instance, in April 2020, Signzy, an India-based digital platform solution provider, introduced a video conferencing tool incorporated with AI for secure and convenient communication between financial institutions and their customers.
Use-case Insights
The large-scale events segment accounted for the largest market share of around 70.0% in 2020 and is anticipated to maintain its dominance over the forecast period. This is attributed to the companies' continuous demand for digital platforms to organize and host large-scale marketing events, such as trade shows and product launches, to make their products reach larger audiences in a cost-effective way. Companies are adopting virtual platforms to execute large-scale events owing to various benefits, such as wider reach, cost-effectiveness, more significant ROI, and ease of productivity measurement. UCaas/SaaS has been widely adopted by major sectors such as media and entertainment, IT and telecommunication, healthcare, and manufacturing for conducting large-scale virtual events. The continuous technological advancements promote the adoption of virtual platforms, thus providing enterprises and organizations with various benefits through the incorporation of AI, VR, AR, and other technologies.
The everyday events segment is anticipated to witness the fastest growth from 2021 to 2028. Virtual platforms are used for everyday events such as regular team meetings, discussions, recruitment processes, target/sales meetings, and informal talk sessions. Lockdown imposed by the governments due to the Covid-19 pandemic has resulted in the wide adoption of online platforms by organizations for their regular corporate functions. Digitally simulated platforms are widely deployed across all major sectors, including manufacturing, automation, logistics, aerospace, healthcare, media and entertainment, and education, among others. The high demand for virtual platforms in the education sector for conducting daily learning and training programs is expected to propel the segment growth.
Application Insights
The exhibitions/trade shows segment captured the largest revenue share of over 30.0% in 2020 and is expected to maintain its dominance over the forecast period. This growth is attributable to the increasing need for conducting business by demonstrating or showcasing the products, studying the competition, selling their product and service offerings, and observing recent industry trends and prospects. Exhibitors prefer digital spaces because they can save costs on travel, promotional items, accommodation, and other outlays associated with exhibitions or trade shows. Such events draw many attendees and qualified leads, allowing them to network with one another for better engagement.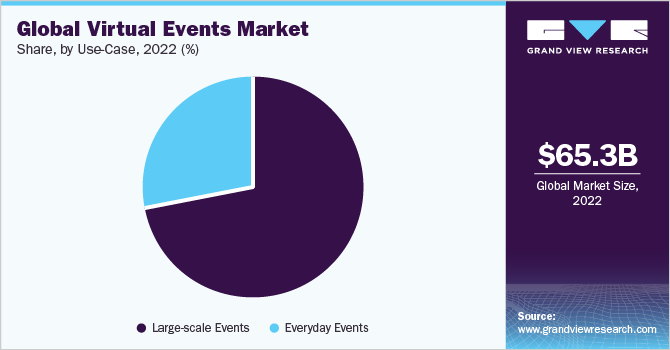 The others segment, which includes virtual events such as job fairs, concerts, meetups, webinars, and keynotes, is anticipated to witness the highest CAGR of over 25.0% from 2021 to 2028. Furthermore, the digital summits segment captured a substantial share in the market and is likely to play a significant role in driving the growth of the industry. Digital conferences are formal meetings or discussion sessions wherein several individuals gather on an online platform to discuss ideas or difficulties related to a specific topic. The conferences segment is anticipated to grow substantially owing to the various advantages offered by virtual platforms, such as instant scalability and control, easy data collection and measuring of results, global reach, and reduced costs. As a result of the cancellations and postponements of several in-person events due to the novel coronavirus outbreak, marketing teams are observed reallocating marketing funds to virtual events.
Regional Insights
North America accounted for the largest revenue share of over 40.0% in 2020 and is expected to have a significant hold on the market over the forecast period. This is attributed to the technological advancements, firm economy, and advanced networking infrastructure in the U.S. and Canada. North America is considered a corporate hub and registers a higher deployment rate of new and advanced technologies. Canada is expected to witness substantial growth over the forecast period owing to the rapid adoption of digitally simulated platforms, particularly in the healthcare sector. Meanwhile, Latin America and the Middle East and Africa are expected to witness noteworthy growth from 2021 to 2028 due to the increasing disposable income, rising applications of UCaaS, and the growing number of start-ups and conglomerates in these regions, among other factors.
Asia Pacific is expected to emerge as the fastest-growing region with a CAGR of over 26.0% from 2021 to 2028. Within the region, China and Japan captured significant revenue shares owing to their vast consumer base for deploying digital platforms for communication. The rapid adoption of advanced technology aided by the deployment of a high-speed 5G network is expected to drive regional growth. India and Australia are expected to witness a substantial increase in the market share owing to the increasing number of SMBs and the comprehensive adoption of the technology in these regions. On the other hand, Europe is expected to witness sluggish progression due to a drastic shift in adopting virtual platforms to do business.
Key Companies & Market Share Insights
Due to the presence of numerous global and regional players, the market is fragmented. Mergers and acquisitions and strategic partnerships are being pursued by key participants in the industry to expand their corporate presence and survive in an extremely competitive business environment. Prominent industry players have been striving to develop UCaaS solutions to help organizations automate their business processes. Besides, actively changing consumer preferences have led to a rise in demand for AI-enabled virtual event solutions. Companies are determined to inculcate AR and VR into their digitally simulated platforms as they enhance the overall involvement of the audience in an online proceeding.
To gain an advantage over competitors, event management companies and software service providers invest heavily in R&D activities to incorporate emerging technologies and build products with unique features. In October 2020, during the Zoomtopia 2020 virtual event, Zoom Communications, Inc. announced technological enhancements in its Core UC Platform, Zapps, OnZoom, and End-to-End Encryption. The incorporation of advanced technology helps organizations to save time and money while increasing the efficiency and effectiveness of their businesses. Several major industry players have reported a surge in the deployment of their digital platforms during the Covid-19 pandemic. For instance, Microsoft announced that Microsoft Teams surpassed 44 million daily active users in March 2020. Some of the key players operating in the global virtual events market are:
Virtual Events Market Report Scope
| | |
| --- | --- |
| Report Attribute | Details |
| Market size value in 2021 | USD 114.12 billion |
| Revenue forecast in 2028 | USD 504.76 billion |
| Growth Rate | CAGR of 23.7% from 2021 to 2028 |
| Base year for estimation | 2020 |
| Historical data | 2016 - 2019 |
| Forecast period | 2021 - 2028 |
| Quantitative units | Revenue in USD billion and CAGR from 2021 to 2028 |
| Report coverage | Revenue forecast, company ranking, competitive landscape, growth factors, and trends |
| Segments covered | Event type, service, establishment size, end use, application, industry vertical, use case, region |
| Regional scope | North America; Europe; Asia Pacific; Latin America; MEA |
| Country scope | U.S.; Canada; U.K.; Germany; China; Japan; India; Brazil; Mexico |
| Key companies profiled | 6Connex; ALIVE; Avaya Inc.; ALE International; Arkadin Cloud Communications; Cisco Systems, Inc.; Cvent Inc.; Eventxtra; George P. Johnson; GES; Kestone; Martiz Holdings Inc.; Microsoft Corporation; Pathable, Inc.; uBivent GmbH; Veritas Events; vFairs; Zoom Communications, Inc. |
| Customization scope | Free report customization (equivalent to up to 8 analysts working days) with purchase. Addition or alteration to country, regional & segment scope. |
| Pricing and purchase options | Avail customized purchase options to meet your exact research needs. Explore purchase options |
Segments Covered in the Report
This report forecasts revenue growth at global, regional, and country levels and provides an analysis of the latest industry trends in each of the sub-segments from 2016 to 2028. For this study, Grand View Research has segmented the global virtual events market report based on event type, service, establishment size, end use, application, industry vertical, use case, and region:
Event Type Outlook (Revenue, USD Billion, 2016 - 2028)

Internal

External

Extended

Service Outlook (Revenue, USD Billion, 2016 - 2028)

Communication

Recruitment

Sales & Marketing

Training

Establishment Size Outlook (Revenue, USD Billion, 2016 - 2028)

End-use Outlook (Revenue, USD Billion, 2016 - 2028)

Educational Institutions

Enterprises

Organizations

Others

Application Outlook (Revenue, USD Billion, 2016 - 2028)

Conferences

Exhibitions/Trade shows

Summits

Others

Industry Vertical Outlook (Revenue, USD Billion, 2016 - 2028)

Use-case Outlook (Revenue, USD Billion, 2016 - 2028)

Everyday Events

Large-scale Events

Regional Outlook (Revenue, USD Billion, 2016 - 2028)

North America

Europe

Asia Pacific

Latin America

Middle East & Africa
Frequently Asked Questions About This Report