"Strict government regulations on VOC emission expected to increase preference for water based pigments"
The global water based pigments market size was USD 7.29 billion in 2015 and is expected to grow at a significant rate owing to increasing government regulations on the VOC emission limits. Increasing demand for VOC free pigment dispersion systems by paint & coating manufacturers to comply with environmental regulations is expected to drive industry growth over the forecast period.
Increasing use of water based pigments in architectural paintings is likely to be a key factor for industry growth. Innovations in the ink industry to manufacture waterborne inks for various applications including packaging, textile, and printing is anticipated to drive demand over the next eight years. The increasing popularity of waterborne coatings in automotive applications is anticipated to open new avenues for water based pigments market over the forecast period.
U.S.water based pigments market revenue, by application, 2013 - 2024 (USD Million)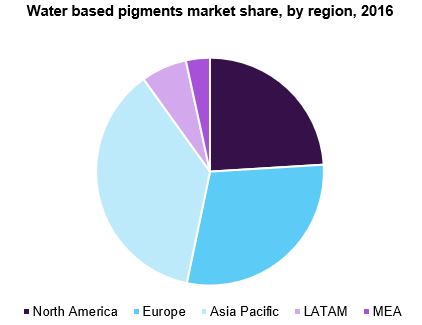 A wide range of organic and inorganic pigments are compatible with the aqueous systems and can be effectively used in the end-use application. Inorganic pigments such as TiO2 are primarily used for manufacturing achromatic ink, whereas organic pigments including chromium and cadmium are preferred for the production of colored inks. High price fluctuations related to metallic pigments are likely to be a concern for the industry players over the next eight years.
The shift in consumer and industrial preference for waterborne coatings offering immense chromatic effects improved optical clarity, and low VOC content is expected to be a key driver for the industry growth. Developed economies, particularly Europe dominated the water based pigments market in terms of technology penetration over the past few decades, however, Asia-Pacific is expected to grow at the highest rate owing to dynamic industry trends in the region.
"Increasing consumer preference towards environmental friendly paints expected to boost water based pigment demand"
Paints & coatings were the largest application segment for the industry and is expected to grow at a CAGR of over 6% from 2016 to 2024. The demand for the product in this application is primarily driven by the decorative segment. Rising consumer awareness regarding hazardous substances and chemicals in personal and home care products is anticipated to have a positive impact on the industry growth. Growing demand for environment-friendly paints, coatings, and varnishes for automotive applications is expected to drive demand over the projected period.
Inks is expected to be the key application segment for the industry growth and was valued over USD 3,000 million in 2015. Innovations in the of water based inks technology to print on cardboard, paper, plastics, foils, and textiles are expected to drive industry growth over the next eight years. However, for use of these inks, the users need to adopt new printing practices and equipment, which is likely to hamper the industry growth over the forecast period.
"Regulatory directive against VOC emissions will push demand for water based pigments in Europe"
The demand for these product in Europe is anticipated to grow at a CAGR of over 5% from 2016 to 2024. In Europe, VOC contents in paints and varnishes are limited under the "Decopaint'' Directive (2004/42/EC). Stringent government regulations in European countries against volatile organic compounds is expected to have a positive impact on the industry growth. High penetration of aqua-based paints in countries including Austria, Portugal, Spain, France, Hungary and Italy is anticipated to drive demand over the forecast period.
Germany is expected to be the major market for water based pigments owing to increasing consumer demand for environment-friendly products in industrial and household applications. In Germany, aqueous pigment dispersion systems are likely to witness 100% penetration in the decorative coatings market.
"Innovation and product development to be key factor to gain competitive advantage for companies"
Germany-based LANXESS introduced a VOC free water based pigment range Aquaderm X-Pigments, which is specially designed for premium leather applications. Key players in the industry include Northwest Dispersions, Chromatech Incorporated, Proquimac, Huntsman, and Clariant.
The industry is characterized by the presence of a large number of manufacturers with a wide product portfolio. The manufacturers are coming up with various eco-friendly and cost-effective products, which are aimed at aqua based coatings and ink industry.
Clariant is expanding its production capacities to tap rising consumer demand. As a result, domestic and new players likely to face intense competition from these multinationals. However, key technology innovations related to enhancing performance characteristics of the product and high growth of coating and paint industry especially in developing markets such as China and India are likely to open new avenues for new players.