Cleaning Services Category Overview
"The cleaning services category is driven by the increase in remote working conditions and rising consumer awareness about safety, hygiene, and sanitization."
The cleaning services category is expected to grow at a 6.7% CAGR from 2023 to 2030. Factors such as the rising elderly population, increased preference for remote working conditions, and shift in consumer lifestyles in terms of safety and sanitization following the COVID-19 pandemic are fueling the category's growth. Two of the top trends are the increased use of integrated cleaning business software to manage scheduling, quoting, invoicing, and client management, and the combined use of UVC rays with robotic cleaning technology for enhanced cleaning in commercial and public spaces.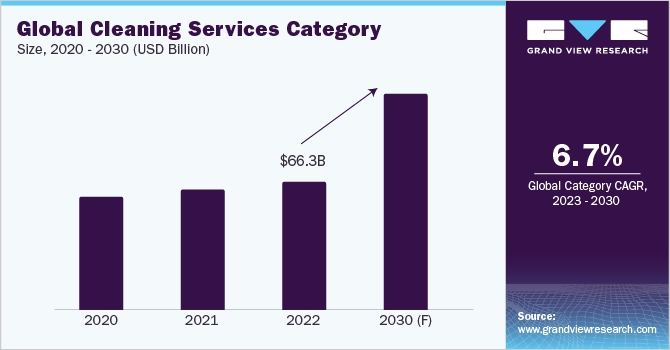 The global cleaning services market size was valued at USD 66.26 billion in 2022. The global cleaning services category is divided into three segments, namely, commercial, residential, and industrial cleaning. Commercial cleaning services account for the largest segment followed by industrial cleaning. In 2021, more than 10% of all cleaning jobs were contract-based than one-off work. The total revenue for the cleaning industry in general increased by 14%. Currently, the North American region accounts for more than 30% of the market share followed by APAC and Europe.
Continuous technological innovations and advancements such as robotic technology, AI Quality control systems, electrostatic spray technology, along with Internet of Things (IoT) to provide a safe and healthier working environment are expected to fuel category expansion.
Ultraviolet (UV) cleaning devices have become increasingly popular as a cleaning solution in recent years, especially in the wake of the COVID-19 pandemic. These devices use ultraviolet light to kill bacteria, viruses, and other pathogens, making them an effective tool for disinfecting surfaces. UV cleaning devices are used in a variety of settings, including hospitals, offices, schools, and homes. In the context of cleaning services, UV cleaning devices can be used to disinfect high-touch surfaces such as doorknobs, countertops, and light switches. Some cleaning services also offer specialized UV cleaning for HVAC systems, which can help reduce the spread of airborne pathogens.
In addition to traditional cleaning services, there is also a growing demand for green cleaning services, which use environmentally friendly cleaning products and methods. This trend is expected to continue as more consumers become aware of the potential health and environmental risks associated with traditional cleaning products.
The category is expected to continue growing in the coming years due to the increasing demand for cleaning services from both the residential and commercial sectors. Additionally, the COVID-19 pandemic has led to a surge in demand for disinfection and sanitization services, which is expected to further boost the growth of the market.
Supplier Intelligence
"How can the nature of the cleaning services category be best described? Who are the key players in this category?"
The global cleaning services category is highly fragmented. There is an increased preference for integrated cleaning services, hence companies want to engage with one-stop cleaning service providers to achieve higher cost & time savings and build better supplier relationships. For instance, manufacturing, chemical, and OEM industries, while constructing new factories generally prefer outsourcing cleaning services to a contract service provider. This helps them tap markets that have strict regulations. As a result, companies can maintain standards better. The major players dominate the category by enhancing their product portfolio, trying to use sustainable cleaning options, and launching improved products for customers.
Key suppliers covered in the category:
ABM Industries

C&W Facility Services, Inc

Sodexo S.A

Compass Group USA

ServiceMaster Clean

Jones Lang LaSalle Incorporated (JLL)

Pritchard Industries Inc

Clean Group Commercial Cleaning

CleanNet USA Inc.

Stanley Steemer International, Inc.

Quadrat Facility Services GmbH
Pricing and Cost Intelligence
"What are some of the major cost components in cleaning services? Which factors impact the cost of cleaning services?"
Raw materials (such as cleaning supplies and equipment) form the major cost components when it comes to providing cleaning services. Fluctuations in feedstock prices (i.e., the cleaning chemicals used such as liquid ammonia, chlorine, hydrogen, etc.) and the cost of cleaning machines such as carpet extractors and surface cleaning machines, industrial ride-on floor cleaners significantly impact the service prices.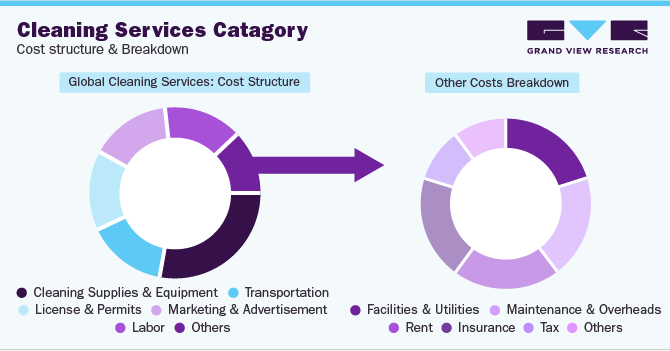 In cost benchmarking analysis, we have considered three different types of players to understand the major cost heads of the cleaning services market. Cleaning supplies and equipment together with licenses and permits, transportation, advertisements, and labor account for 60 to 70% of the total costs.
The average cost of cleaning supplies can vary each month depending on the business size, type of business, and geographic location. Costs will be higher for a manufacturing plant that requires specialized services and other industrial supplies compared to a small-sized business that requires only general cleaning supplies. Prices are also impacted by permit and license requirements as they vary from state to state. On average, in the U.S., for a small-sized business, the cost of operating expenses and equipment starts from USD 1,000, licenses will cost around USD 500, and insurance will cost another USD 1,000.
The following chart below provides a breakdown of the cost structure associated with cleaning services. The major cost components are shown below. The variable cost components include labor cost, rent and utilities cost, repairs and maintenance cost, overhead and insurance cost, SG&A and taxes, and others. Labor costs vary significantly depending on the region.
On the other hand, in China, prices of liquid ammonia have increased steadily since 2021 due to an imbalance in supply and demand. In July 2021, many liquid ammonia manufacturers suspended production owing to equipment maintenance, which resulted in a significant supply shortage in the domestic market. However, the downstream demand remained firm. This imbalance further spiked the prices. In 2022, prices of liquid ammonia fluctuated a lot in the domestic Chinese market. Demand remained stable in H1 2022. As a result, prices of liquid ammonia remained mostly between 4,300 yuan/ton to 4,500 yuan/ton.
The cost of cleaning services is influenced by several factors. One of the key factors is the size of the space to be cleaned. Generally, larger spaces require more time, labor, and cleaning supplies, which can increase the cost. Another factor is the type of cleaning required, such as deep cleaning or specialized services like carpet cleaning, which require more time and specialized equipment, making them more expensive. The frequency of cleaning also impacts the cost; regular cleaning services like daily or weekly cleaning are generally less expensive than one-time or occasional cleaning services. Additionally, the location of the service provider can affect the cost. Cleaning services in urban areas are typically more expensive than those in suburban or rural areas. Finally, additional services like window cleaning or laundry services also may increase the cost.
Sourcing Intelligence
"Which countries are the leading sourcing destination for Cleaning Services?"
The U.S., China, and Germany are the largest exporters of cleaning supplies and equipment in the world. In 2021, the U.S. exported cleaning supplies worth USD 4.18 billion. In the same year, cleaning products were the 79th most exported product in the U.S. The top three export destinations are Canada (importing cleaning supplies from the U.S. worth USD 1.59 billion), Mexico (USD 332 million), and China (USD 287 million). In 2021, the U.S. imported worth USD 2.2 billion worth of cleaning products and was the third largest importer in the world.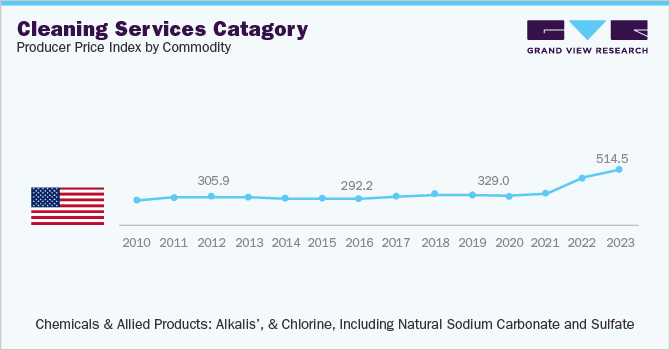 Between 2020 and 2021, the fastest-growing export markets for cleaning products in the U.S. were Mexico, China, and Netherlands. Similarly, the fastest-growing import markets were Mexico, Germany, and Japan.
In terms of cleaning services sourcing intelligence, most manufacturers and vendors opt for a full-service outsourcing model to achieve higher cost savings, have quick access to specialist cleaning services, and ensure better contract flexibility in customization.
The cleaning services category is highly competitive, with many large and small players offering a range of services. However, there is a trend towards consolidation, with larger players acquiring smaller ones to expand their offerings and market reach.
Most of the large companies across manufacturing, healthcare, OEM, and chemical industries prefer to engage with suppliers that can provide an integrated facilities management service along with cleaning services. Suppliers, on the other hand, are also increasing their investments in procuring advanced cleaning machines and combining them with their integrated cleaning platform to manage scheduling, invoicing, tracking, quoting, and client management, and thus build better supplier relationships. Manufacturers are also engaging with third-party suppliers and partnering with suppliers that have adopted a global delivery model to reduce risks to buyers. Clients should make sure that their supply chains are free from inactive suppliers and start focusing on strategic partnerships for value-added sourcing.
The Cleaning Services Procurement Intelligence report also provides details regarding day one, quick wins, portfolio analysis, key negotiation strategies of key suppliers, and low-cost/best-cost sourcing analysis.
Cleaning Services Procurement Intelligence Report Scope
| | |
| --- | --- |
| Report Attribute | Details |
| Cleaning Services Category Growth Rate (CAGR) | CAGR of 6.7% from 2023 to 2030 |
| Base Year for Estimation | 2022 |
| Pricing growth Outlook | 8% - 10% |
| Pricing Models | Cost plus pricing model, fixed price pricing model |
| Supplier Selection Scope | Cost and pricing, Past engagements, Productivity, Geographical presence |
| Supplier selection criteria | Residential cleaning capabilities, commercial cleaning capabilities, industrial cleaning services, technical specifications, operational capabilities, regulatory standards and mandates, category innovations, and others. |
| Report Coverage | Revenue forecast, supplier ranking, supplier positioning matrix, emerging technology, pricing models, cost structure, competitive landscape, growth factors, trends, engagement, and operating model |
| Key companies profiled | ABM Industries; C&W Facility Services, Inc.; Sodexo S.A; Compass Group USA; ServiceMaster Clean; Jones Lang LaSalle Incorporated (JLL); Pritchard Industries Inc.; Clean Group Commercial Cleaning; CleanNet USA Inc.; Stanley Steemer International, Inc.; Quadrat Facility Services GmbH |
| Regional scope | Global |
| Historical data | 2020 - 2021 |
| Revenue Forecast in 2030 | USD 111.32 billion |
| Quantitative units | Revenue in USD billion and CAGR from 2023 to 2030 |
| Customization scope | Up to 48 hours of customization free with every report. |
| Pricing and purchase options | Avail customized purchase options to meet your exact research needs. Explore purchase options |
Frequently Asked Questions About This Report