PPE Category Overview
"The strong growth in Personal Protective Equipment end-user industry such as construction, manufacturing, and healthcare are driving the growth of the category."
The Personal Protective Equipment (PPE) category is expected to grow at a 6.7% CAGR from 2023 to 2030. Factors such as strong growth in end-use industries such as chemicals, healthcare, construction, and manufacturing, and increasing demand due to a rise in product innovation in PPE design, materials such as polyolefins, polyamides, and ultrahigh-molecular-weight polyurethane, and manufacturing processes to increase end-use adoption are fueling the category growth. The demand for smart PPE, which increases worker safety, is one of the key trends in the market.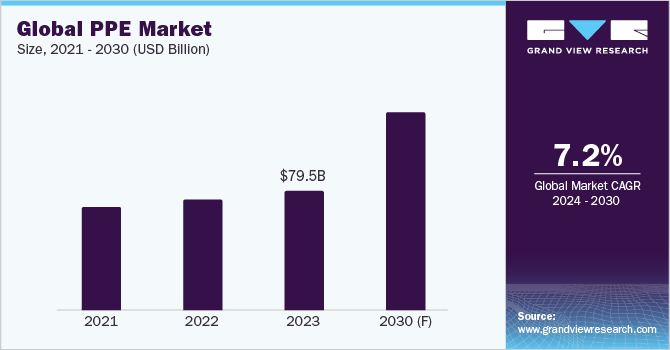 The global Personal Protective Equipment (PPE) market size was valued at USD 78.30 billion in 2022. The global category includes many segments such as hand protection, protective clothing, eye protection, protective footwear, respiratory protection, and others. The biggest segment is hand protection, followed by protective garments. More than 80% of the sales come from these four major sectors - hand protection, protective clothing, protective footwear, and respiratory protection. The North American region now holds a market share of more than 30%, followed by APAC and Europe. The APAC personal protective equipment category is expected to witness the fastest growth.
Continuous technical developments and advancements are anticipated to drive category expansion. Examples include personnel tracking systems, cooling PPE, the usage of biodegradable materials in PPE kits, and augmented reality glasses for safety. For instance, many companies are deploying new devices that can automatically detect hard hat compliance in real-time and provide workplace alerts. Some devices utilize the latest technology such as NVIDIA AI embedded system and AI platforms that can acquire custom data, visualize the data, and train the machine learning model to validate the inference results.
Similarly, augmented reality glasses can remotely support workers and assist technicians. For instance, Vuzik's Blade Smart Glasses are certified for enterprise use as PPE in the U.S. The glasses are ANSI Z87.1 and CE EN166/70 certified across the U.S. and Europe respectively. Smart glasses are mainly used in industrial applications and worksites.
A few examples of Industrial-grade AR glasses are - RealWear Navigator 500 (compatible with helmets, and safety glasses, or can be worn independently), RealWear Navigator 520 comes with large screen size and is chosen mostly for frontline workers, RealWear HMT-1Z1 is Class 1 Division 1 and ATEX & IECEx Zone 1 certified device and is mainly targeted for hazardous working environments, and Microsoft HoloLens 2, which is used mainly by Airbus and NASA. The HoloLens2 is a dustproof-certified device that provides real-time updates with spatial mapping and 6DoF tracking. It is compatible with hardhat helmets and safety gloves and is useful for manufacturing workers.
Supplier Intelligence
"How can the nature of the global PPE category be best described? Who are the key players in this category?"
The Personal Protective Equipment category is highly fragmented across many smaller product segments such as head, eye, ear, and face coverings and hence top players account for a comparatively smaller portion of the market share. Suppliers have low bargaining power due to the availability of multiple substitutes and the presence of many small private producers and large-scale global players. The major PPE players dominate the market by increasing their investment in research and development and enhancing their production capabilities and launching better products for the customers. Large corporations also engage in strategic partnerships with many small and mid-sized companies to enhance their regional logistics capabilities.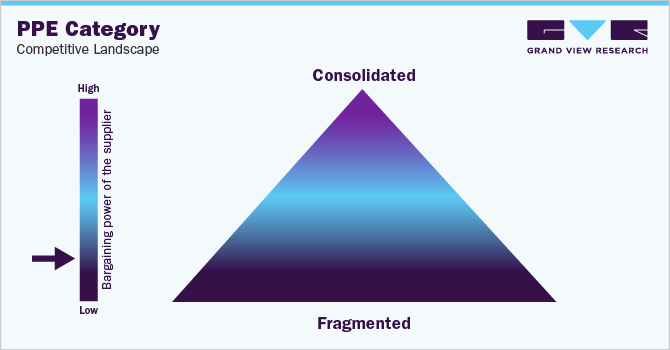 Key suppliers covered in the category:
Honeywell International Inc.

Lakeland Industries Inc.

DuPont

3M

Ansell Ltd.

Cardinal Health

Avon Rubber plc

COFRA S.r.l.

FallTech

Kimberly-Clark Corporation

MSA Safety Incorporated

Dynarex Corporation
Pricing and Cost Intelligence
"What are some of the key cost components or elements involved in the production of PPE? Which factors influence the prices?
Raw materials (such as microporous fabrics, spunbond meltblown spunbond (SMS), SMMS, polypropylene, polyethylene, polyethylene coatings, nylon, or polyester) are the major cost component when it comes to producing PPE. Changes in feedstock prices such as polypropylene or polyethylene significantly impact clothing prices.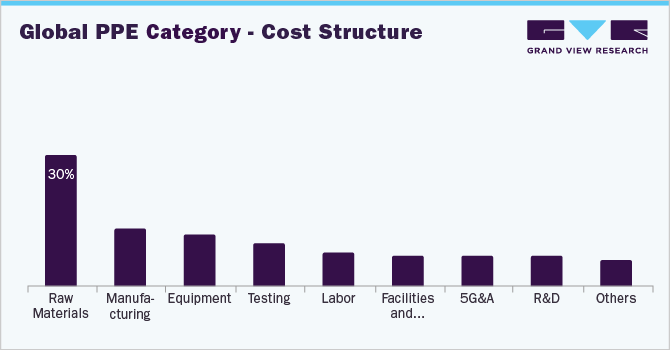 In cost benchmarking analysis, we have considered three different types of players to understand the major cost heads of production. Raw materials (microporous fabrics, spunbond meltblown spunbond (SMS), SMMS, polypropylene, polyethylene, polyethylene coatings, nylon, or polyester), manufacturing, equipment, and labor account for 60% to 70% of the total costs.
The price of clothing depends on multiple factors such as disposable or reusable, kinds of material used, type of PPE clothing produced, longevity, supply chain issues, etc. For instance, in 2020, the prices of N95 masks increased from USD 0.38 to USD 5.75 each, vinyl exam gloves increased from USD 0.02 to USD 0.06, and prices of isolation gowns increased from USD 0.25 to USD 5.00. Reusable face shields increased to USD 4 from USD 0.50, which is almost a 900% price hike due to the pandemic situation.
The following chart below provides a breakdown of the cost structure associated with PPE production. The major cost components include costs of raw materials, equipment, manufacturing process, and testing. The variable cost components include labor cost, depreciation cost, plant overhead cost, facilities and maintenance, insurance cost, SG&A and taxes, R&D, and others. The cost of labor varies widely depending on the region.
On the other hand, in the U.S., prices of major petrochemicals such as polypropylene (PP) and polyethylene (PE) have increased steadily since June 2022, and have risen by 80 to 120% since 2019. PE prices in the U.S. increased from USD 1,200 to 2,200 in 2021 due to multiple factors such as tight supply and low imports, February polar vortex, and power outages in Texas which significantly reduced PE production. The continuous supply chain disruptions in ocean freight also impacted the prices. Similarly, PP prices have increased worldwide by 36% to 40% since 2019 due to high input costs and supply shortages in domestic inventories.
In 2022, prices for PPE clothing in Europe were significantly impacted by the Russian-Ukraine Crisis as clothing production is an energy-intensive process. Costs of garments increased to cover the rising energy prices used in the process. In Europe, some of the protective clothing prices increased by 40%. Between January 2021 and January 2023, the domestic industrial producer prices (PP) for energy increased from 106.2 to 241.3. The consumer prices for gas and electricity increased from 105.4 to 172.3. Similarly, the prices of non-woven fabrics have been following a bullish momentum. North America accounts for 15% of the global PPE market share.
The Personal Protective Equipment Procurement Intelligence Report provides a detailed analysis of the cost structure and the pricing models adopted by prominent suppliers in this category.
Sourcing Intelligence
"Which countries are the leading sourcing destinations for PPE? What is the share of exports?
In the global personal protective equipment category, China is the largest exporter worldwide followed by Germany. In 2020, New York Times estimated that China produced 116 million masks a day during the pandemic. This was almost 12 times its supply before the COVID-19 outbreak. In 2019, globally China exported the largest amount of protective equipment products and accounted for 17.2% of the total market share.
China exported almost 43% of face shields, safety gloves, goggles and visors, protective clothing, mouth, and nose protection etc. On the other hand, U.S. and E.U. imported 45% and 50% of protective garments from China respectively.
In terms of Personal Protective Equipment sourcing intelligence, most suppliers opt for hybrid/bundled outsourcing to achieve higher cost savings, reduce security-related risks, and ensure better customization.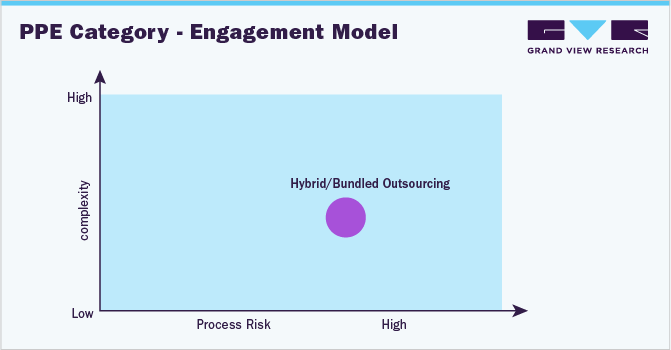 The producers are increasing their investments in research and development trying to develop new products. To lower risks for customers, manufacturers are also working with independent suppliers and collaborating with those who have adopted a global delivery model. Clients should ensure that there are no inactive suppliers in their supply chains and start concentrating on strategic alliances for value-added procurement.
The PPE procurement intelligence report also provides details regarding day one, quick wins, portfolio analysis, key negotiation strategies of key suppliers, and low-cost/best-cost sourcing analysis.
PPE Procurement Intelligence Report Scope
| | |
| --- | --- |
| Report Attribute | Details |
| PPE Category Growth Rate (CAGR) | CAGR of 6.7% from 2023 to 2030 |
| Base Year for Estimation | 2022 |
| Pricing growth Outlook | 8% - 10% |
| Pricing Models | Volume-based pricing model, Fixed price pricing model |
| Supplier Selection Scope | Cost and pricing, Past engagements, Productivity, Geographical presence |
| Supplier selection criteria | Types of products (first responder safety, fall protection and first aid, gas, and flame detection, hand-eye and face protection, respiratory protection, etc.), technical specifications, operational capabilities, regulatory standards and mandates, category innovations, and others. |
| Report Coverage | Revenue forecast, supplier ranking, supplier positioning matrix, emerging technology, pricing models, cost structure, competitive landscape, growth factors, trends, engagement, and operating model |
| Key companies profiled | Honeywell International Inc.; Lakeland Industries Inc.; DuPont; 3M; Ansell Ltd.; Kimberly-Clark Corporation; COFRA S.r.l.; FallTech; MSA Safety Incorporated; Dynarex Corporation; Cardinal Health; Avon Rubber plc |
| Regional scope | Global |
| Historical data | 2019 - 2021 |
| Revenue Forecast in 2030 | USD 131.55 billion |
| Quantitative units | Revenue in USD billion and CAGR from 2023 to 2030 |
| Customization scope | Up to 48 hours of customization free with every report. |
| Pricing and purchase options | Avail customized purchase options to meet your exact research needs. Explore purchase options |
Frequently Asked Questions About This Report