Industry : Next Generation Technologies
AGV (Automated Guided Vehicle) systems in warehouses, manufacturing facilities, and distribution centers assist in moving and transporting items without manual intervention or any permanent conveying system. It follows configurable guide routes for picking, optimizing storage, and transport functions in the environment of premium space. AGVs are being actively adopted owing to several advantages, such as reduced product damage, labor costs, and increased productivity. These notable advantages encourage companies to deploy AGVs to boost the efficiency of their operations, driving the growth of the global automated guided vehicle market at 9.7% CAGR from 2023 to 2030. The market is expected to be valued at USD 9.18 billion by 2030.
Technological and engineering innovations by automated guided vehicle manufacturers are also expected to play a significant role in the further development of the market. For instance, in May 2023, KUKA AG launched the KMP 600-S diffDrive mobile platform, an advanced automated guided vehicle (AGV) system. The versatile KMP 600-S AGV is designed for tasks like material handling, goods transportation, and picking and placing, and it's compatible with various KUKA robots and automation solutions.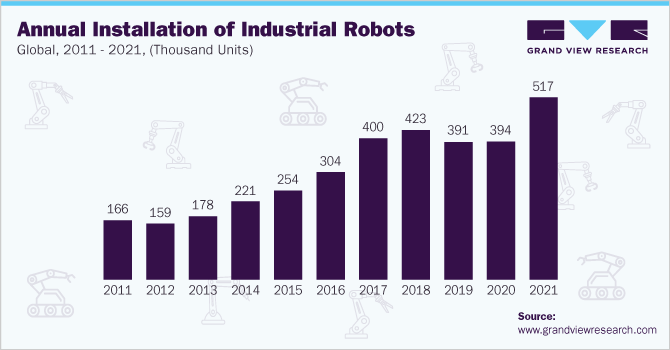 The implementation of automated guided vehicles in e-commerce warehouses and logistics operations offers numerous benefits. Labor is replaced with AGV to perform repeated tasks of material handling efficiently. This, in turn, helps reduce labor costs and enables the management to focus on other tasks that require attention, such as enhancing customer satisfaction. Many e-commerce companies struggle to find and retain an adequate workforce for manual material handling tasks, especially during peak times. AGVs offer a solution by lowering the reliance on human labor for these tasks, helping businesses maintain consistent productivity levels.
Enterprises upgrading their existing facilities and building new facilities are aggressively adopting modern retrieval and automated storage systems and other material handling equipment to save on labor costs and boost efficiency and productivity. For instance, in March 2023, Rocla AGV, a Mitsubishi Logisnext company, launched a new automated compact truck designed to lift heavy loads in narrow spaces. The new truck works efficiently between the warehouse and loading docks and fits easily in the existing warehouse setting with minimal rack modifications.
Efficiency and Precision: AGVs Optimizing E-commerce Operations
The use of automated guided vehicles in the e-commerce industry helps in relieving workloads. Software tools used in AGV help in programming paths and operations during material movement and tracking the material movement in supply chain operations, resulting in high operational efficiencies and productivity. For instance, in February 2023, The SSI Schaefer Group, a prominent supplier of systems, components, and software for warehouse automation, acquired DS AUTOMOTION GmbH, a global supplier of automated guided vehicles and autonomous mobile robotics. The acquisition intends to expand the minority interest of SSI Schaefer to reminisce the growing significance of AGV and autonomous and mobile robotics business in intralogistics.
Enhancing Operations with Intelligent AGVs in Manufacturing and Distribution
AGVs are transforming the way materials move throughout the distribution and manufacturing facilities. In a production environment where multiple operations are conducted simultaneously, these vehicles offer a predictable and reliable transfer of manufactured products, thus eliminating production backups. The vehicles possess high-end capabilities owing to various technologies such as LiDAR sensors and camera vision. They have high-end capabilities such as identifying floor signs, detecting junctions, and avoiding collisions with barriers, thereby assisting vehicles in operating safely around machinery, structures, and employees.

The constant cycle of hiring and retaining workers significantly contributes to swelling operating costs. According to the Bureau of Labor Statistics, a U.S. Department of Labor unit, warehouse labor turnover has surged to an annual rate of nearly 50%. This high turnover creates a significant financial strain for warehouses, extending above basic wages. Thus, the average expense incurred per hire surpasses USD 4,400, compounding the financial challenges warehouses face due to the need for frequent workforce replacement.
Median Annual Wages for Material Handling Machine Operators, by Sector, May 2021
| | |
| --- | --- |
| End-Use | Median Annual Wages (USD) |
| Construction | 62,600 |
| Warehousing and storage | 38,810 |
| Food manufacturing | 38,080 |
| Wholesale trade | 38,010 |
| Temporary help services | 31,250 |
Investment and Returns: Analyzing AGV Adoption Economics
Modern automated guided vehicle systems represent a significant investment for a firm. The average cost for a single guided vehicle is about USD 100,000, and a system that includes multiple vehicles, navigation aids, communication hardware, and safety devices can cost several times. This high initial investment has restricted AGV applications to small and medium-sized enterprises (SMEs) and large corporations. The high initial cost challenges market growth in the short run. However, this high initial cost leads to a high return on investment (ROI) in the long run. For instance, using five AGVs in three shifts saves USD 1.56 million over five years. Furthermore, it takes just 16 months to see a return on investment.
Adaptability and Versatility: Automated Guided Vehicles Transforming Dynamic Industries
Automated guided vehicles are adaptable to various tasks and environments, making them suitable for dynamic industries like e-commerce and manufacturing, where demand patterns change rapidly. These vehicles can be easily reprogrammed or reconfigured to handle different tasks, making them a versatile asset for businesses with fluctuating requirements. Manufacturers such as JBT Corporation and Kollmorgen use more advanced navigation systems and, in some cases, multiple navigation systems on one AGV. These machines now use natural environment navigation to compare actual conditions with a baseline map to advance through the facility safely. In complex facilities, automated guided vehicles switch seamlessly between navigation technologies to get optimum performance in all areas. As businesses prioritize efficiency, accuracy, and cost savings, AGVs will play a key role in shaping the future of logistics and material handling across these sectors.
---
This research insight and the AGV Market Analysis Report have been authored by Jagdishh Thadhanii. Jagdishh is placed as Chief Consultant and Principal Analyst for the Technology Domain at Grand View Research. He has close to 8 years of extensive experience in the research & consulting area, where he has majorly worked with IT and Next-generation technology segment clients on Growth strategy, Market dynamics, and Predictive Analysis, amongst other topics.
---