Industry : Healthcare
Fungal infections encompass both systemic and superficial infections including infection of the skin, eye, mouth, and vagina. Antifungal products with fungicidal activity are mostly used to treat awide array of diseases,such as athlete's foot, fungal meningitis, and ringworm, caused by fungal agents.Considerably large range of antifungal preparations, both topical and oral agents such as creams, sprays, tablets, and injections, are commercially available in this sector. The huge demand for these products and their subsequent adoption is predicted to support antifungal drugs market expansion in the next seven years.
Rising incidence of fungal infections is the key contributing factor expected to propel the growth of the antifungal drugs market over the forecast period. The market expansion is strongly supported with increasing R&D expenditure deployed by pharma manufacturers for the development of novel antifungals.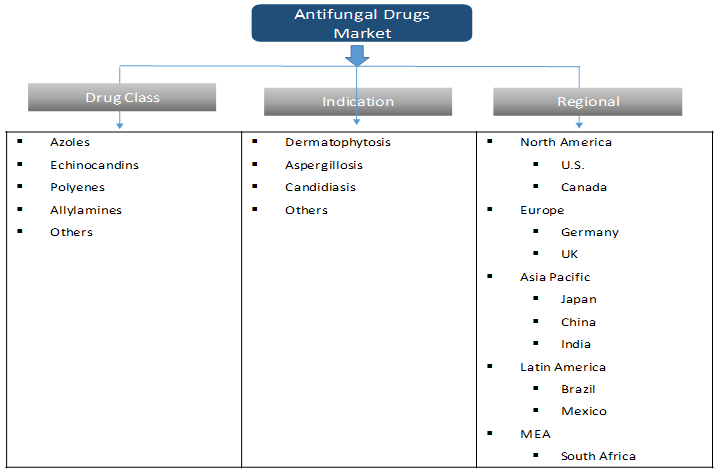 Azoles are the most commonly used drug class to treat systemic fungal infection. They are classified into triazoles and imidazoles. Triazoles such as fluconazole, voriconazole and itraconazole are characterized with potent broad-spectrum activity and offer greater safety levels as compared to other therapeutic agents. The triazoles exert fewer adverse effects and serious drug-drug interactions, and haveimproved pharmokinetic properties. These benefits altogether are contributing toward the current dominance of azoles amongst other drug classes.
However, growing resistance of commonly occurring fungi species to azoles has created an opportunity for other drug classes to enter the competition. Echinocandins are anticipated to show significant growth during the forecast period.This drug class mediates their fungicidal activity by inhibiting cell wall synthesis of fungi and is effective against yeast, molds, and fungal spores.Commonly used echinocandins are caspofungin, anidulafungin, and micafungin. They are frequently used in the treatment of invasive aspergillosis, invasive candidiasis, candidemia,and oesophageal candidiasis, among others. Relative to other fungistatic agents, these have fewer adverse effects in terms of drug-drug interactions and exhibit broad-range activity.
Widely available polyenes are Amphotericin B and Nystatin. These medicines target the sterol present in the cell membrane that causes the death of fungal cells. Amphotericin B is used to cure fungal endophthalmitis, blastomycosis, cryptococcal meningitis, coccidioidomycosis, and histoplasmosis. Nystatin is used topically and in oral formulations for superficial candidalinfections.Commonly treated infections are oral thrush, vaginitis, and mild oesophageal candidiasis.
In the recent years, a number of highly effective and safe antifungal agents have sprouted in the market for the treatment of fungal diseases. Terbinafine, itraconazole, fluconazole, are some of the most promising therapeutics present in the market. Increasing R&D expenditure and widening product pipeline advanced by the pharmaceutical manufacturers for anti-infectives development is one of the key contributing factors for the growth of the antifungal drugs sector.
Key players
Some of thekey players serving antifungal drugs market are Merck & Co. Inc, Pfizer, Inc, Novartis AG, Sanofi-Aventis, Enzon Pharmaceuticals, Bayer AG Astellas Pharma Inc, Abbott, Sigma-Aldrich. and, GlaxoSmithKline.
The market is highly competitive in nature as there are several generics available for the treatment of fungal diseases. The companies are adopting competitive strategies such as collaborative agreements, merger & acquisitions, and new product development initiatives to sustain themselves in the competition.

In-depth report on global antifungal drugs Market Report Antifungal Drugsmarket by Grand View Research:
https://www.grandviewresearch.com/industry-analysis/antifungal-drugs-market