Industry : Next Generation Technologies
Growth in the e-commerce industry is acting as a primary factor for the increased demand for the autonomous guided vehicles (AGVs) market for logistics applications. Furthermore, the AGVs adoption at distribution centers and warehouses is on a rise on account of increasing preference being laid on workplace safety, enhanced productivity.
Automated Guided Vehicles (AGVs) Market - Technology Evolution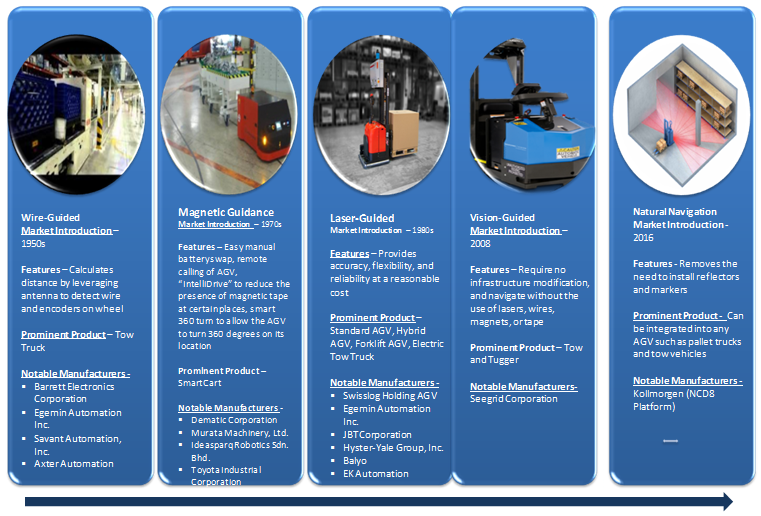 The technology-led market incorporates several technologies that enable efficient navigation of AGVs at the area of operation. The navigation technologies used in such vehicles have remarkably evolved from wire guided in the 1950s to vision guidance and the very recent natural navigation based AGVs. The vehicles can be categorized on the basis of types into tow vehicle, unit load carrier, pallet truck, fork lift truck, and load cylinder among others. The tow vehicle segment has emerged as a dominant product segment. The capability of tow vehicles to pull one or more non-powered, wheel-based vehicles is driving their demand especially at avenues such as railway stations and airport terminals.
Key industry trends driving industry growth include rising demand for automation and material handling equipment in process industries. Although AGVs have created their space as a prominent substitute in the areas requiring a large number of labors, high set-up costs are still acting as a major challenge as it stands today.
"Market Key Takeaways"
Swisslog Holding AG (KUKA Group)
Swisslog is currently employing inorganic growth strategies to expand its positioning in the e-commerce and omni channel segments and pursue opportunities in the field of production and logistics. Although, Swisslog was acquired by the KUKA Group in 2014. The move helped the company to strengthen its market positioning and its product offering and also consolidate its market entry in the United Arab Emirates and Korea. Swisslog has also planned to work in cooperation with KUKA in the future, especially in the areas of robotics and automated guided vehicles and transport systems.
Egemin Automation, Inc.
Egemin is trying to expand its presence in North America inorganically. For instance, Egemin Automation acquired Retrotech, the U.S. systems integrator of warehouse and distribution solutions in order to strengthen its expertise in the application areas of automated warehouse systems in North America.
Bastian Solutions, Inc.
Bastian Solutions aims to expand its presence in the European market as the move is expected to provide the company with numerous opportunities to grow its brand, which would provide high-level service and flexible automation. In accordance with this plan, in April 2016, Bastian Solutions, Inc. commenced a new office in Europe.
Daifuku Co., Ltd.
Daifuku is trying to expand its warehousing and distribution business across North America through its inorganic growth strategy. In October 2013, Daifuku's wholly-owned U.S.-based subsidiary, Daifuku Webb Holding Company, acquired Wynright Corporation, a leading integrator and provider of intelligent material handling systems in North America.
JBT Corporation
JBT Corporation is focusing on catering to the demands for AGVs for hospitals. In February 2012, the company signed a partnership agreement with Swisslog Holding AG in order to develop and manufacture AGVs for hospitals.
Toyota Industries Corporation
Toyota Industries Corporation is planning to expand its forklift AGV range by August 2016.
Dematic Corporation (Kion Group)
Dematic Corporation was acquired by Kion Group in June 2016. Dematic is entrenched in North America and Asia and has successfully prospered its business in these regions. The acquisition of Dematic Corporation is expected to help Kion Group expand its presence in North America and Asia.
Hyster-Yale Group, Inc.
Hyster-Yale is currently focusing on promoting its self-guided trucks in the North American market through its partnership with Balyo, Inc., a robotics solution provider.
Seegrid Corporation
Seegrid Corporation has pioneered the three-dimensional vision-guided navigation technology and offers flexible automation solution for tow vehicles and pallet trucks to cater to the demand of manufacturing industries.

In-depth report on global automated guided vehicle (AGV) market by Grand View Research:
https://www.grandviewresearch.com/industry-analysis/automated-guided-vehicle-agv-market