Industry : Specialty Glass, Ceramic & Fiber
Automotive glass market is expected to witness substantial growth over the coming years on account of increasing income levels of the consumers and fast recovery from recession in numerous economies. The product basically includes windshield, sidelite (side windows), and backlite (rear window). These are generally sold to automotive repair companies or directly to the vehicle manufacturers.
The market is highly dependent on the demand for automobiles worldwide. Increasing demand for better interior décor and luxurious experience of the vehicle are anticipated to have a positive impact on the market growth over the forecast period.
China automotive glass market revenue, by vehicle type, 2015 (%)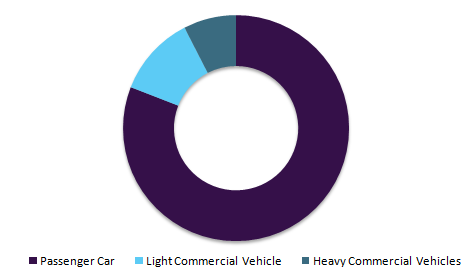 The automotive aftermarket has been witnessing sluggish growth over the past years on account of superior automobile quality on the manufacturers' end. However, the vehicle collision repair industry is anticipated to grow on account of increasing cases of road accidents worldwide.
Rapid urbanization, significant growth of the developing economies, and increasing vehicle production is anticipated to play a key role in augmenting the demand for the product over the forecast period. The price of automotive glass witnessed a slight decrease in the past decade on account of economic downfall. However, the prices have stabilized with economic recovery over the past years.
The automotive glass industry is also affected by the environmental conditions in various regions. Heavy snow and rain in North America and Europe aid difficult driving conditions leading to increase in number of accidents. This is anticipated to propel the demand for automotive glass over the forecast period.
Increasing penetration of sunroof glass particularly in high-end vehicles is anticipated to have a positive impact on the market growth. Numerous consumers demand big sunroof in the car which leads to increase in utilization of glass. In addition, advancements in vehicle design have led to increase in size of windshield and side windows, thereby leading to industry development.
The industry has been segmented on the basis of vehicle type as passenger cars, light commercial vehicles, and heavy commercial vehicles. Rising consumer disposable income and increase in demand for passenger cars in developing economies is anticipated to have a positive impact on the market growth over the next nine years.
Asahi Glass Limited, NSG, Fuayo, Xinyi, and Saint-Gobain are the key companies in the industry. The companies have been attempting to develop new products in order to cater to rapidly changing consumer demands. Numerous market players have been involved in the expansion of their manufacturing facilities. In addition, research and development investment is also one of the key strategies of the players.

In-depth report on global automotive glass market by Grand View Research:
https://www.grandviewresearch.com/industry-analysis/automotive-glass-market