Industry : Bulk Chemicals
Increasing oil & gas drilling activities coupled with growing application scope in geosynthetic clay liners and medical industry is expected to drive global bentonite market over the next eight years. Increasing production capacities along with ever expanding bentonite demand from oil & gas industry as a drilling mud additive is expected to have a positive impact on the market growth.
Bentonite finds application in various other industries such as binders in iron & steel manufacturing, mineral oil & liquor purification, absorbent and groundwater barrier. These application segments are estimated to project significant growth in bentonite market over the next few years. Currently, oil & gas drilling is the largest application segment and is estimated to lose some market share to other high growth applications such as binders and medical (dermatological formulas).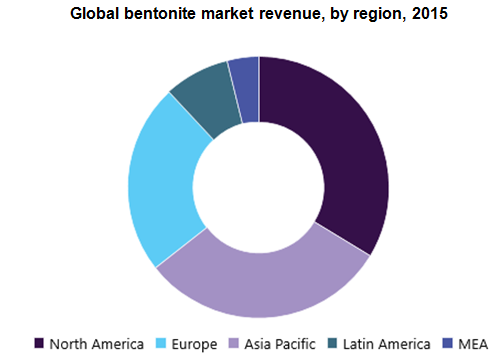 Bentonite market may be restrained by inability of preventing mud cake formation and swelling in oil wells which hampers production rate. Certain chemical additives used along with bentonite in drilling mud are also subjected to stringent regulations such as the 'Safe Drinking Water Act (SDWA)' by the U.S. government. Growing popularity among various niche end-users such as rubber tire, food and cosmetics owing to high binding ability of bentonite is expected to create immense opportunities for market growth over the forecast period.
On the basis of products, global market has been segmented into sodium, calcium and potassium; with sodium bentonite dominating the global demand as of 2015. Sodium and calcium bentonites are utilized primarily in drilling mud and have high plasticity. In term of regional demand, North America was the largest consumer of bentonite in 2015 with U.S. having the lion's share owing to large scale drilling and exploration activities in the country. North America is estimated to lose market share to Asia Pacific and Europe owing to stringent regulatory scenario in the region.
Asia Pacific is estimated to witness the highest CAGR over the forecast period owing to favorable initiatives by governments of India, China and Japan. The region is estimated to witness high bentonite demand from oil & gas, metallurgy and construction industries. Majority of future demand is likely to come from India, China, Turkey, Greece and Australia.
The global market is highly fragmented, and the magnitude of competitive rivalry is expected to increase over the next few years, mainly as major manufacturers are willing to heavily invest in R&D and innovation to gain a competitive edge through the higher quality output, efficient production, and innovative portfolios. Major companies operating in global bentonite market include AMCOL International, Wyo-Ben Inc, MidPoint Chemicals Company, M-I SWACO, Volclay International, Kemira, Alfa Aesar, Charles B. Chrystal Co. Inc., Cimbar, and Amsyn Inc.

In-depth report on global bentonite market by Grand View Research:
https://www.grandviewresearch.com/industry-analysis/bentonite-market