Industry : Healthcare
"Cardiovascular disorders, one of the leading causes for deaths"
Cardiovascular diseases are a major health concern driving the growth of cardiac prosthetic devices market. Heart disorders including stroke, dyspnea, and prosthetic valve failure are resulting in increasing number of deaths. This has increased the requirement for cardiac prosthetic devices.
Valve substitutes are increasingly useful for heart valve failure. Valve substitutes help in replicating the features of a normal native valve. Moreover, hospitalization rates pertaining to cardiovascular diseases are also reaching an alarming stage. Mostly, the geriatric population suffers from cardiovascular disorders; however, the young adults are also suffering from heart disorders owing to their poor lifestyle.
In addition, cardiac prosthetic equipments are covered under various reimbursement policies. The Centers for Medicare & Medicaid Services covers such devices, which is expected to raise the affordability factor for valve replacement surgeries for patients.
India exhibits high prevalence of cardiovascular diseases, which is expected to enhance the demand for cardiac prosthetic devices. As a result of availability of various reimbursement policies to cover such products, India is anticipated to provide greater growth opportunities for the market. Germany is also projected to increase the demand owing to its wide geriatric population base.
Cardiac prosthetic devices product market, 2015 & 2024 (USD Million)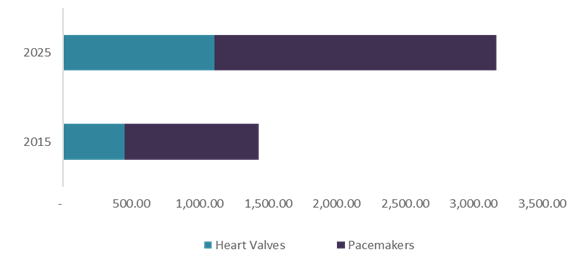 "Technological advancements are enhancing growth of cardiac prosthetic devices"
Companies are focusing on advanced technologies pertaining to the development of cardiac prosthetic devices. Introduction of smaller pacemakers implanted through minimally invasive approach is anticipated to boost product sales. Mechanical heart valves also enhance product life due to their strong and durable raw materials. However, such heart valves require continuous use of anticoagulants in order to reduce the risk of valve thrombosis, which is lower in case of tissue valve replacements.
Furthermore, a new sutureless aortic valve replacement has been introduced, which is expected to be advantageous to a wider range of patient population. Its minimally invasive approach and temporary sutures have led to utilization of smart technology for valve replacement.
Giant players like Medtronic are focusing on introduction of app-based remote monitoring system for patients with implantable pacemakers. This has further advanced technology for such devices. Transcatheter aortic valves are expected to grow at a faster rate, owing to their less invasive nature compared to surgical valve replacement. The key companies have created transcatheter structural heart division in the past 2 years owing to the industry's shift from open cardiac surgery to less invasive transcatheter surgeries.

In-depth report on global cardiac prosthetic devices market by Grand View Research:
https://www.grandviewresearch.com/industry-analysis/cardiac-prosthetic-devices-market