Industry : Paints, Coatings & Printing Inks
Chemical indicator inks are color changing inks employed primarily for sterilization monitoring processes. These inks undergo a permanent change in color when exposed to specific sterilant or predefined temperature conditions. Change in the ink color reveals that the sterilization process is complete and the surgical accessory is safe for use. Chemical indicator ink immediately indentifies the completion of sterilization process by changing color.
These inks are designed to react in specific sterilization processes. Ink that is manufactured and developed to signal in the ethylene oxide process is not likely to be successful in steam sterilization. Chemical indicators are usually affixed to the external part of products to show that it has been put and processed through a sterilization cycle.
Increasing occurrence of nosocomial diseases coupled with rising stringent regulations put forth by regulatory bodies including the EPA and EU for compulsory sterilization for an extensive range of surgical products is expected to fuel product demand. Fluctuations in the raw material prices are expected to challenge industry growth over the forecast period.
A major driver for the chemical indicator ink industry is the tremendous rise in the healthcare, particularly pharmaceutical industry. Owing to the advancements in science and technology, the pharmaceutical industry has been growing at a rapid pace over the past few years, and this trend is expected to continue over the forecast period fuelling the demand for this product.
Global chemical indicator inks market revenue, by application, 2015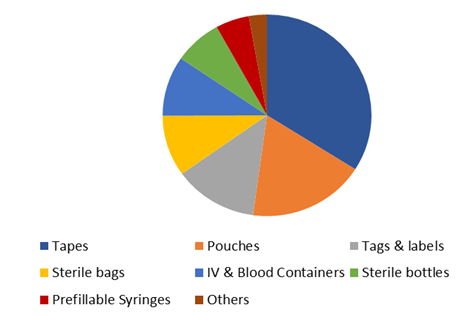 Increasing product use in the manufacturing of IV & blood containers and pouches to avoid infection among patients is also anticipated to fuel demand over the forecast period. Furthermore, numerous mandates in developed countries such as U.S., Germany, France, and the UK for sterilization is expected to propel product use in the healthcare industry. Rising use of inhalers and prefillable syringes in the biotechnology industry for the manufacturing of numerous drugs is expected to have a positive impact on product demand.
Water-based chemical indicator ink is expected to be the fastest growing segment and will exhibit highest market penetration on account of it environment-friendly nature. Superior product properties including enhanced color, good surface appearance, ink performance flow behavior, and glossare key factors influencing surging product demand among manufacturers, and this trend is expected to continue over the forecast period.
The global market is highly fragmented, and the magnitude of competitive rivalry is anticipated to increase over the next few years, as major manufacturers are willing to heavily invest in R&D and innovation to gain a competitive edge through the higher quality output, efficient production, and innovative portfolios. Rising awareness among consumers regarding the need for sterilization will translate into increased demand for products manufactured via this process over the next few years, thereby promising a profitable future for the manufacturers in the market.

In-depth report on global chemical indicator inks market by Grand View Research:
https://www.grandviewresearch.com/industry-analysis/chemical-indicator-inks-market