Industry : Technology
Market Overview
Digital Twin technology is an emerging concept that has become the centre of consideration for the industry in recent years. The ongoing technology revolution is fueling innovation in all industries. The digital twin market summarizes software and service platform that is used to create a virtual interpretation of a component, asset, system, process, or enterprise. The visual depiction of these types of digital twins is supported by various empowering technologies such as Enterprise IoT platforms, asset performance management software, analytics software, or simulation tools created by various software vendors and service providers.
According to Grand View Research, the digital twin market is growing at a CAGR of 37.5% (2023-2030), owing to transformation in the processes such as innovative tactics to reduce costs, optimize maintenance, monitor assets, reduce downtime, and create new connected products.
Market Outlook
Digital transformation offers a wholistic customer-driven and digital-first approach among the entire business process, combining business models, customer experiences, and operational processes.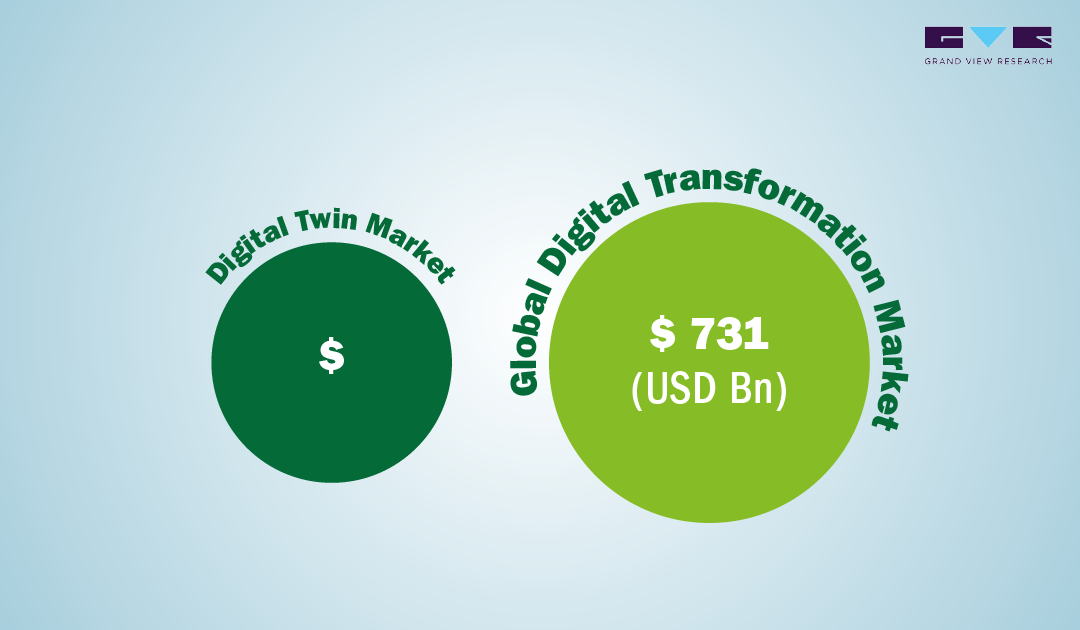 Adoption of predictive maintenance software tools integrated with digital twin capabilities is anticipated to foster market growth over the forecast years. Furthermore, the use of digital twins in humans includes drug testing and proactive injury prevention. Fortune firm has started implementing digital twin technology in product manufacturing. As technology innovates the product value chain, Modernize & Optimize Infrastructure and Operational activities.
Market Opportunity
Conversely, increased deployment of cloud, IoT, and cutting-edge technologies is posing security data privacy risks. Digital twin technology can represent a complete assembly line, component, or a group of employees. According to the existing market trend approximately 70 percent of businesses attempting to use the Internet of Things or have plans to do so within the next 12 months.The core of the entire Digital Twin technology is data analytics, whereas the capacity of digital twin technology to model and examine objects is a crucial feature. Major players are spending a lot on R&D to increase their product line to grow efficiently.
The growing demand to prevent product recalls coupled with the need to reduce carbon emission and enhance engine efficiency has led to significant adoption of digital twin solutions in the automotive and defense & aerospace industries. All together AI and generative design along with cloud-based computing are assisting digital twin developers in creating numerous design options and improving the design flow.
Digital twins dominate the Industrial applications eco-system.
The future of digital twins is nearly limitless, since increasing amounts of cognitive control are constantly being allocated to their use. Digital twins are constantly learning new skills, expertise and generate insight to make products better and processes more efficient.
Key Players
ABB
AVEVA Group plc
Dassault Systems
General Electric
Hexagon AB
IBM Corporation
Microsoft Corporation
PTC
SAP
Siemens AG
Few questions answered by the Digital twin technology study:
What is the projected market value of the global digital twin market?
Who are the major players dominating the digital twin market?
Which region has the highest market share in the digital twin market?
What are the sugar-coated threats of the digital twin market?
Authored By
Pawan Srivastava, Manager & Cluster Lead, Technology Research, Grand View Research
Pawan heads one of the major Clusters of GVR - ICT & TMT domain. Competent with a rich combined experience of 9 years in IT & Strategy Consulting, Market Research, and Analytics. Leveraged aptitude in translating corporate vision to overcome complex business challenges through Competitive Analysis, Qualitative & Quantitative Research. He works with a solution-oriented approach to convert business challenges into actionable solutions. He tracks market intelligence around emerging technology spaces such as Artificial Intelligence, Machine Learning, Robotic Process Automation, Datacenter, Cloud Computing, Cyber Securities, Autonomous Vehicles, Mobility Devices and, to name a few