Industry : HVAC & Construction
Market Overview
The electric excavator sales witnessed strong demand in 2021, owing to increased demand for midi and mini excavators across Europe and China. Additionally, economies worldwide are taking necessary initiatives to attain net-zero emissions resulting in increasing demand for electric vehicles from the construction sector. Similarly, rental companies recognized that powertrain electrification is a key technology to lower the emission from construction machines which further favors the market growth. Despite COVID interruptions, manufacturers are shifting their focus to electric equipment. This shift is trending, increasing emissions standards is a prime thought interest in battery-powered equipment has increased. Electric machines also offer some frantically needed solutions, including reducing noise and safely working indoors. It also offers to enable to work anytime, anywhere – even at odd hours. Battery-powered machines are nearly silent and allow contractors to work in busy spaces and highly populated areas. This can lessen the disruption inner city work can cause and lessen congestion at peak times, all the while increasing productivity and efficiency.
Increasing commodity prices of steel, aluminum, and other raw materials may lead to an increase in new equipment prices in 2022 that would restrict rental business companies to purchase new equipment, which is presumed to hinder the market growth. On the other hand, large-scale construction companies are switching conventional heavy-duty excavators with mini electric excavators due to reduced superior maneuverability, and operational ease, which is predicted to drive the electric excavator market soon. Furthermore, increasing lithium battery prices is expected to be one of the bottlenecks for electric excavators; however, the impact is expected to be short term and prices are likely to decline by 7% to 10%, consequently affecting the average selling prices of electric excavator's market over the forecast period.
Market Outlook
The electric excavator market is segmented into North America, Latin America, Europe, Asia Pacific, and the Middle East & Africa region. Europe dominated the electric excavator market in 2021. It is expected to lose its dominance to Asia Pacific countries led by China, Japan, and Southeast Asia in the next 10 years. Favorable tax incentives and increasing investments to develop electric infrastructure in countries such as Singapore, and Southeast Asia are some of the factors that support the market growth over the forecast period.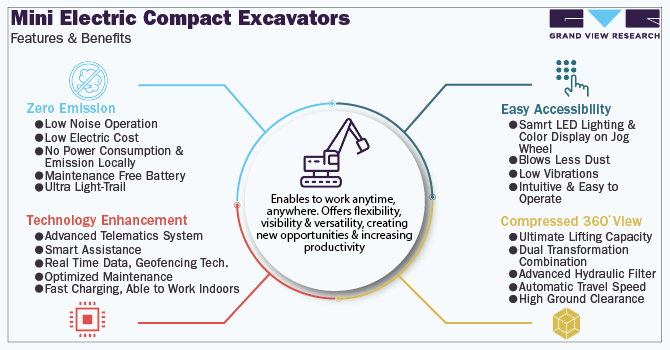 The technological enhancements would lead the industry in several approaches, manufacturers are implementing digital assistance tools for efficient control and optimal performance. Companies like JCB, Volvo, and Yanmar introduced digital assistant technology that offers real-time guidance, telematic services, and sensors technology to predictive analysis to automate the functioning of excavators.
Market Opportunity
According to the United Nations Environment Program, the world is facing a climate crisis, where the construction industry must find ways to adopt greener energy solutions. Companies should use sustainable products which range from internal combustion, electric and hybrid integrated power solutions and components including filtration, turbochargers, air handling systems, automated transmissions, electric power generation systems, microgrid controls, batteries, electrolytes, and fuel cell products.
High-performance mini electric excavators getting tractions for the major participants, like JCB, Volvo and Hitachi, are the leading construction firms who debuted a battery-powered small excavator within the 2 to 5 tons in their respective segments. These types of machinery are so productive with a short rear-end swing design that enables capable operation even in tight locations. When compared to diesel-powered excavators, this machine's holders can expect low maintenance expenditures and lesser downtime. These are cost economical and easily transportable, small electric excavators are easy to transport from one location to another and easily fit into the trailer or extended pickup beds. Mini excavators incorporate new technologies such as lithium-ion batteries and electric cylinders which utilize no hydraulics. Its advanced functionality connected with sensors that control the vehicle and operational activities via wireless systems. Companies like Volvo and Komatsu introduces hybrid excavators which reduced fuel consumption by over 40%-50%.
Key Players
Some of the key vendors in the electric excavators include:
Caterpillar
Sennebogen
AB Volvo
Doosan Bobcat
Komatsu Ltd.
Yanmar Holding Co, Ltd.
Hitachi Construction machinery Co, Ltd.
Few Questions answered by the Electric Excavator Market study
By when wheeled excavators weighing more than 20 ton market are expected to get commercialized globally?
What initiatives are being taken by Volvo AB, JCB, Doosan Bobcat, and SANY Group to increase their market profitability?
Is PPP model is going to be long-term factor expected to drive the electric excavators market?
What is the Volvo market share in electric excavator market in 2021?

Request for a Free Sample Report or order your copy of the report titled Excavator Market Size, Share & Trends Analysis Report By Product (Crawler, Wheeled, Mini/Compact), By Application (Construction), By Region, Competitive Landscape, And Segment Forecasts, 2018 - 2025, published by Grand View Research
Authored By
Pawan Srivastava, Manager & Cluster Lead, Technology Research, Grand View Research
Pawan heads one of the major Clusters of GVR - ICT & TMT domain. Competent with a rich combined experience of 9 years in IT & Strategy Consulting, Market Research, and Analytics. Leveraged aptitude in translating corporate vision to overcome complex business challenges through Competitive Analysis, Qualitative & Quantitative Research. He works with a solution-oriented approach to convert business challenges into actionable solutions. He tracks market intelligence around emerging technology spaces such as Artificial Intelligence, Machine Learning, Robotic Process Automation, Datacenter, Cloud Computing, Cyber Securities, Autonomous Vehicles, Mobility Devices and, to name a few.