Industry : Automotive & Transportation
Market Overview
Globally the electric scooter market has witnessed demand owing to increasing adoption of electric scooter in the emerging economies of the world. Additionally, technological advancement in the electric scooter by the prominent players is further propelling the market growth from past years. Moreover, the government's emphasis on addressing the green environment issue by increasing penetration of electric two-wheeler scooters over their conventional counterparts is expected to positively impact the market growth.
According to GVR, the global scooter market size was valued at USD 33.18 billion in 2022 and is projected to register a compound annual growth rate (CAGR) of 9.9% from 2023 to 2030. Booming e-commerce, rising disposable income, increasing fuel inflation rates and improving road connectivity in emerging economies have created a high demand for lightweight and cost-effective mode of transportation.
Several metropolitan cities across the world are witnessing high insurgence of electric scooters as it helps commuters to avoid traffic jams and subsequently support green environment initiatives. In addition, the sustainability move towards smart cities is one of the key factors responsible for the adoption of eco-friendly transportation. Since the electric scooters run on batteries, hence, there are no carbon or gaseous emissions from the vehicle. As a result, electric scooters have become one of the fastest-growing micro-mobility options across the world. Asia Pacific has the largest market share in the global electric scooter market, followed by Europe and the North American region.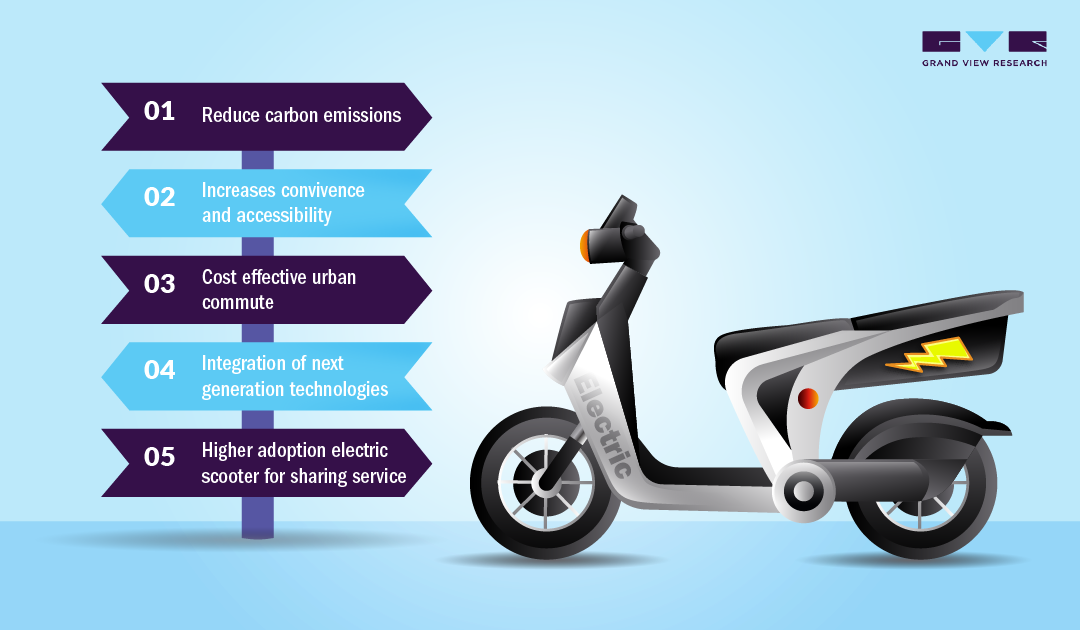 Market Outlook
Several governments across the Asia Pacific region are implementing various schemes and initiatives in support with the United Nations Environment Programme (UNEP) to curb greenhouse gas emissions and air pollution in the country. The governments are offering subsidies by providing tax rebate on purchase of electric scooter and introducing carbon emission norms to control the air pollution. Thus, electric scooters are expected to contribute in bringing paradigm shift by encouraging consumers to purchase environmental friendly electric scooters over conventional commutes in the market.
Rising advancements in technology lead electric scooter manufacturers to focus on development of technologies such as auto-balancing, removable batteries, and smart battery management system (BMS) into the vehicles to increase their speed, enhance battery efficiency, and make them cost-effective for customers. In addition, several market leaders have plans to introduce advanced electric scooters in emerging economies at affordable costs owing to high penetration of motorcycles along with rising consumer demands for electric vehicles. For instance, in February 2023, TVS Motor Company, an Indian two-wheeler OEM invested in a Singaporean-based electric two-wheeler start-up, Ion Mobility to expand its footprint in the South Asian electric mobility market. This partnership is anticipated to benefit both the companies in engaging a large chunk of consumers in the South Asian market as TVS is one of the established players in the global market with strong customer base.
Market Opportunity
The integration of emerging technologies such as artificial intelligence (AI) in electric vehicles is expected to open a window of opportunities for the global market. Moreover, higher adoption of electric scooters by vehicle-sharing service-providing companies for local commute is expected to boost the electric scooter demand in upcoming years. Additionally, the increasing adoption of electric scooter by logistics service-providing companies for convenient, time-efficient, and cost-effective delivery is expected to create numerous growth opportunities for electric scooter start-up firms in the market.
Moreover, electric two-wheeler scooter manufacturers partnership with tech giants to develop new infrastructure & battery technology that can revolutionize EV charging by offering ultra-fast recharging options with good power density. For instance, in April 2022, Hero Electric and Indian electric two wheeler manufacturer partnered with ElectricPe, an EV charging infrastructure provider to establish charging stations pan-India. Majority of these charging stations are anticipated to be set-up at office complexes, shopping malls, and residential buildings among others, thereby, mitigating the battery range anxiety concerns.
Key Players
Yadea Technology Group Co., Ltd.
Ninebot Limited
Neutron Holdings, Inc. (Lime)
Bird Rides, Inc.
Spin
Gotrax
Segway Inc.
Razor USA LLC
Uber Technologies Inc. (Jump)
OKAI
Few Questions Answered by the Electric Two-wheeler Scooters study:
What is the projected market value of the global EV two-wheeler market?
Who are the major players dominating the Electric vehicle scooter market?
Which region has the highest market share in the Electric scooter market?
What are the sugar-coated threats of the Electric vehicle market?
Authored By
Pawan Srivastava, Manager & Cluster Lead, Technology Research, Grand View Research
Pawan heads one of the major Clusters of GVR - ICT & TMT domain. Competent with a rich combined experience of 9 years in IT & Strategy Consulting, Market Research, and Analytics. Leveraged aptitude in translating corporate vision to overcome complex business challenges through Competitive Analysis, Qualitative & Quantitative Research. He works with a solution-oriented approach to convert business challenges into actionable solutions. He tracks market intelligence around emerging technology spaces such as Artificial Intelligence, Machine Learning, Robotic Process Automation, Datacenter, Cloud Computing, Cyber Securities, Autonomous Vehicles, Mobility Devices and, to name a few.