Industry : Automotive & Transportation
The emerging middle class primarily in the emerging economies of Asia, Latin America, and the Middle East significantly instigates the airline companies to escalate the aircraft frequency among varied destinations. This in turn results in increasing adoption of flight simulators by airline companies in an attempt to reduce pilot training cost and offer superior training to pilots as well as the flight crew.
Passenger air travel, 2009 – 2016 (Billions)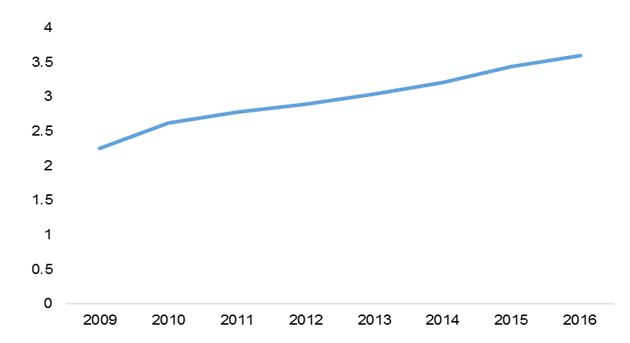 Airline companies generally install Full Flight Simulators (FFS) to train pilots, while Flight Training Device (FTD) are extensively adopted by training institutes primarily to train the flight crew. Companies increasingly investing in R&D to develop technologically advanced products that offer realistic flight experience to the trainees, which in turn enables companies to achieve cost effectiveness.
Prominent airline companies are anticipated to increasingly invest in pilot and flight crew training in order to offer improved passenger safety. This in turn is expected to result in the rise in installation of flight simulators for effective training and low operational cost. The rapid growth in commercial airline industry is further anticipated to favorably impact the flight simulator market over the next eight years.
Global commercial airline industry, 2010 - 2016 (USD Billion)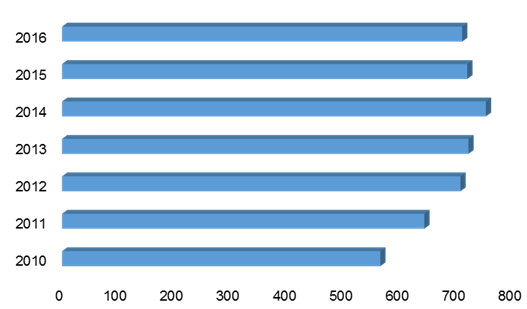 The aviation industry is witnessing a significant rise in passenger air travel and cargo volumes particularly in the Asia Pacific region. Additionally, stringent regulations regarding passenger safety is also anticipated to favorably impact the flight simulator demand over the next eight years.
Flight simulators key market trends by region, 2015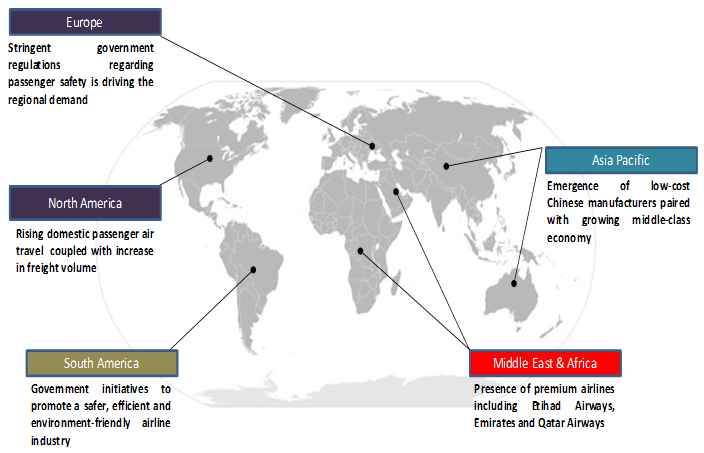 "Analyst Perspective"
The global flight simulator market is expected to witness considerable growth over the forecast period majorly on account of the growing passenger air travel worldwide. The industry is witnessing long-term promising demand in the defense sector driven by the observed trend towards greater use of virtual training.
Companies operating in this industry make continuous efforts to strengthen their position by developing new solutions and innovative processes to become more economical and competitive and bid an even more compelling alternative to customers.
The key focus area for Industry participants is to make investments to build a larger and broader training center network with focus on filling training center capacity and driving return on investments.
Prominent market players are expected to emphasize on joint venture with airline companies to increase market share and maintain their position in this competitive environment.
The profitable aviation industry particularly in the U.S., China, Brazil, India, Thailand, Japan, France, UK, and the Middle East offers sufficient growth prospects for companies operating in the flight simulator industry.
Asia Pacific in particular, is expected to emerge as the fastest growing region over the next few years on account of the emerging middle class economy and emergence of low-cost Chinese manufacturers.
Regulations are considered to be a major driving factor in the global flight simulator industry. Government and regulatory bodies enforce stringent norms pertaining to passenger safety which instigates airline companies to install flight simulators for effective pilot and flight crew training.
Further, use of flight simulators reduce pilot training cost and time resulting in operational efficiency for airline companies. This is expected to drive the market growth significantly over the next eight years.

In-depth report on global flight simulator market by Grand View Research:
https://www.grandviewresearch.com/industry-analysis/the-global-flight-simulator-market