Rise in passenger air travel is anticipated to spur flight simulators demand
The global flight simulator market revenue is expected to reach USD 5.62 billion by 2024. Benefits offered by these devices including mission critical training programs that ensure effective aircraft operation, cut operational costs, and visual systems that offer near real world experience, are anticipated to offer avenues for market growth over the next few years. The growing importance of aircraft safety as well as the need for substantial training is anticipated to spur demand over the next eight years.
China Flight Simulator Market By Product, 2012 - 2024 (USD Million)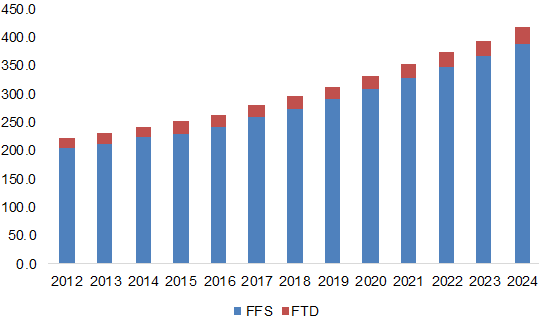 Further, the need for flight handling and safety operations such as situational awareness and skill competency may also promote industry growth. In addition, rising demand for better and effective pilot training is anticipated to catapult growth. The industry is witnessing unprecedented R&D efforts in aerospace technology coupled with technological advancements resulting in development of highly advanced simulators.
These products offer high efficiency and have the ability to save fuel costs. Further, advancements in computing technology have significantly resulted in incorporation of better visual and motion systems for enhanced fidelity and smoothness, which is also anticipated to propel the flight simulator market demand over the forecast period.
High manufacturing cost coupled with on-going operation and maintenance costs are some factors expected to hamper product demand. Additionally, limited physical environment and behavioral fidelity associated with simulators may negatively impact market demand over the forecast period. However, the rising concerns over pilot training cost, fluctuating fuel prices, and saving on actual aircraft maintenance & repair cost are some factors favorably impacting industry growth. Development of realistic aircraft system logic complete with overhead and ECAM displays has significantly resulted in high adoption of these devices.
FFS expected to witness substantial growth over the next eight years
The industry is segmented into full flight simulator (FFS) and fixed flight training devices (FTDs) with the former accounting for over 85% of the revenue in 2015. FFS refers to high technical flight simulators that offer high fidelity and reliability. FFS accurately stimulates the aircraft and the environment in which it operates. These devices create motion, sound, visuals and all other aircraft operations in order to create a realistic training environment.
FTDs are training modules with limited visual display. The primary purpose of these devices is to train where all indicators and/ or switches are on the deck. These devices are extensively used for their low purchase cost and operations.
Increasing government funding to the military sector for enhanced pilot training
The application segment comprises military & defense and civil. Military & defense segment accounted for over 30% of the overall revenue in 2015 which is expected to increase over the forecast period. Military & defense includes simulators used for training and mission rehearsals for armed forces.
Civil segment is estimated to grow at a CAGR more than 4.0% over the next eight years owing to increasing adoption of simulation products crew training and regular competence check in order to maintain crew licenses.
Asia Pacific emerged as the fastest growing in 2015
North America emerged as a key market accounting for over 25% of global revenue in 2015 and is expected to witness moderate growth owing to early technology adoption by manufacturers and consumers. In addition, stringent regulation enforced by the Federal Aviation Administration (FAA) and Federal Aviation Regulations including Sec. 61.64 for the use of simulator for training purpose may further spur the regional growth.
Asia Pacific is estimated to exhibit high growth over the forecast period owing to increasing demand for these devices particularly in developing countries such as India and China. Inception of Chinese manufacturers in early 2015 may further fuel demand in the region. North America may witness slow growth over the period of 2016 to 2024, which may be primarily attributed to the apprehensions regarding air safety along with strict air safety standards enforced by the FAA in the U.S.
CAE accounted for more than 40% of the global market
Notable companies in the flight simulator market include Alenia Aeronautica, CAE, Cassidian, Boeing, HAVELSAN, Fidelity Technologies Corporation, Lockheed Martin Corporation, Kratos Defense and Security Solutions, Rockwell Collins, and L-3 Link Simulation and Training. Manufacturers focus on entering into certain considerable inventory procurement contracts with subcontractors and suppliers that specify determinable prices and quantities, and long-term delivery timeframes. As part of expansion startegies, companies focus on mergers and acqusitions to expand their presence.
Key industry participants emphaszie on integrating with technology providers to enhance product offering and reduce time-to-market. Suppliers tend to make continuous efforts to improve Aircraft Simulation Technology (AST) in order to offer superior products.