Industry : Technology
Surging demand for the landscaping services in the U.S., is a major factor instigating global gardening equipment market demand. A noticeable shift to wards technically advanced robotic lawnmowers is further expected to fuel garden tools demand in the near future. Upsurge in demand for hand tools across residential sector owing to the adoption of gardening as a hobby in Asia Pacific and other developing regions will significantly spur the market demand.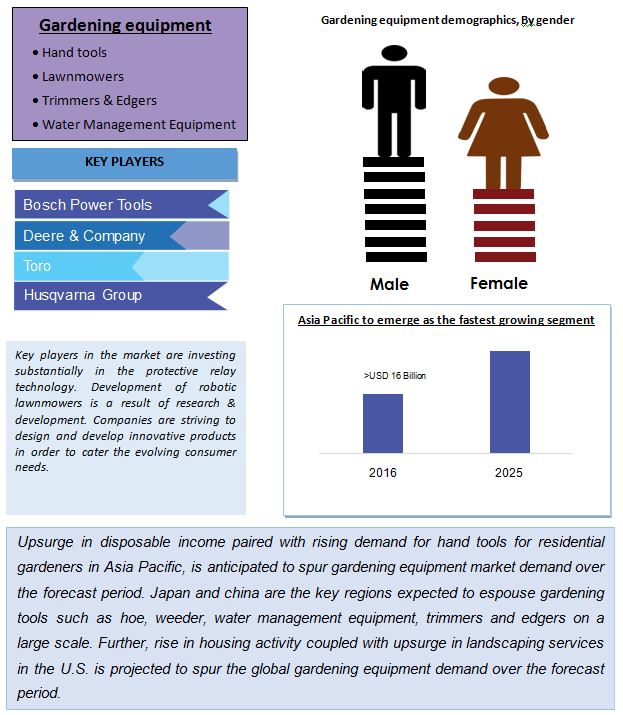 "ANALYST PERSPECTIVE"
Rise in housing activity in Asia Pacific & Latin America owing to rise in population is further expected to catapult the demand for garden tools over the forecast period. Asia pacific, particularly China is projected to witness significant growth in the near future owing to the rise in disposable income enabling individuals to pursue gardening as their hobby.
However, seasonal variations are a major factor hampering the industrial growth. Parameters such as housing activity, summer & winter seasons, snowfall and economic fluctuations impact the market growth significantly. Significant innovations in the industry has led to the emergence of path breaking products which are further expected to revolutionize the industry in the near future.
Construction of lightweight tools along with development of mobile gardening apps is anticipated to engender significant interest among people, thereby fueling the equipment market growth over the forecast period. Substitution of manual lawnmowers and hand tools by the robotic ones would further make gardening easier and ensue in widespread adoption of these equipment.
Growing population across the world with rising standards of living has led to organizing party in lawns and house backyards which is further expected to propagate demands for hoe, weeder and water management equipment. Gardening adds to the aesthetic value of any property, be it residential, commercial or government. This has thus augmented the adoption of advanced garden tools for maintenance of residential constructions, commercial complexes and government properties such as public parks, schools and churches. Thus, owing to the aforementioned factors, gardening equipment market is expected to witness moderate growth over the next nine years.

In-depth report on global gardening equipment market by Grand View Research:
https://www.grandviewresearch.com/industry-analysis/gardening-equipment-market