Industry : Pharmaceuticals
Genitourinary drugs are incorporated in the treatment of disorders pertaining to urinary tract and reproductive organs. Bladder spasms, erectile dysfunction, urinary incontinence, a wide range of genitourinary cancers and benign prostatic hyperplasia are some of the major indications for which these drugs are generally prescribed. These medications include impotence agents, tocolytic agents, urinary pH modifiers, uterotonic agents, antispasmodics, urinary pH modifiers and miscellaneous agents.
"Current and future trends in genitourinary drugs market"
Genitourinary drugs market is also presumed to be predominantly fueled by the presence of untapped opportunities for growth in emerging countries. For instance, in 2016, Cabometyx, Lenvima and Tecentriq were launched for the treatment of advanced renal cell carcinoma and urothelial carcinoma respectively. Also, Lynparza launched by AstraZeneca for the treatment of ovarian cancer, which penetrated tremendously in 2014 and is one of the largest revenue generating drugs.
The ongoing new product development activities undertaken by prominent companies is believed to present a significant boost to the adoption rate of branded medication owing to its efficacy and high standard of quality in wide range of genitourinary applications. For instance, in May 2015 Zytiga by Janssen Pharmaceuticals, a drug for the treatment of metastatic castration-resistant prostate cancer therapeutic was under clinical trials Phase III.
Furthermore, the presence of government healthcare organizations consistently striving to improve the healthcare facilities, and enhance quality & safety with respect to urological medical conditions are expected to present the market with significant growth potential. For instance, in 2016, European Society for Medical Oncology (ESMO) published specific clinical practice guidelines to provide the best standard cancer care. In 2015 & 2014, ESMO also published clinical practice guidelines for prostate cancer and bladder cancer respectively. These guidelines facilitate in promoting awareness pertaining to treatment alternatives and thus propel the growth.
"Key players"
The market is competitive in nature and is marked by the presence of major players such as Pfizer, GlaxoSmithKline, Genentech Inc., F. Hoffmann-La Roche Ltd., Merck & Co. and AstraZeneca plc. The market participants are employing strategies to attain consistent growth through geographical expansions, new product development & research initiatives, distribution enhancement strategies and mergers & acquisitions. For instance, in November 2014, AstraZeneca announced to collaborate with Cancer Research UK for screening new cancer medicine at the AstraZeneca MRC UK centre for Lead Discovery. The other players include Antares Pharma, Allergan, Bayer AG, Teva Pharmaceutical Industries, Eli Lilly and Company.
"Genitourinary drugs market outlook"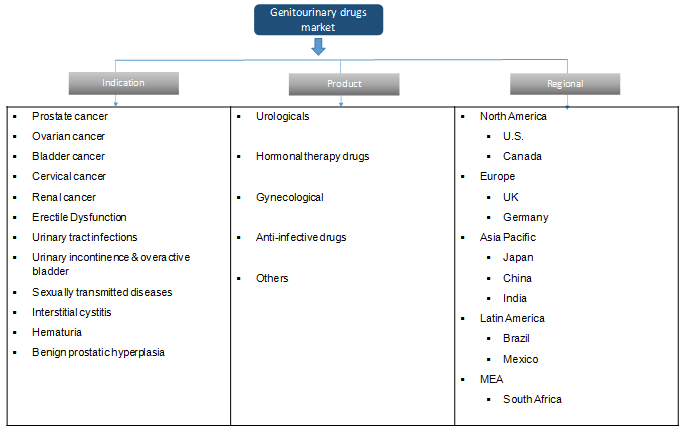 The high prevalence of genitourinary disorders globally is presumed to provide high growth prospects over the coming years. The aforementioned is believed to drive the high clinical urgency to develop new molecules for the treatment of major urological and reproductive system disorders such as bladder, renal, ovarian, cervical, urothelial carcinoma. Consequentially, the high expectancy of the launch of some of the blockbuster pipeline drugs for the treatment of the aforementioned disorders during the forecast period is anticipated to widen the base for growth in the future. For instance, currently, 16 and 47 medications for cervical cancer are phase-II and in early clinical development phase stages respectively, which exemplify growing research platform. This is believed to be a result of collaborative research activities initiated by major pharmaceutical companies in order to strengthen their competitive position in the branded medication. On the other hand, the increasing influx of counterfeit drugs and inclination of patient and physicians toward the generics, owing to the availability at a lower cost are expected to slow down the growth to a considerable level.

In-depth report on global genitourinary drugs market by Grand View Research:
https://www.grandviewresearch.com/industry-analysis/genitourinary-drugs-market