Industry : HVAC & Construction
"Energy saving heating equipment given political priority"
Favorable government initiatives supporting the implementation of energy saving solutions are projected to augment the development of eco-friendly and energy-efficient products. At the Climate Action Program (COP21) held in Paris, 196 countries agreed to limit global warming and submitted plans for how they will contribute to this green transition. These projects include initiatives to improve energy efficiency through district energy systems that produce steam, hot water, or chilled water at a central plant.
Space heating and cooling solutions are major contributors to global warming. Manufacturers have introduced environmentally-benign heating solutions to reduce the emissions of greenhouse gasses. ECO-Labelling of heating equipment is one way to encourage and guide customers in their choice of products.
Acquiring certifications such as ENERGY STAR, AHRI, and CEE is expected to benefit manufacturers as customer prefer solutions that help reduce their energy consumption cost. The emergence of climate and energy as a political priority has spurred an increased interest in heating and energy efficiency gains to be realized within buildings.
Manufacturers operating in the heating equipment market are engaged in the development of products that help energy saving and reduce dependency on fossil fuels. The heating equipment industry is expected to experience continuous product developments in terms of energy efficiency, remote accessibility, and ease of operation.
A massive price war exists in the global heating equipment market as local vendors find it difficult to compete in the international market with respect to quality, service, features, customized requests, and distribution centers.
Profitability largely depends on efficient operational capabilities, marketing, and maintenance services. Taping new residential and commercial establishments as well as replacement of existing heating equipment are of vital importance for growth in this market.
Global heating equipment market by region, 2015 (USD Million)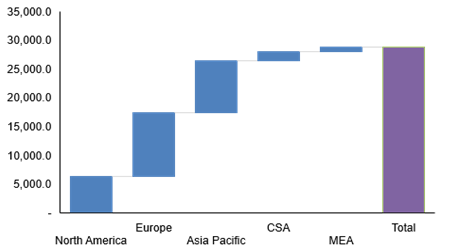 District heating solutions are expected to gain prominence over the forecast period. Government initiative and policies are working towards the development of a centralized system that will meet the space & water heating requirement in multi-family houses and other commercial complexes. The growing implementation of district heating systems is expected to drive sales of heat pumps, boilers, geothermal heating systems, and solar heating solutions.

In-depth report on global heating equipment market by Grand View Research:
https://www.grandviewresearch.com/industry-analysis/heating-equipment-market