Industry : Pharmaceuticals
The Human Immunodeficiency Virus (HIV) continues to be a major threat to public health across the globe as no permanent cure for HIV is available at present. HIV attacks the immune system, which if left untreated progressively damages the human defense system leading to Acquired Immune Deficiency Syndrome (AIDS) in patients. With early diagnosis and timely antiretroviral therapy, HIV patients can live a healthy life. HIV strains are classified as HIV-1 and HIV-2, however, the former one is found to afflict the world population more commonly. HIV can be transmitted through unprotected sexual contact, use of infected syringes and needles in drug administration, perinatal HIV exposure during pregnancy and breastfeeding, etc.
"Rising incidence of HIV infections across the globe"
HIV has caused immense suffering since the epidemic originated in the 1980s. According to Centers for Disease Control and Prevention, more than one in five people aged 13 to 24 were diagnosed with HIV in the year 2014, with young gay and bisexual people accounting for majority of the HIV-infected population. Globally, more than 35 million people are suffering from HIV infections with more than 90% of the global estimate stemming from HIV-1 infection.
HIV diagnosed Individuals, by age group, 2015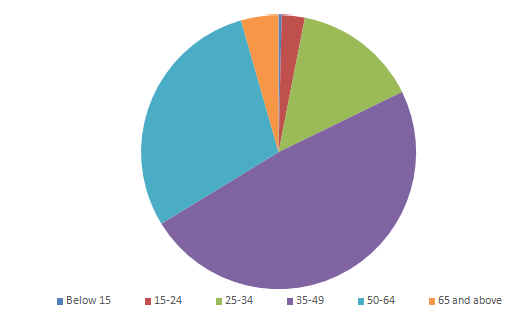 "African region contains the maximum number of HIV patients"
The African region houses the most serious HIV epidemic in the world with more than 23 million affected people and is considered as the origin center of HIV. However, more than half of the affected people are unaware about their condition and remain undiagnosed. Different strategies have been applied in this region to increase the delivery of HIV treatment, but the lack of awareness about the disease creates barriers between patients and available therapies. Additionally, the low per capita income of the people in this region restrains patient accessibility to drugs.
"HIV-1 is not curable; however, it can be controlled with proper medication"
The number of people affected by HIV is increasing rapidly every year. The lack of awareness about the mode of HIV transmission among the population, majorly in the developing and underdeveloped countries, is responsible for the new infection cases sprouting annually. Although there is no permanent cure for HIV, a proper course of medicines can control the symptoms and help patients lead a normal life.
"Key market players"
Gilead Sciences, Inc. is the leading company in the sector with a large anti-HIV portfolio followed by ViiV Healthcare. ViiV Healthcare is a joint venture formed by GlaxoSmithKline, Pfizer, Inc., and Shionogi, Inc. Furthermore, the additional key players in the global HIV-1 therapeutics market include AbbVie, Inc. (U.S.), Merck & Co., Inc. (U.S.), Bristol-Myers Squibb Company (U.S.), Boehringer Ingelheim GmbH (Germany), Genentech, Inc. (U.S.), Cipla, Inc. (India), etc.

In-depth report on global human immunodeficiency virus (HIV)-1 therapeutics market by Grand View Research:
https://www.grandviewresearch.com/industry-analysis/human-immunodeficiency-virus-hiv-1-therapeutics-market