Industry : Advanced Interior Materials
Inorganic scintillators are materials which emits photon after exposure to radiation. The process of emitting light post exposure to radiation is called as scintillation process. Inorganic scintillators market can be segmented on the basis of product, material, end use and region. The product segment includes alkali halides, oxide compounds, and rare earth metals. The material segment includes Sodium Iodide, Cesium Iodide, Lutetium Oxyorthosilicate & Lutetium–Yttrium Oxyorthosilicate, Bismuth Germinate and the end use segment includes healthcare, homeland security & defense, nuclear power plants, and industrial applications.
Inorganic scintillators materials scintillation is a result of electronic band structure rather than the molecular structure. This property is very much useful in the construction of radiation detection equipment construction. As the molecular structure is not disturbed with the incoming radiation the material consumption is restricted.
Growing dependence on radiological imaging in the medical sector will result in driving demand for the scintillators over the forecast period. X-ray imaging is another crucial segment in the medical equipment sector on account of the changing trend of moving towards to digital imaging.
U.S. Inorganic scintillators market revenue, by material, 2015 (USD Million)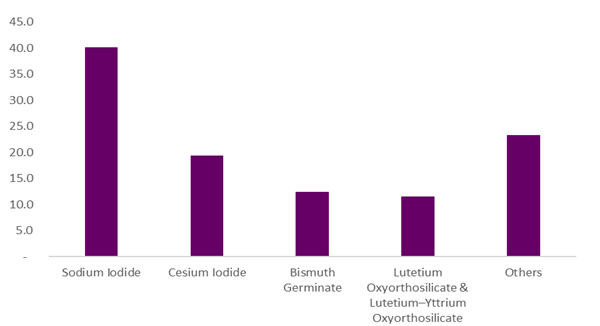 Growing trend of using scintillating materials in PET scanners is expected to be crucial for the development of medical imaging technology Toshiba has developed a CT scanner which can provide high speed imaging of the moving objects including the heart.
The Chinese government's initiatives to localize technological production and focus on innovation is expected to have a positive impact on the market. Government of India's support for the advancement of medical technology will be crucial in propelling market expansion.
The market is expected to gain momentum over the past decade on account of increasing demand from the medical equipment and devices industry. There has been a constant focus on research and development for radiation detection materials which is expected to be a major demand determining factor over the forecast period. Domestic security sector will be a major market over the forecast period owing to increasing threat of radiological terror attacks. This has resulted in the U.S. and several European governments increasing their investments in the security and defense industry. This will be major growth factor over the forecast period.
Suppliers of materials supply it to scintillator material manufacturers (processors) which in turn supply it to equipment manufacturers post processing. Dynasil Corporation of America, Hamamatsu Photonics K.K., Hitachi Metals Group, Detec, Rexon Components, Inc., Saint-Gobain S.A., Scintacor, Toshiba Materials Co., Ltd., EPIC Crystal Co., Ltd., Amcrys, Shanghai Siccas High Technology Corporation, Alpha Spectra, Inc, Nihon Kessho Kogaku Co., Ltd are some of the key players of the market. Saint Gobain, Toshiba are some of the few companies which are present across the value chain of inorganic scintillators materials. These companies are looking to increase their margins through integration and are focusing on building strong customers base.

In-depth report on global inorganic scintillators market by Grand View Research:
https://www.grandviewresearch.com/industry-analysis/inorganic-scintillators-market