Industry : Communication Services
Legal process outsourcing is foreseen as a lucrative solution as organizations are struggling with the increasing legal costs, which has led to a growing emphasis on exploring legal outsourcing services as a possible option. For instance, companies are identifying LPO providers for performing their legal transactions so that in-house legal departments can focus on core business processes. Over the years, the industry has made its strong presence felt by addressing issues, such as client-counsel relationship, ethical implications, improved quality, and enhanced security & confidentiality.
Additionally, LPO providers are leveraging their knowledge gained in business processes and information technology markets for creating metrics that assess the quality of work being provided. The growing adoption of these metrics is facilitating the development of service level agreements that maintain a precise standard of quality of legal process outsourcing. For developing an effective LPO strategy, the corporate legal department must focus on understanding the business model promoted by the LPO industry.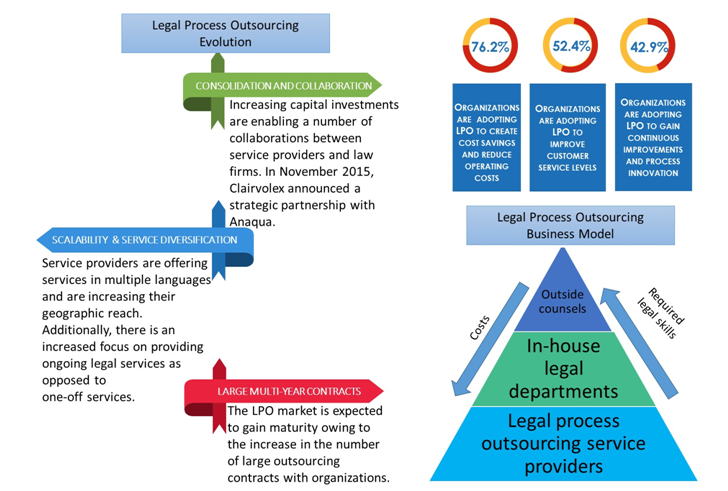 The growing regulatory scrutiny and the strengthening of business activities are reinforcing the demand for LPO services. The growing competition among service providers is expected to further bring about a decline in the prices of these services. Small and medium law firms are expanding their reach beyond the region or country of their location to increase their customer base. For meeting the desired cost, quality, and capacity requirements, LPO providers are offering customers flexible pricing options based on the type and size of the legal work. Additionally, they are committed to offering a particular level of service based on concrete metrics for evaluating the quality of the legal work performed.
Increase in marketing expenditure, changing economics, geographic expansion, and brand recognition are some of the trends followed by law firms operating in the U.S. India and the Philippines are prominent destinations for the LPO industry. Several companies are opting for acquisitions and collaborations to remain buoyant in these countries as lawsuit filings and bankruptcy are increasing. This has generated a need for independent departments to their handle legal research and documentation processes, thereby augmenting the LPO industry growth. Furthermore, legal departments and law firms of large organizations are finding significance in the consulting of legal outsourcing to add processes to their existing methodologies and manage the overall risks.
e-discovery is contributing significantly to the industry growth. Several providers are offering end-to-end services across the e-discovery model by working closely with partners or by developing a registered in-house e-discovery technology. Providers have developed niche specializations and quality control processes that add value to the review along with cost reduction. Law firms and legal departments are dealing with a large amount of litigation work in a short time period, resulting in the adoption of LPO services. Moreover, a large proportion of customers is selecting legal outsourcing to have access to specialists and to increase efficiency.

In-depth report on global legal process Outsourcing market by Grand View Research:
https://www.grandviewresearch.com/industry-analysis/legal-process-outsourcing-lpo-market