Industry : Healthcare
Monoclonal antibodies (mAbs) are proteins produced by plasma cells in response to specific antigens. These can be used as diagnostic and therapeutic for various disease indications including, rheumatoid arthritis, non-Hodgkin lymphoma, psoriasis, Crohn's disease, hypercholesterolemia, asthma and macular degeneration.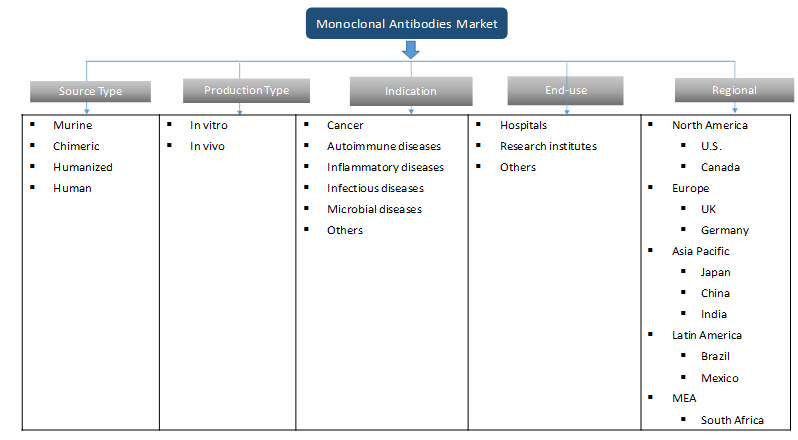 Monoclonal antibodies source type segment comprises murine, chimeric, humanized and human. Based on production type the market is classified into In Vitro and In Vivo. The indication segment include cancer, autoimmune diseases, inflammatory diseases, infectious diseases, microbial disease and others. Market is further segmented based on end-users into hospitals, research institutes and others. Geographically the market is studied with respect to 5 main regions such as North America, Europe, Asia Pacific, Latin America and MEA.
"Adoption of monoclonal antibodies due to the related benefits"
Increasing therapeutic and diagnostic applications of mAbs are contributing towards the market growth over the forecast period. In recent years, mAbs are accounted for a third of all treatments. These comprises therapeutic products for leukemia, breast cancer, asthma, psoriasis, arthritis, transplant rejection, and much more which, are in clinical trial phase III. MAbs are the most lucrative segment for antibody-based drug manufacturers.
The simplest robust technology such as phage display, employed to raise mAbs against a specific therapeutic target protein, has renewed the interest of pharmaceutical companies in developing human mAbs thereby fueling industry growth
Monoclonal antibodies are also used in various diagnostics from pregnancy tests to drug screening & AIDS detection. These associated benefits with the use of mAbs are anticipated to drive market growth over the forecast period.
"Addressable monoclonal antibodies market"
The presence of next-generation antibody products and technological advancements are anticipated to boost the monoclonal antibodies market growth in coming years. Owing to a large number of therapeutic mAbs launches in recent years, the market is expected to witness substantial growth over the forecast period.
Recent technological advances in targeted therapies using mAbs have paved the path for personalized cancer therapy. Increasing cancer research funding deployed by the private & public sectors serves as a potential growth driver for the launch of improved targeted therapies and hence the growth of this vertical in the near future.
"Key players"
The market is highly competitive in nature due to presence of many small and large scale biopharmaceutical manufacturing companies, such as Genzyme, Novartis International, Pfizer, Merck & Co Inc, GlaxoSmithKline plc., Daiichi Sankyo, Sanofi, Roche, Abbott Laboratories, Amgen Inc., AstraZeneca plc, Eli Lilly, Johnson & Johnson, Bayer AG, Bristol-Myers Squibb, Roche, Mylan, Biogen Idec Inc, Thermo Fisher Scientific, and Novo Nordisk.
The large pharmaceuticals are adopting strategies such as mergers & acquisitions and acquiring small biopharma companies, which often lack adequate funds for the development of therapeutic antibodies. For instance, Johnson & Johnson acquired Crucell in March 2011. In addition, increasing collaboration between biotechnology and pharmaceutical firms is anticipated to boost the market growth over the forecast period.

In-depth report on global monoclonal antibodies market by Grand View Research:
https://www.grandviewresearch.com/industry-analysis/monoclonal-antibodies-market