Industry : Healthcare
Practice management systems are subsets of the healthcare IT market and are predicted to witness lucrative growth over the forecast period owing to reforms in the healthcare industry, rising number of physician facilities across the country, financial incentives offered to practices incorporated with these systems, and rising demand for digitalization & automation of healthcare facilities.
Over the last decade, the U.S. has identified a rising expenditure over healthcare provision. Furthermore, it has also reported a substantial wastage of these expenses (running into billions of USD) caused due to manual errors by healthcare personnel's. Incidence of such episodes is expected to promote the practice management systems market over the forecast period.
Another notable feature of the industry was that, until 2012, the solutions were generating majority of the revenue by sale of new products. However, post-2015, services and upgradation of existing platforms is expected to contribute higher to the revenue share. Implementation of reforms, such as ICD-10, is a major driver for upgradation.
These solutions allow internal centralization and collaborate with various organizations to form a common platform for medicine practice. The technology allows care managers and providers comprehend the challenges that patients encounter while being able to monitor them round the clock. Application of cloud computing is also expected to enhance the peer-to-peer sharing with ease and also provide patients' access to their information as and when required by them. Overall, centralization is expected to result in advanced healthcare facilities and satisfied patients, thereby driving the practice management system market.
"PMS Market: Key Strategic Undertakings"
Pricing, distribution enhancement, merger & acquisition, and regional expansion are key strategic undertakings. Henry Schein, Allscripts Healthcare Solutions, Inc., and athenaHealth Inc. are with their critical acquisitions and partnership scored high in merger and acquisition. While companies such as GE Healthcare and eClinicalWorks LLC are actively involved developing new applications in this vertical offering novel services to clients. The following figure elucidates the key strategic initiatives in PMS market.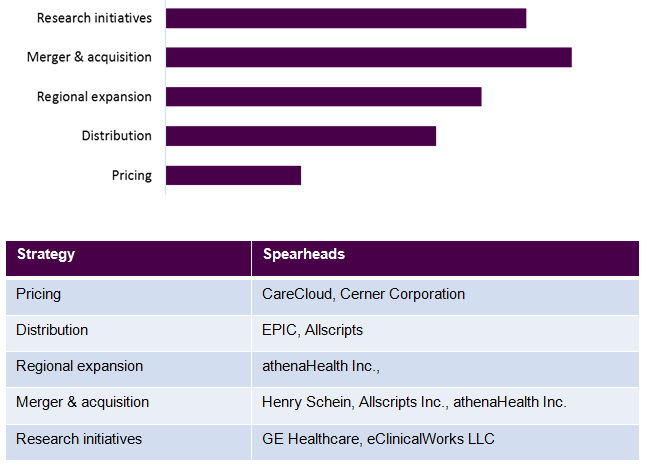 "PMS Market: Delivery Mode"
Cloud-based software solution segment is identified as the most attractive segment of this market. Less initial investment, more returns on investment, higher security in comparison to web-based, and universal compatibility with any device, thereby making the system user-friendly, are some of the factors that attribute towards its growth However, cloud-based system do not offer flexible customization thereby, arresting the growth of the segment. Also, web-based is expected to hold majority of the market share in 2015 and exhibit growth at a CAGR of around 10.0% over the forecast period. The large market share is due to lesser capital investment as compared to on premises and availability of number of web based software.
Our report "Practice Management System (PMS) Market Analysis and Segment Forecasts to 2024" analyses PMS market on four levels, which include type of product, component, delivery mode, and end-user. The section "Market Variables, Trends, and Scope" gives a representation of market trends, driving factors, competitor analysis, and initiatives. This will help in a complete understanding of the market and help in taking a logical business decision.

In-depth report on global practice management system market by Grand View Research:
https://www.grandviewresearch.com/industry-analysis/practice-management-systems-market