Industry : Bulk Chemicals
Waste tires are often found morosely disposed of in vast landfills, not only eating up fertile, cultivable land space, but also ruining serene landscapes. These tires are now being put to good use by recyclers who have found the ultimate salvation for such products, using the innovative reclamation process.
Although reclamation has been around for decades, the technology has only recently come to light after developments have contributed to better product characteristics and lower processing costs as compared to natural or synthetic rubber. Furthermore, rising costs of these rubbers has also driven manufacturers to seek alternative sources of rubber in an increasingly competitive world.
The shift in trend towards eco-friendly & sustainable materials has also contributed to the demand for reclaimed rubber products in major end-use industries such as automotive, aerospace, consumer goods, footwear and others.
Expansion of these industries in developing economies has also provided a stimulus for market growth in countries across Asia Pacific. The ban on landfills in the EU and other favorable regulatory framework provided by governments in order to support and encourage recycling has also driven product demand in developed nations.
"The 3 M's: Reduce, Reuse and Recycle"
Consumers are increasingly becoming more aware regarding the impact of their actions and consumption on the environment. This in turn has driven recent trends such as sustainability, recycling existing products, reusing old goods and reducing environmental impact & pollution.
Such factors have proven highly conducive to the growth of the reclaimed rubber market, since it primarily thrives on creating new products from disposed consumer goods such as automobile tires.
Rubber reclamation process: 7 significant steps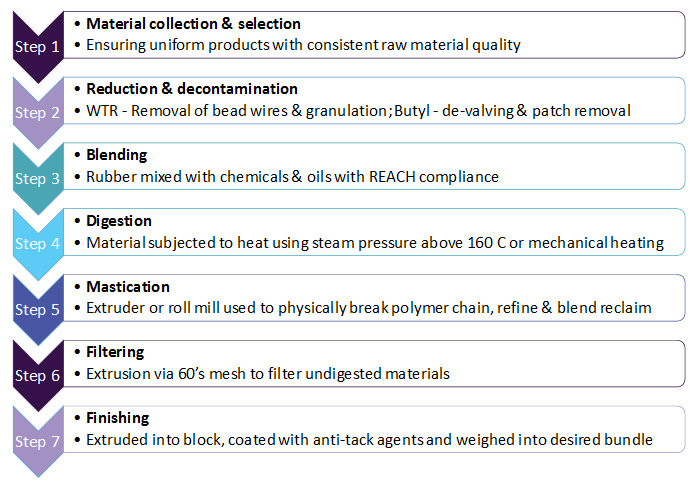 "Increasing income leads to rising passenger car sales"
Rising education levels and campaigns promoting recycling have also largely contributed to the demand for reclaimed rubber in the automotive industry. Rising consumer disposable income has driven interest and spending power, which in turn directly translates into luxurious purchases such as automobiles.
Passenger car sales have risen tremendously in the past few years, especially in emerging economies such as China, India, Thailand and Indonesia. This in turn has driven automobile tire consumption rates as well. Improper disposal and recycling has created major crises in these regions that are already witnessing a space crunch on account of burgeoning population. As cities expand beyond their boundaries, unwanted tires accumulate in precious lands that could have otherwise been used to cultivate crops or construct buildings.
Thus, reclamation offers an ideal solution for these end-of-life tires, providing a new outlet for innovative applications in several regions across the globe.
Reclaimed Rubber Market: Key Takeaways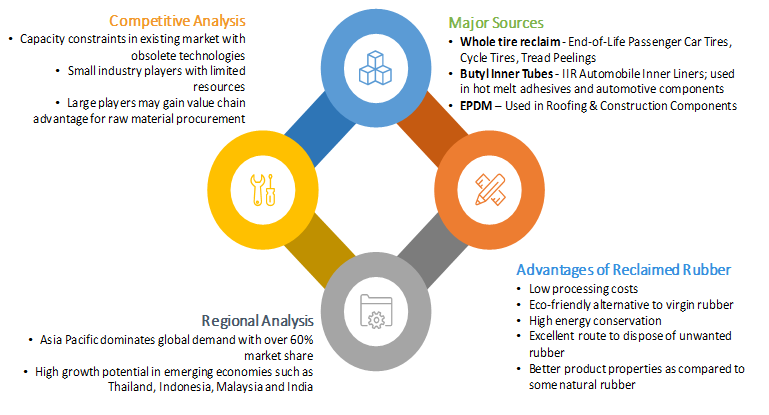 In-depth report on global reclaimed rubber market by Grand View Research:
https://www.grandviewresearch.com/industry-analysis/reclaimed-rubber-market