Industry : Medical Devices
Rising prevalence of chronic diseases such as neurological, cardiovascular, urological, and other disorders is creating immense burden on the global health of the society. Such increasing burden has led to the development of therapies and treatments, thereby leading to rising demand for surgical instruments. These chronic diseases are one of the leading causes of morbidity and mortality worldwide. Hence, there is increasing number of surgical procedures performed throughout the world. According to data provided by OMICS International Conference, 2015, approximately 234 million surgical procedures are performed annually. This shows an extensive demand for surgical instruments worldwide.
Global surgical instruments market, by region, 2015, (USD Million)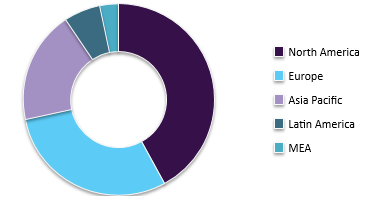 Occurrence of road and other traumatic accidents also significantly contributes toward the growth of surgical treatment solutions. WHO data quoted that around 10 million people get injured or disabled due to road accidents every year, hence, facilitating extensive wound surgeries. Traumatic accidents, for instance, burns, are most commonly occurred in low- or medium-income countries as compared to high-income countries. The most emerging treatment solution for burn injuries are plastic and reconstructive surgeries that are adopted by the people in developed countries. However, majority of the people in low- or medium-income countries are unable to afford these treatments due to their high cost.
Aging population is one of the major social challenges faced by Europe. According to WHO, people 85 years and above are anticipated to grow from 14 million to 19 million by 2020 and to 40 million by 2050. Hence, the geriatric population base is increasing rapidly and as a result there is an alarming incidence of chronic heart-related disorders. Moreover, the UK government is involved in awareness campaigns being conducted by healthcare professionals and potential patients, on the symptoms of chronic cardiovascular diseases and the importance of early diagnosis and treatment. As a result, there is a growing need for instruments associated with surgical treatments in the European market, which is mostly driven by the geriatric population base.
Among all surgical instruments, electrosurgical segment is the fastest growing in the market. Bipolar electrosurgical instruments have emerged as significantly useful in minimally invasive endoscopic surgeries. Moreover, major companies like B. Braun and Medtronic are constantly focusing on expanding their electrosurgical instruments portfolio. For instance, in 2012, Medtronic entered into a distribution agreement with Miami Instruments, a company engaged in the development of surgical instruments for minimally invasive cardiac surgery. In addition, these electrosurgical units also help conduct surgeries at Ambulatory Surgical Centers (ASCs) or clinics without the need for a hospital setting. This helps in reducing hospital stay and, thereby, minimizes the cost of hospitalization.
Surgical sutures and staplers had captured a significant market owing to its traditional way of surgical treatment for wound closure. Staplers are advantageous due to quick healing as well as minimal risk of infection. Also, absorbable sutures benefit the patient, where the sutures break down in the body and eliminate the need for suture removal.

In-depth report on global surgical instruments market by Grand View Research:
https://www.grandviewresearch.com/industry-analysis/surgical-equipment-market