Database Overview
Grand View Research's plastics sector data book is a collection of market sizing information & forecasts, trade data, pricing intelligence, competitive benchmarking analyses, macro-environmental analyses, and regulatory & technological framework studies. Within the purview of the database, such information is systematically analyzed and provided in the form of outlook reports (1 detailed sectoral outlook report) and summary presentations on individual areas of research along with an agricultural statistics e-book.
Bioplastics Industry Data Book Scope
Attribute

Details

Areas of Research

Biodegradable Plastic Market
Polylactic Acid (PLA) Market
Bio-based Polyurethane (PU) Market
Biopharma Plastics Market

Number of Reports/Presentations Covered in the buddle

1 Sector Outlook Report + 4 Summary Presentations for Individual Areas of Research + 1 Statistic ebook

Cumulative Coverage of Countries

50+ Countries

Cumulative Coverage of Application

10+ Products

Highlights of Datasets

Production Data, by Countries
Import/Export Data, by Countries
Demand/Consumption, by Countries
Plastic Consumption Per Capita
Competitive Analysis
Biodegradable Plastic, by type
Polylactic Acid (PLA), by application
Bio-based Polyurethane (PU), by type
Biopharma Plastics, by application
Bioplastics Industry Data Book Coverage Snapshot
Markets Covered

Bioplastics Industry

2,470.6 kilotons in 2021

Biodegradable Plastic Market Size

1,118.4 kilotons in 2021

16.2% CAGR (2022-2030)

Polylactic Acid (PLA) Market Size

295.1 kilotons in 2021

16.8% CAGR (2022-2030)

Bio-based Polyurethane (PU) Market Size

1,932.21 kilotons in 2021

5.2% CAGR (2022-2030)

Biopharma Plastics Market Size

7,817.56 kilotons in 2021

12.6% CAGR (2022-2030)
Bioplastics Industry Outlook
The economic volume generated by the bioplastics industry was estimated at approximately 2,470.6 kilotons in 2021. This economic output is an amalgamation of businesses that are involved in the raw material suppliers, compounding of bioplastics & their additives, distribution & supply, and application of bioplastics.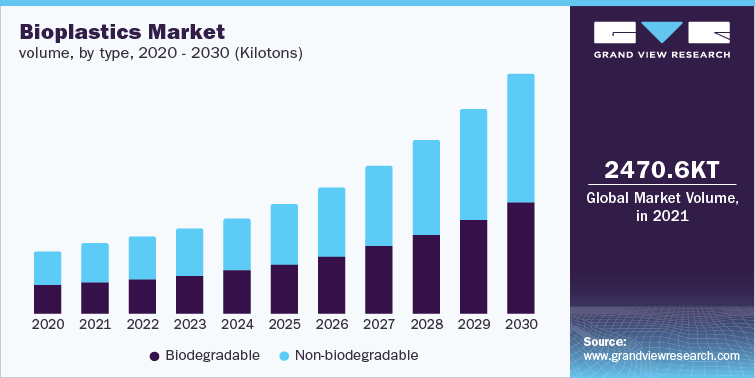 Biodegradable product types in the bioplastic market include PLA, starch blends, PBAT, PBS, PHA and cellulose acetate. Polylactic acid plastic is likely to witness the fastest growth during the forecast period. PLA is widely gaining acceptance as a mulching film in agriculture owing to its biodegradability and superior mechanical properties. Similarly, PHA is gaining acceptance in biomedical and pharmaceutical applications. Its low toxicity and biodegradability have been instrumental in using it as a plastic product in medical applications.
Favorable governmental regulations regarding eco-friendly products, especially in Europe and North America, are anticipated to impact the market growth positively over the forecast period. Rising concern regarding plastic waste all over the globe is further expected to drive the market. Bioplastics can provide an eco-friendly alternative to conventional plastics, thereby scaling down the environmental impact.
Packaging was the major application segment for bioplastics market in 2021. Bioplastics can be used in place of conventional plastics and non-convenient paper packaging. Boxes, films, and bags are some of the packaging products that are made from bioplastics. Disposable housewares are now being made from bioplastics by replacing conventional plastics such as polystyrene and polyolefin. Bioplastics are being used to manufacture kitchen utensils & tools, storage containers, plates, cups, toys, bathroom accessories, and hangers.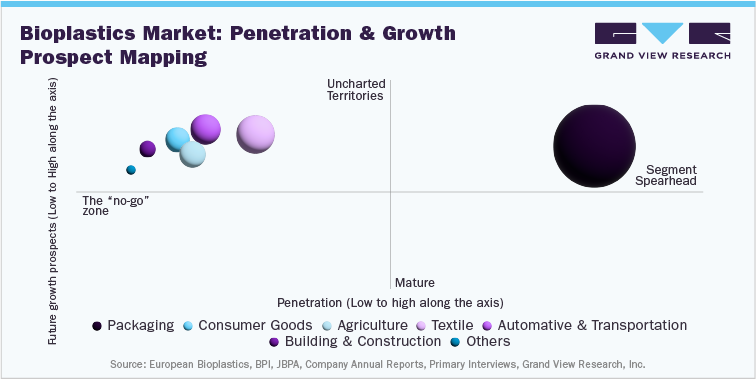 Biodegradable Plastic Market Analysis And Forecast
The global biodegradable plastic market is expected to witness significant growth, particularly in emerging markets such as the United States, Canada and India. Increasing concerns about toxicity issues associated with petrochemicals and the depletion of crude oil reserves have spurred the development of bio-based polymers. Additionally, government regulations restricting the consumption of fossil-based plastics in certain applications such as food packaging and medical devices are expected to further stimulate the production of biodegradable plastics in the plastics industry.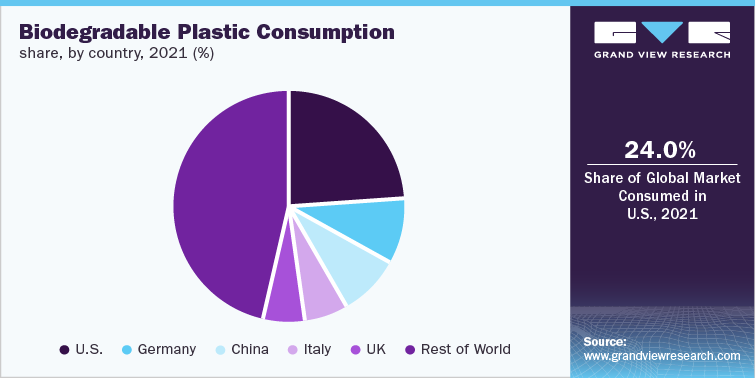 Increasing concerns about the use of plastics have increased the demand for plastic alternatives in the market. With the pace of new product development and technological innovation, manufacturers in the industry are shifting their focus to developing biodegradable plastics. Innovative biopolymers such as PHAs (polyhydroxyalkanoates) and PLA (polylactic acid) are the key growth drivers of the biodegradable plastics market. These polymers are important members of the biopolymer family and are finally entering the market on a commercial scale. Due to their chemical composition, they possess a wide range of physical and mechanical properties required for various applications such as agriculture, medical devices and food packaging.
Polylactic Acid (PLA) Market Analysis And Forecast
The polylactic acid market is expected to witness growth on account of rising demand from end-use industries such as packaging, automotive & transport, electronics, textiles, and others. Packaging end-use segment dominated the PLA market in 2021 and accounted for a revenue demand from flexible packaging is fueling the growth of packaging industry globally. Increasing demand for packaged foods, snacks, ready to eat meal, and others are substantially propelling the growth of packaging industry. Thus, the growing packaging industry is further anticipated to create demand for polylactic acid during the forecast period.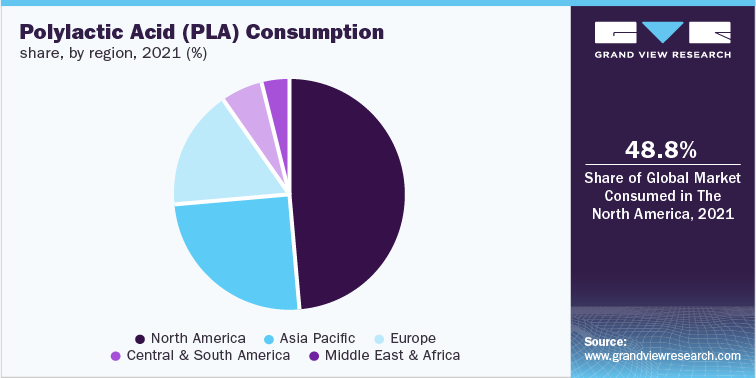 Manufacturers of polylactic acid aim to strengthen their market position by expanding their customer base. TotalEnergies Corbion, NatureWorks, LLC, COFCO International, Shanghai Tong-jie-liang Biomaterials Co., LTD., and others are leading producers of polylactic acid. Its good heat resistance and flexibility are used in various applications such as agriculture, packaging, textiles, automotive & transport, electronics, and others. These manufacturers focus on new product launches depending on the market requirements, technology innovations, and supply channels, as well as on mergers & acquisitions undertaken by their industry participants to meet the current and future demand for polylactic acid (PLA) in the growing packaging, textile, and other industries.
Bio-based Polyurethane (PU) Market Analysis And Forecast
Companies operating in the global bio-based polyurethane market lay high emphasis on expanding their global footprints in an attempt to increase their revenue and market share. Companies are expanding their services in Asia Pacific to cater to the rising demand from developing countries. Countries such as India and China wherein the construction expenditure is growing significantly, are expected to provide new expansion opportunities for the market players over the forecast period.
Consumer goods end-use segment is expected to witness a growth rate of 6.5% during the forecast period. Bio-based polyurethane is widely used in the form of flexible polyurethane foam in various furniture applications such as furniture, beddings, sofas, and others owing to its properties such as softness, flexibility, and durability. Electrical & electronics, packaging, and other end-use segments are expected to witness a growth rate of 6.0%, 7.0%, and 5.8%, respectively, over the forecast period.
Bio-based polyurethane foam is widely used in spray form for sealing holes, joints, cracks, and bonding other building materials, which ultimately reduces the amount of conditioning or heating required inside the building. Additionally, bio-based polyurethane is also used for structural elements, substrates, and other building components in construction industry.
Biopharma Plastics Market Analysis And Forecast
The demand for protective wear is the next growing application segment after containers growing due to the COVID-19 outbreak put the global healthcare supply chain in the spotlight. This is mainly due to the improved healthcare sector in Europe, the Middle East, North America, and the Asia Pacific.
Additionally, according to the WHO, cancer is the second leading factor of death and accounts for 9.6 million deaths globally. Face, breast, and throat cancers are the commonly occurring cancers that require surgeries and chemotherapy. This has driven the protective wear market, which further is expected to increase the demand for biopharma plastics.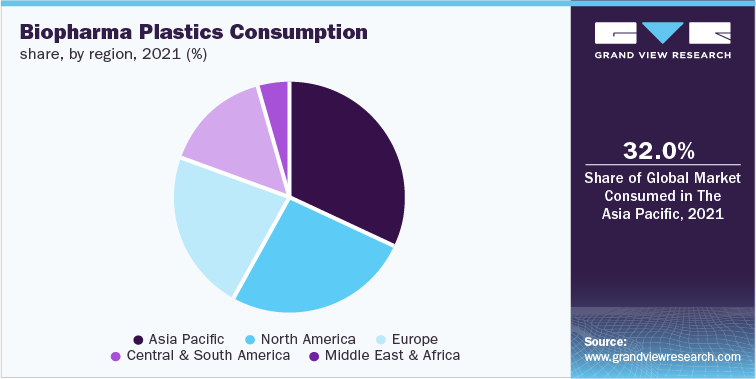 Syringe application segment is expected to have the highest penetration among all the segments in the global biopharma plastics market in 2021. Increasing utilization of plastics for manufacturing of syringes, as opposed to alloys and metals, has been a major factor contributing to the growth of the syringes application segment. Over the recent years, there has been a considerable rise in syringes production across the globe, which is majorly driven by the increasing demand from medical/healthcare and biopharma industry.
The key players in this market are BASF SE, SABIC, Solvay, Dow, Inc., LG Chem, Saint Gobain Performance Plastics, LyondellBasell Industries Holdings B.V., DuPont de Nemours, Inc., Tekni-plex, Toray Industries, Inc., Chevron Phillips Chemical Co., LLC, Exxon Mobil Corporation, and others. To maintain their market shares, major manufacturers frequently engage in expansion strategies such as mergers & acquisitions and new product launches. For instance, in April 2022, TEIJIN LIMITED and Iktos co-developed new technology for small molecule drug discovery. Under this agreement, Iktos and TEIJIN Pharma are expected to develop new AI technology to enhance and speed up the drug design process.
Competitive Insights
The bioplastics market is temperately concentrated with the presence of key players such as BASF SE, Avantium, NatureWorks LLC, SABIC, Total Corbion PLA, Biome Technologies plc, and TEIJIN LIMITED along with some other new and growing market players. The global market players face strong competition from each other as well as from other regional and national players having a well-established supply chain network and compliance with regulations and knowledge of suppliers across markets.
Companies in the market compete based on the quality of the products they offer and the technology used to produce bioplastics. Major players engage in mergers and acquisitions, expand their production facilities, develop infrastructure, invest in research and development facilities and find ways to vertically integrate their operations across the value chain. These initiatives help them meet ever-increasing global demand, ensure their competitiveness, improve their revenue & operations profits, develop state-of-the-art products and technologies, reduce production costs and expand their customer base.
Polylactic Acid (PLA) and Polyhydroxyalkanoates (PHA) are mainly produced using bio-based materials in the bioplastics market. The future trajectory of these products depends on the demand for their derivatives in packaging, textile, and consumer goods industries. To meet the rising demand from these industries, manufacturers are actively engaging in the development of innovative technologies and product strategies to enhance their product positioning at minimum carbon footprints.
In February 2022, BASF SE launched a digital platform, RegXcellence, for plastic and plastic additive customers, enabling targeted access to a wide range of global regulatory support. RegXcellence caters to the already existing customers of fuel and lubricant solutions, plasticizers, pharma solutions, and human nutrition businesses. Furthermore, RegXcellence is a part of an existing BASFE portfolio, namely VALERAS portfolio, which is a major contributor to the increasing sustainability of plastics along with the entire polymer value chain.

In August 2022, LyondellBasell Industries Holdings B.V. in partnership with Röchling Medical, a medical and biopharma packaging manufacturer, announced its objective toward advancement in the realm of Circular Economy. Röchling Medical has manufactured eye drop containers using LyondellBasell's Circulen Renew Polymers product including polypropylene (PP) and polyethylene (PE) grades such as high-density polyethylene (HDPE) and low-density polyethylene (LDPE).

In October 2020, SABIC introduced a pilot project along with Schwarz Group, a European retail store operator, for the use of transparent film bags made from the former's certified circular polyethylene (PE) in vegetable packaging. The project will include various PE technologies offered by SABIC based on materials produced via feedstock recycling of mixed and used plastics.