Database Overview
Grand View Research's Electric Off-Highway Equipment industry databook is a collection of market sizing information & forecasts, competitive benchmarking analyses, macro-environmental analyses, and regulatory & technological framework studies. Within the purview of the database, all such information is systematically analyzed and provided in the form of presentations and detailed outlook reports on individual areas of research.
The following data points will be included in the final product offering in 3 reports and one sector report overview:
Electric Off-Highway Equipment Industry Data Book Scope
Attributes

Details

Research Areas

Electric Construction Equipment Market
Electric Agriculture Equipment Market
Electric Mining Equipment Market

Details of Product

3 Individual Reports: PDF
3 Individual Reports: Excel
1 Sector Report: PPT
1 Data Book: Excel

Cumulative Countries Coverage

27+ Countries

Cumulative Product Coverage

3 Product

Highlights of Datasets

Product Revenue, by Countries
Battery Revenue, by Countries
Electric Vehicle Revenue, by Countries
Competitive Landscape

Total Number of Tables (Excel) in the bundle

336

Total Number of Figures in the bundle

76
Electric Off-Highway Equipment Industry Data Book Coverage Snapshot
Markets Covered

Electric Off-Highway Equipment Industry

Electric Construction Equipment Market Size

USD 1,242.8 million in 2022

14.8% CAGR (2023-2030)

Electric Agriculture Equipment Market Size

USD 16,236.0 million in 2022

6.1% CAGR (2023-2030)

Electric Mining Equipment Market Size

USD 94,498.3 million in 2022

11.5% CAGR (2023-2030)
Electric Off-Highway Equipment Industry
The electric off-highway equipment market is poised to experience growth owing to factors such as urbanization, higher carbon, and electrification equipment driving the market growth. The electrification of agriculture equipment such as tractors, threshers, and ergonomic tools for increasing crop production while decreasing the overall cost drives market growth. The higher concentration of carbon emission by the construction industry is prompting the electrification of construction equipment vehicles such as excavators, motor graders, and loaders by replacing fossil fuel with batteries, which is further augmenting the market growth. Furthermore, incumbents in the mining industry are focusing on launching electric variants of equipment such as large dozers, mining trucks, crushers, and rotary drill rigs, contributing to the market growth.
Electric Agriculture Equipment Market Analysis And Forecast
Growing commercial farming coupled with a labour shortage is a major factor driving the market growth for electric agricultural equipment. The demand for increased crop yield and the hovering threat of food security is other factors supplementing the market growth for electric agricultural equipment in major agricultural economies. The integration of electric propulsion in agricultural mechanisms owing to increased crop yield, decreased production cost, reduction in post-harvest losses, and efficient time management are also favouring the market growth worldwide.
The growing traction towards farm mechanization is supporting the uptake of electric technology. Electrical agricultural equipment like tractors, threshers, and other cultivation equipment can aid in numerous farming chores. In order to execute a number of crop production processes, mechanization entails the careful application of inputs by utilizing agricultural equipment, such as power-driven machinery and hand tool, which guarantees a decrease in the labour-intensive tasks associated with various farm activities and refocuses the use of inputs to maximize the potential of available resources.
Growing innovation in an attempt to electrify agricultural operations owing to rising carbon emission levels coupled with rising fuel prices is a major factor propelling the electric tractor market growth. The increasing concentration of commercial farming in regions of Asia, such as China and India, is further expected to support the demand for E-agriculture tractors. E- tractors carry certain advantages against their conventional counterparts, such as lesser sounds, economic feasibility, lower maintenance, longer product life, and compact designs are helping electric agricultural tractors gain traction within the farming and food & beverage industry.
Additionally, the technical advantages of electric agricultural tractors, such as lighter weight, lesser components, and increased productivity due to less fuel consumption make them a more economical choice for farmers. This advantage has the potential to position electric tractors as a preferable choice among farmers
The incumbents are leveraging technologies such as Artificial Intelligence, fleet management, data analytics, and autonomous vehicle principles for cost-effective and sustainable farming operations. For instance, in November 2022, Monarch Tractors announced the development of autonomous E-tractors calming to save 53 metric tons of carbon dioxide and USD 18 thousand per tractor. While addressing the growing shortage of farm labour, Monarch Tractors enables a single tractor operator to manage eight fleets of the electric tractor. The tractors are equipped with sensors and cameras for precise farm mapping while ensuring vehicle safety through real-time pitch management.
Electric Construction Equipment Market Analysis And Forecast
The electric construction equipment market is experiencing growth owing to stringent laws on noise and carbon emissions caused in closed construction and urban area. The increase in noise pollution in the cities has become a potential threat owing to ramping up construction projects. The noise pollution from the equipment, such as loaders, excavators, and motor graders, have prompted municipal corporation in European cities such as Copenhagen, Oslo, Stockholm, and Helsinki to launch initiatives to launch pilot projects for zero-emission construction sites. The city of Helsinki signed the green deal in 2020 to create zero-emission worksites, and the practice will be slowly applied to the whole town. The authorities said that as a result of the initiative, it has chosen to use minimal parameters for procuring all upcoming street infrastructure and outsourced infrastructure projects. By 2025, every city's construction sites are expected to be fossil fuel-free; by 2030, all emissions will be eliminated. Similarly, by 2040 London has also declared its intention to reduce emissions from construction sites to zero.
The trend for fast-charging equipment, which has a longer operating duration and is powered by hydrogen fuel, solid-state battery, or lithium-ion battery, is gaining traction while supporting the market growth. Fast-charging batteries are known to withstand higher charging speeds prompting manufacturers to offer battery packs that can be swapped when the battery level is low. The changed battery can be charged individually without compromising the operating hours and reducing idle time. OEMs such as Volvo and Hyundai are also developing and testing heavy equipment machinery. Recently, Hyundai Construction Equipment has partnered with Hyundai Motor Group to create construction equipment driven by the hydrogen fuel cells. Hyundai Construction Equipment will design, manufacture, and assess the performance of excavators and forklifts. At the same time, Hyundai Motors and Hyundai Mobis will develop and produce hydrogen fuel cell systems, including power packs. 2023 has been chosen as the deadline for widespread production and distribution.
Similarly, an articulated dump truck equipped with a fuel cell system is currently being tested by Volvo Construction Equipment (Volvo CE). The Volvo HX04 prototype was created as a result of a Swedish research effort. The heavy-duty hydrogen fuel cell vehicle is the outcome of a research project supported between 2018 and 2022 by various Swedish authorities.
OEMs in this market are actively developing and launching electric and low-noise construction equipment. For instance, At the 11th International Construction Equipment and Construction Technology Trade Fair, CII EXCON 2021, CASE Construction Equipment, a brand of CNH Industrial, displayed its new product line. The 770 NXe 49.5hp Loader Backhoe was the company's first piece of new machinery, followed by the 770 EX Plus, 851 FX CP version 845C Motor Grader, 1107EX Soil Vibratory Compactor, and CX220C LC-HD Excavator. Similarly, The JCB 19C-1E, the first fully electric excavator in the market, was unveiled by JCB India at Excon. On the NXT Platform, a 22 Ton Hydraulic Excavator created specifically for Indian applications was also introduced. In addition, a 4 Ton Telescopic Hander, AJ48 D Articulated Boom Lift, and the 35Z HD and 37C HD Mini Excavators for Smart Infrastructure were unveiled.
Electric Mining Equipment Market Analysis And Forecast
The mining industry has been dependent on diesel for its major operation, such as transportation vehicles, along with operating mining equipment for underground and surface mining. According to International Council on Mining and Metals (ICMM), diesel-powered engines emit 30 to 80 % of emissions in a mining site. With mining concentrated in hostile and harsh terrains with extreme temperatures, the emission emitted contributes to the higher temperature. Using diesel-powered equipment generates more pollutants while producing more noise and heat while incurring higher operational costs. These factors of conventional mining equipment are fueling the adoption of electric mining equipment in the mining industry.
This offers many benefits, such as reduced noise due to the absence of engines and limited greenhouse gas emissions. Electric mining equipment help in reducing heat in underground mine by increasing ventilation and cooling in the underground mining environment. The ongoing urbanization and industrialization are fueling the demand for natural resources such as oil and minerals. As a result, the global mining industry is flourishing. This, in turn, is expected to boost the demand for electric mining equipment, thereby leading to the growth of the market for this equipment worldwide. Companies operating in the mining equipment market are enhancing their product portfolio by including electric equipment in the lineup to meet the demand for various types of electric mining equipment, such as mineral processing equipment, crushers, surface mining tools, screening equipment, and mining drills & breakers. A range of variants that are either rechargeable batteries, cable-tethered, or use overhead trolley lines make up the most electrified mining equipment. The latter are more common in open-pit mines where using big surface trucks is necessary.
The continuously growing global population has surged the requirement for increased industrial activities and infrastructure development projects. In countries with high mining concentration, several nations with the most mining equipment, including China, Russia, Indonesia, South Africa, Australia, the USA, Canada, and Chile, may provide considerable investment opportunities for supporting the uptake of electric mining equipment in their respective regions A range of variants that are either rechargeable batteries, cable-tethered, or use overhead trolley-lines make up most electrified mining equipment. The latter are more common in open-pit mines where using big surface trucks is necessary.
Competitive Landscape
The market is competitive with the presence of major players Komatsu Ltd, Caterpillar Inc MaterMacc S.p.A, AGCO Corp., CLAAS KGaAmbH, Mahindra & Mahindra Ltd., SDF S.p.A., J C Bamford Excavators Ltd among others. These companies maintain an exhaustive product portfolio and are developing product lines up for electric tractors, mining equipment, and agricultural equipment. Additionally, the Companies are adopting several growth strategies, such as partnerships, mergers & acquisitions, and product launches, to stay afloat in the competitive industry. For instance, in June 2022, Komastu Ltd. announced its partnership with Cummins Inc to develop zero-emission haulage equipment. The haulage vehicle will be a hybrid vehicle running on power sources such as diesel, hydrogen fuel cells, and battery power. Komastu Ltd. will be able to leverage Cummins Inc's expertise in E-batteries, electrolyzes, and fuel cell systems.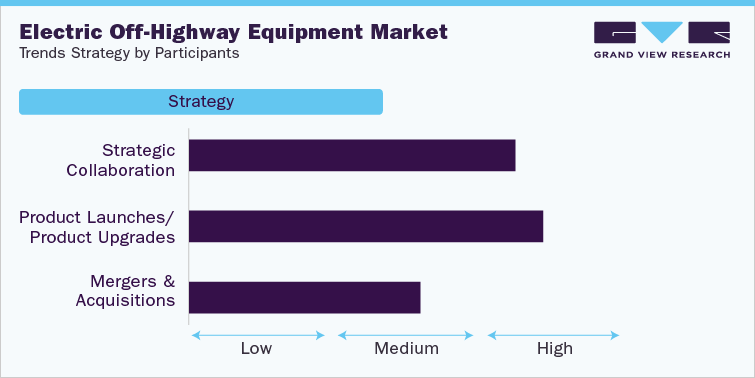 | | |
| --- | --- |
| Strategy | Spearheads |
| Strategic Collaboration | AGCO Corportion, CNH Industrial N.V., and Escorts Limited, KUBOTA Corportion |
| Product Launches/Product Upgrades | Deere & Company, AGCO Corportion, and CNH Industrial N.V., |
| Mergers & Acquisitions | Deere & Company, CNH Corportion N.V., and KUBOTA Corportion |
Product upgrades and new product developments are the key strategic growth employed to improve their market position. AGCO Corporation, Solectrac, CNH Industrial N.V, and Deere & Company are some key vendors actively engaged in innovation and product upgrades. For instance, In August 2022, Solectrac launched a new electric tractor e70N tractor The 70-horsepower, Solectrac recently delivered diesel-equivalent tractors to three farms in Northern California as part of a grant from the Funding Agriculture Replacement Measures for Emission Reductions Demonstration Program of the Bay Area Air Quality Management District (FARMER).
Key Drivers
Increasing mechanization in the agriculture industry

Government support with loan waivers/credit finance

Rise in demand for agricultural product s

Increasing traction electric mining equipment

The growing integration of technologies such as AI and IoT

Technological advancements