Database Overview
Grand View Research's immersive media industry data book is a collection of market sizing information & forecasts, competitive benchmarking analyses, macro-environmental analyses, and regulatory & technological framework studies. Within the purview of the database, all such information is systematically analyzed and provided in the form of presentations and detailed outlook reports on individual areas of research.
The following data points will be included in the final product offering in 3 reports and one sector report overview:
Immersive Media Industry Data Book Scope
Attribute

Details

Research Areas

Augmented Reality Market
Metaverse Market
Virtual Reality Market

Number of Reports/Deliverables in the Bundle

3 Individual Reports-PDF
3 Individual Reports-Excel
1 Sector Report-PPT
1 Databook-Excel

Cumulative Country Coverage

28+ countries coverage

Cumulative Product Coverage

70+ Level 1 & 2 Products

Highlights of Datasets

Component Revenue, by Country
Device Revenue, by Country
Application Revenue, by Country
Technology Revenue, by Country
Competitive Analysis

Total number of Tables (Excel) in the bundle

200+

Total number of figures in the bundle

50
Immersive Media Industry Data Book Coverage Snapshot
Markets Covered

Immersive Media Industry

USD 86.02 billion in 2021

36.3% CAGR (2022 - 2030)

Augmented Reality Market Size

USD 25.33 billion in 2021

40.9% CAGR (2022 - 2030)

Virtual Reality Market Size

USD 21.83 billion in 2021

15.0% CAGR (2022 - 2030)

Metaverse Market Size

USD 38.85 billion in 2021

39.4% CAGR (2022 - 2030)
The global AR, VR, and metaverse markets combine to account for USD 86.02 billion in revenue in 2021, which is expected to reach USD 1,363.35 billion by 2030, growing at a cumulative rate of 36.3% over the forecast period. The combination bundle is designed to provide a holistic view of these highly dynamic market spaces.
Augmented Reality Market Analysis & Forecast
The augmented reality market globally was valued at USD 25.33 billion in 2021 and is likely to grow at a compound annual growth rate (CAGR) of 40.9% from 2022 to 2030. Augmented reality technology is constantly evolving in sync with the widening adoption of technology in consumer applications. As a result, demand for augmented reality chipsets has risen. The rapid growth of augmented reality chipsets is driving industry leaders such as NXP and Qualcomm Technologies, Inc. to develop innovative AR-powered chipsets to fulfil end-users' changing needs. In January 2022, Qualcomm Technologies, Inc. collaborated with Microsoft Corporation to develop unique chips for Augmented Reality glasses that will be compatible with Metaverse apps.
Augmented reality provides interactive experiences through various sensory modalities, such as somatosensory, visual, auditory, haptic, and others. Technology has numerous applications in education, training, and entertainment. This technology is increasingly being used in industries such as logistics, healthcare, and manufacturing for monitoring, assistance, maintenance, and training. The growing popularity of smartphones and app integration is expected to fuel the growth of the augmented reality market. Market participants' increasing collaboration with 5G providers to lessen latency is expected to accelerate growth prospects. For instance, in January 2022, Telefonaktiebolaget LM Ericsson collaborated with E.E. Limited to demonstrate the potential of 5G standalone using an augmented reality experience. Additionally, in July 2021, Samsung Electronics Inc. collaborated with GBL Systems Corp. to deploy 5F testbeds for A.R. at U.S. Army military bases in order to help the U.S. Army in training and planning.
Since the COVID-19 pandemic outbreak, there has been an increase in the use of augmented reality (A.R.) technology in marketing as well as advertising to hold promotional events, virtual exhibitions, virtual events, and online commercials. For instance, in July 2020, the OnePlus Nord smartphone was introduced using the A.R. platform Blippar. The increasing adoption of augmented reality technology by incumbents in the healthcare industry is expected to play a major role in propelling market growth. Numerous AR solution suppliers work with healthcare organizations and provide their A.R. tools to support AR-enabled healthcare. For instance, in February 2022, Altoida Inc., a provider of augmented reality software, collaborated with Click Therapeutics to use A.R. technology to understand baseline cognition measures and how they may impact patient outcomes.
North America is expected to generate the highest revenue during the forecast period. Immersive technologies are becoming more popular in the region due to continued investment. Likewise, the U.S. government is significant in improving the adoption of immersive technology in order to enhance the region's augmented reality market share. Moreover, the burgeoning logistics, manufacturing, gaming, and automotive industries are expected to fuel Asia market growth. Due to low-cost hardware manufacturers, China is expected to dominate the market. India is also expected to offer market growth opportunities due to rising customer demand. For instance, in June 2021, Livestream Technologies increased its investment in Japan to support the APAC region's growing customer base.
Virtual Reality Market Analysis & Forecast
The trend of increasing the focus of the media and entertainment industry on VR by offering an immersive experience to buyers is initiating a more significant demand for VR/AR content by viewers. The potential customers' demands for an immersive experience in movies, events, and sports are expected to propel the growth of the VR market during the forecast period. Many 3D movies, animated movies, documentaries, and other entertainment content are induced with VR/AR technology to provide viewers with high immersive involvement. For instance, in October 2020, Facebook Technologies, LLC, Oculus telecasted Micro Monsters, a VR documentary from Alchemy Immersive that offered viewers a real-like, never-seen-before view of Earth's insects.
Companies are heavily investing in the research & development of VR and AR hardware in order to design state-of-the-art gadgets with sensors allowing simulation for entertainment purposes. Many vendors are focusing on developing VR devices with advanced features to cater to the rising demand in the market. For instance, Facebook Technologies, LLC continually upgrades its offerings, such as the Oculus Quest 2's latest version, implemented with advanced touch controllers and a high-resolution display to cater to the ongoing demand for advanced technology.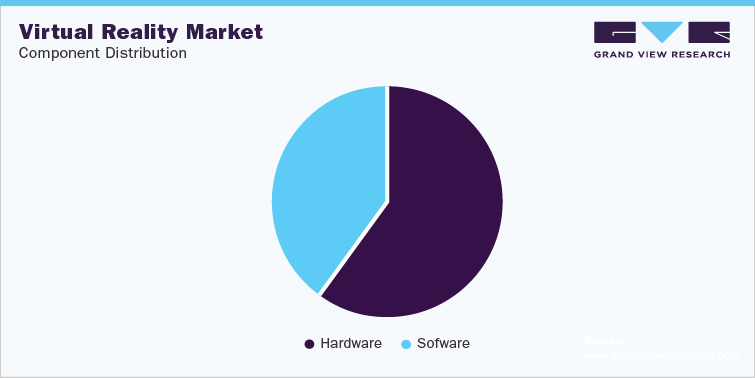 The virtual reality market is anticipated to witness profound growth over the next eight years as more device manufacturers hit the market. The advent of smartphones is projected to drive market growth as market players introduce mobile VR headsets using a third-party mobile device as the screen. This lowers overall costs, but it also provides opportunities for mobile app developers. As the cost of the technology falls, its application will expand exponentially across industry verticals. The rise of customer VR and falling Average Selling Price (ASP) of devices are likely to drive market growth over the forecast period. However, a lack of content and health-related concerns such as hygiene, motion sickness, and comfort may limit the market's growth.
Metaverse Market Analysis & Forecast
The global metaverse market size was valued at USD 53.61 billion in 2021 and is likely to grow at a compound annual growth rate (CAGR) of 39.4% from 2022 to 2030. Several major factors are propelling the growth of the metaverse market, including a growing emphasis on incorporating the digital and physical worlds through the Internet, the rising momentum and prominence of AR, MR, and VR, the eruption of the corona pandemic, and the subsequent innovations and product launches.
Metaverse is a trending technology platform that is attracting multiple social networks and tech leaders, as well as online game developers, to enter and assert its presence in the market. The metaverse is a rapidly growing trend with a higher consumer penetration level for a wide range of applications including content creation, online virtual shopping, learning and training, social interaction, and gaming.
As per industry leaders, the metaverse will penetrate a wide range of industries within the next few years and offer a substantial revenue opportunity exceeding USD one trillion in annual turnover. Owing to the region's users and clients who are adopting the new and more complex technology, the Metaverse market in North America is anticipated to account for the highest revenue share during the projected timeline. Furthermore, the increasing number of start-ups focusing on the innovation of metaverse platforms for commercial use is anticipated to aid growth in revenue in the North American market.
Competitive Insights
The key market players in the Immersive Media industry, such as Meta Platforms, Inc., Tencent Holdings Ltd., NetEase, Inc., Nvidia Corporation, Unity Technologies, Inc., Microsoft Corporation, Samsung, HTC Corporation, Alphabet Inc., Qualcomm Inc., and Vuzix among others continuously seek various initiatives including mergers and acquisitions, strategic alliances, and new development launches. These vendors bear expertise in the Immersive Media industry and have a strategic presence across the globe. This, in turn, has enabled these companies to successfully defend their position in the market.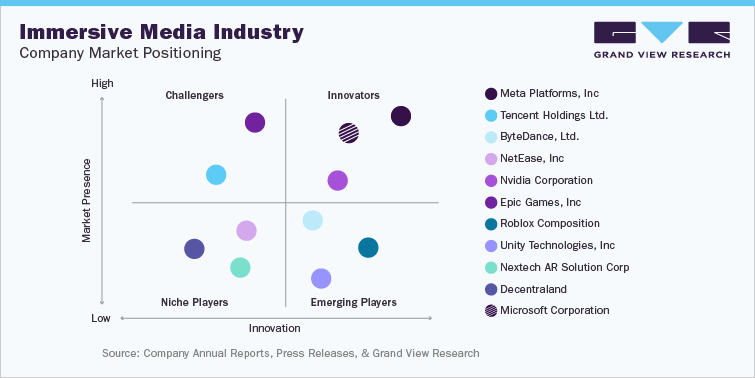 Several market players operating in the immersive media industry have launched several new products in recent years. For instance, in DecUnity Technologies introduced Meta Audience Network for in-app bidding access in Unity Mediation, a part of Unity Ads. As a result of this enhancement, publishers get self-serve access to a premium demand source, this makes it easier and faster to maximize their financial earnings. In April 2021 Google LLC launched the WebXR platform which combies Sodar, Measure UP, Floom, and Picturescape to provide viewers with a more immersive experience. The WebXR offers a variety of features which are is readily available via an Android device and the advanced Chrome browser, making the platform user-friendly.
Key Drivers
Continued growth in demand for remote assistance and collaboration

Increasing adoption of augmented reality across the automotive industry

Evolving solicitations in the entertainment & medical sectors

Growing VR penetration in consumer electronics

Increasing Focus on Conveying Digital & Physical Worlds through Internet