Database Overview
Grand View Research's Long steel products industry data book is a collection of market sizing information & forecasts, trade data, pricing intelligence, competitive benchmarking analyses, macro-environmental analyses, and regulatory & technological framework studies. Within the purview of the database, such information is systematically analyzed and provided in the form of outlook reports (1 detailed sectoral outlook report) and summary presentations on individual areas of research along with an agricultural statistics e-book.
Long Steel Products Industry Data Book Scope
Attribute

Details

Areas of Research

Steel Rebar Market
Carbon Steel Pipe Fittings Market
Steel Pipes & Tubes Market
Steel Wire Market

Number of Reports/Presentations Covered in the buddle

1 Sector Outlook Report + 4 Summary Presentations for Individual Areas of Research + 1 Statistic ebook

Cumulative Coverage of Countries

40+ Countries

Cumulative Coverage of Application

10+ Application

Highlights of Datasets

Demand/Consumption, by Countries
Competitive Analysis
Steel Rebar, By Application
Carbon Steel Pipe Fittings, By Application
Steel Pipes & Tubes, By Technology
Steel Pipes & Tubes, By Application
Steel Wire, By Material
Steel Wire, By Application
Long Steel Products Industry Data Book Coverage Snapshot
Markets Covered

Long Steel Products Industry

USD 469.8 billion in 2019

5.5% CAGR (2020-2027)

Steel Rebar Market Size

USD 270.18 billion in 2021

4.9% CAGR (2022-2030)

Carbon Steel Pipe Fittings Market Size

USD 6.84 billion in 2021

4.7% CAGR (2022-2030)

Steel Pipes & Tubes Market Size

USD 142.4 billion in 2021

6.2% CAGR (2020-2027)

Steel Wire Market Size

USD 102.98 billion in 2021

4.7% CAGR (2022-2030)
Long Steel Products Industry Outlook
Steel is a vital industry for global economic growth and long steel products play a crucial role in the development of infrastructure across the globe. It is a key raw material used in producing long products for building & construction and various manufacturing activities. As per the World Steel Association, the total value contribution by the steel industry is USD 2.9 trillion, which is equivalent to 3.8% of global GDP.
The global long steel products market is anticipated to be driven by the need to replace structurally deficient infrastructure. Reconstruction of bridges is projected to remain a key focus area for most of the developed countries. For instance, around 9% of bridges in the U.S. were structurally deficient in 2016 and the average age of a bridge in the country is 43 years old. This represents a massive opportunity for vendors, as long steel products are essential components in bridge making.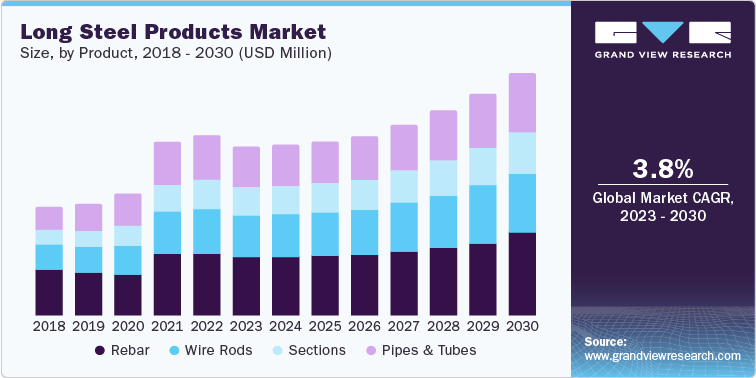 Construction was the largest application segment and accounted for a revenue share of more than 79.0% in 2019. Long Steel Products are widely used in residential, non-residential, and infrastructure applications. Structural steel products including beams, angles, sections, etc. are widely utilized in housing, residential, and commercial buildings owing to their lightweight and high-strength characteristics, which minimizes the load on the foundation and reduce sub-structure costs.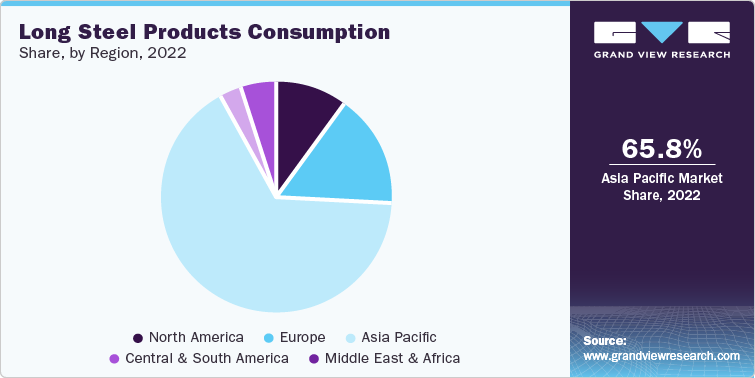 Due to growing population and housing needs, Asia Pacific was the largest application segment and accounted for a revenue share of more than 64.0% in 2019. Countries such as India and China, are witnessing an increasing number of residential construction projects, which is likely to create significant demand for long steel product. China consumes more than 40.0% of the world's long steel product, as the country has some of the top players operating in the steel industry.
China, India, Japan, and the U.S. remain the largest producers and exports of long steel product. The market is mainly driven by the rising need for replacing structurally deficient infrastructure in the world, especially in developing countries and the need to reconstruct bridges in developed countries remains the key focus area. Rebars are the largest segment that dominates the market. They are mainly used to provide resistance to construction loads and hold the concrete in tension. It also provides resistance to temperature-induced stresses and limits the cracking in structures.
Steel Rebar Market Analysis And Forecast
The construction segment dominated the steel rebar market. Asia Pacific accounted for more than half of global steel rebar demand in 2021, owing to the easy availability of raw materials and investments in construction activities.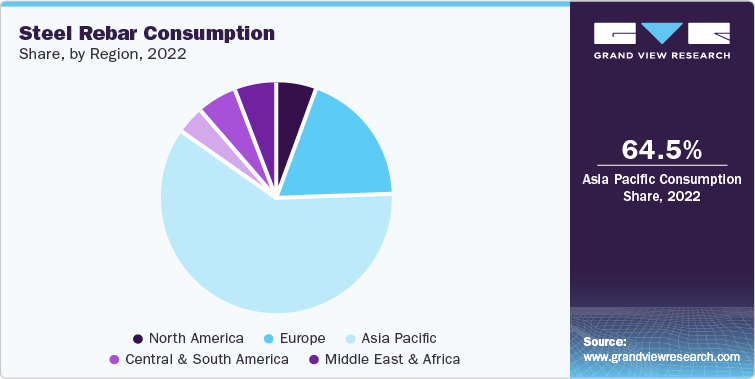 China ranked amongst the top producer and consumers of steel rebar globally. India follows suit after China, as the second largest consumer of steel rebar. The demand in these countries is primarily driven by investments in construction, and infrastructure through government-aided policies to boost the development in the region.
Carbon Steel Pipe Fittings Market Analysis And Forecast
The oil & gas segment accounted for the largest revenue share of nearly 50.0% in 2021 of the global carbon steel pipe fittings market. The segment is anticipated to grow due to rising investments in the oil & gas industry. The rising need to transport and store the materials in oil & gas, and petrochemical industries are expected to assist the market growth.
The Asia Pacific dominated the market and held the largest volume share of over 60% in 2021 owing to the rapidly expanding infrastructure industry and investments in the oil & gas sector. Europe is also likely to remain a key market over the coming years. The oil & gas industry of the region is under pressure amidst the recent Russia-Ukraine conflict
Growing infrastructure investments in North America region is anticipated to benefit the growth of the market. For instance, under the Infrastructure Development Act passed by the U.S. government, the authorities are estimating that California is likely to receive USD 14.00 billion for rebuilding infrastructures including water supply, bridges, roads, and communication. Similar investments were announced for other states in the U.S.
Steel Pipes & Tubes Market Analysis And Forecast
Increasing oil & gas production owing to the demand from the transportation industry is one of the prominent growth drivers for the market. The oil & gas industry is the major consumer segment for steel pipes & tubes market.
Asia Pacific emerged as the leading regional market in 2019 and accounted for a revenue share of over 44% owing to the rising product consumption in the region. China, Japan, South Korea, Southeast Asia, and India are the major product consumers in the region owing to the presence of huge manufacturing, petroleum, and petrochemical sector.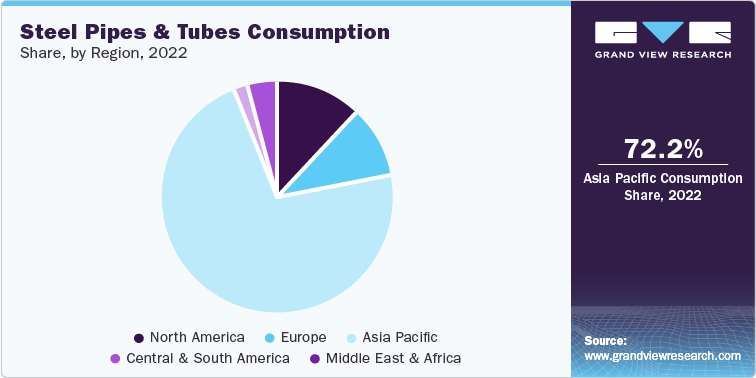 North America witnessed a steady growth in the past. In 2019, the demand for steel pipes in the U.S. benefitted from strong economic growth, which was driven by the government-led fiscal stimulus, leading to high business confidence. This resulted in a surge in oil & gas production and high manufacturing activity in the region. According to the statistics of the BP Energy Outlook 2020, the crude oil production in North America increased by nearly 7.3% in 2019.
Steel Wire Market Analysis And Forecast
The global steel wire market growth is expected to increase on account of rising investments in the construction industry. Downstream products of steel wires include ropes and strands, which find numerous uses in the construction industry, such as in supporting suspension bridges and as an added reinforcement in towers. These are extensively used in prestressed concrete, which supports floor beams, roofs, runways, tall columns, and high retaining walls.
The construction segment held the largest revenue share of over 40.0% of the global market in 2021. Widespread uses of steel wire-based ropes, cables, strands, and cords in moving equipment, supporting structures, and various applications in the construction industry are anticipated to help maintain the segment's dominance during the forecast period.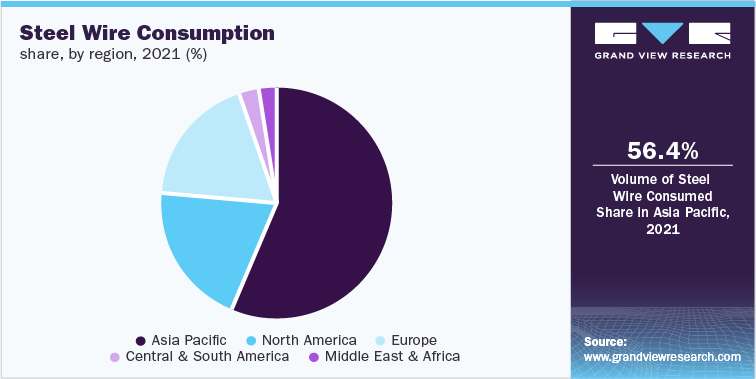 Asia Pacific dominated the global steel wire market and is expected to continue over the forecast period. The stronghold of the region is attributable to the presence of both raw material suppliers, manufacturers, and end-users. Asia-based manufacturers are expanding their production to cater not just to domestic customers but to international demand as well.
Competitive Insights
The outlook for the long steel product markets has weakened quickly in the last quarter of 2022. Factors responsible for weaker prospectus include higher energy prices, the global economic slowdown, rising inflation and the impacts of the Russia-Ukraine war and sharp decline in the real estate sector, and rising COVID infections. Global crude steel production has declined significantly in 2022 as the demand has contracted at the global level.
The destruction of steel production facilities in Ukraine has led to a collapse in steel production along with rising energy prices and production stoppages, especially in Europe. However, the financial performance of steel companies improved in 2022. Recently steel prices have declined, which is putting pressure on the margins of steel producers due to rising raw material and scrap prices.
In September 2022, Tata Steel decided to merge seven subsidiaries including four listed companies. This is projected to benefit the company by improving efficiency and reducing operations costs. The companies include Tata long steel product, TRF, Tinplate Company of India, Tata Metaliks, The Indian Steel & Wire Products, Tata Steel Mining, and S&T Mining Company.

In September 2022, POSCO announced an investment of USD 14.1 billion to cut carbon emissions. The company constructed two electric furnaces, one in its Gwangyang factory and the other in its Pohang factory, to replace polluting old blast furnaces. In addition, the company installed cutting-edge equipment in electric furnaces to replace coking coal with cleaner hydrogen.

In February 2022, FABco, LLC, a leading provider of concrete construction material and supplier of steel rebars, acquired Volunteer Rebar. This acquisition is expected to help the company to accelerate its growth and increase services to customers based in Tennessee, U.S.

In January 2022, Netherland-based VAN MERKSTEIJN INTERNATIONAL announced plans to build a new greenfield steel wire rod mill in Eemshaven by 2024, which is worth an investment of EUR 300 million (USD 305.4 million) and has a capacity of 580 kilotons. The company resumed this plan after obtaining all necessary approvals, which were initially put on hold in 2019 owing to problems with economic uncertainty and necessary permits.

In February 2021, Tenaris has announced an investment of USD 20 million for its facility in Dalmine, Italy. This investment is likely to assist in the reduction of lead-time, increase capacity and improve the sustainability of the production process. With this investment, the company can produce fittings, tubular bends, OCTG, line pipes, and gas cylinders among others.