As Google Inc. and Amazon Inc. consider drones for applications ranging from providing high-speed Internet to package delivery, military planners and regulators across the world are concerned with the fact that inexpensive drones, which are extensively available in the market, could pose a serious threat to the vital aviation infrastructure, aerospace, and even national security.
Drones available in the market are typically lighter in weight and smaller in size than their military counterparts. These characteristics make them harder to effectively detect, identify and classify. Though they are extensively used in various legitimate applications, such as aerial photography and filmmaking, their increased popularity and potential for misuse in nefarious activities has opened up a new business opportunity: developing anti-drone/counter-UAV systems.
China anti-drone market, by mitigation type, 2015 (USD Million)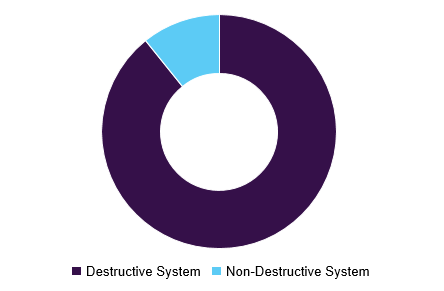 Steep growth in unmanned aerial systems has primarily propelled the development of counter-UAV measures and drone-killers. Though their application might be readily obvious to the general population who have encountered hobbyist drone fliers too close to their properties, they encompass a broader application base in governmental and law enforcement, such as homeland security. In addition, the threats of unauthorized drones have gone beyond the national security and military. Close encounters with unwanted drones have started to threaten commercial passenger airlines approaching busy hubs and major airports across the world.
Various security breach incidents by unlawful drones is primarily a matter of airport safety and the constant issues with inquisitive drone photographers struggling to aerially shoot pictures of natural disasters, typically interfering with emergency rescue operations. A series of incidents in Europe and the U.S. depict main cause of hindrance in fire-fighting efforts by drones flying over the fires. In many cases, the helicopters used to combat the fire had to temporarily halt all their operations primarily due to the fear of collision.
The global industry for drone defense includes protection for theme parks, public events, sports stadiums, VIPs, utilities, and government buildings. Smaller drones are generally hard to detect due to the small size and low-level flight profile by sight or radar. The air defense radars used for military and defense purposes are primarily designed to detect and identify large fast moving aerial threats.
Counter UAV measures deployed in military & defense end-use utilize RF signal manipulation strategy to take over and disrupt or damage the drone as soon as it enters into a pre-defined exclusion zone. This technology enables the security agencies to detect, identify, categorize, track, and take control of the UAV by manipulating the radio wireless communication protocols operating in the ISM band. Moreover, increasing efforts are being made to develop an anti-drone technology utilizing a combination of video, audio, RF, and Wi-Fi sensors to identify unlawful drones in the vicinity.

In-depth report on global anti-drone market by Grand View Research:
http://www.grandviewresearch.com/industry-analysis/anti-drone-market