Depression is the leading cause of disabilities worldwide as it impacts normal day-to-day activities of an individual. These disorders need to be treated at an early stage to avert the development of suicidal conditions in mentally depressed individuals. With surging incidence of depressive disorders, the market witnesses growth due to increasing prescription rates. However, the revenue captured by antidepressants is expected to decrease with generics saturating the market in the developed countries.
Global anxiety disorders and depression treatment market, by product, 2015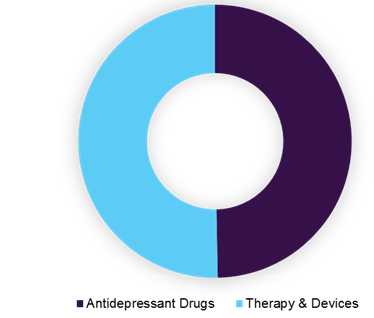 Furthermore, increasing global prevalence of mental disorders is the key contributing factor toward the rise in demand for antidepressant medication. For example, according to the National Survey on Drug Use and Health conducted by Substance Abuse and Mental Health Services Administration in 2014, more than 15.7 million adults were affected by depression
Growing demand for cost-effective antidepressants is a crucial factor promoting consistent development of novel drugs. In addition, enlarging associated benefits of psychotherapies and devices, such as fewer side effects, and increasing efficiency of anxiety & depression treatments is further engendering greater market growth.
The increasing need to curb mental disorders has significantly heightened drug development initiatives amongst pharmaceutical companies through re-engineering of the involved research process and clinical trial activities. Market leaders are now focusing on the development of high efficacy medications for depressive disorders as the available drugs pose several adverse effects, in turn affecting their effectiveness.
With many branded formulations losing their patent exclusivity during the forecast period coupled with increased generic competition for antidepressants, market leaders are shifting their focus toward drug development activities.
Moreover, the supportive initiatives advanced by government authorities to create awareness pertaining to depression treatment are predicted to fuel the demand for antidepressants in the coming years. For instance, the Affordable Care Act removed access barriers to behavioral health services and extended the Mental Health Parity and Addiction Equity Act with amendments related to private insurance schemes that provided coverage for mental health disorders.
On the technological front, advancements in the devices for brain stimulation are presumed to serve this market with lucrative growth opportunities. Increasing adoption of devices, such as Transcranial Magnetic Stimulation (TMS) in depression treatment, and growing awareness levels amongst patients and physicians pertaining to device applications is presumed to be contributing toward market growth.

In-depth report on global anxiety disorders and depression treatment market by Grand View Research:
https://www.grandviewresearch.com/industry-analysis/anxiety-disorders-and-depression-treatment-market