Imagine a couple planning a much-needed holiday in the Caribbean. They select a resort and visit it to check its insides. Appears normal, doesn't it? However, what's different is that they do this while one partner is in Canada and the other in Dubai, simultaneously. This is just one of the amazing things that can be achieved through Augmented Reality (AR). This is a term that has gathered a lot of steam in the past few years, with every major organization trying to make their mark in this space.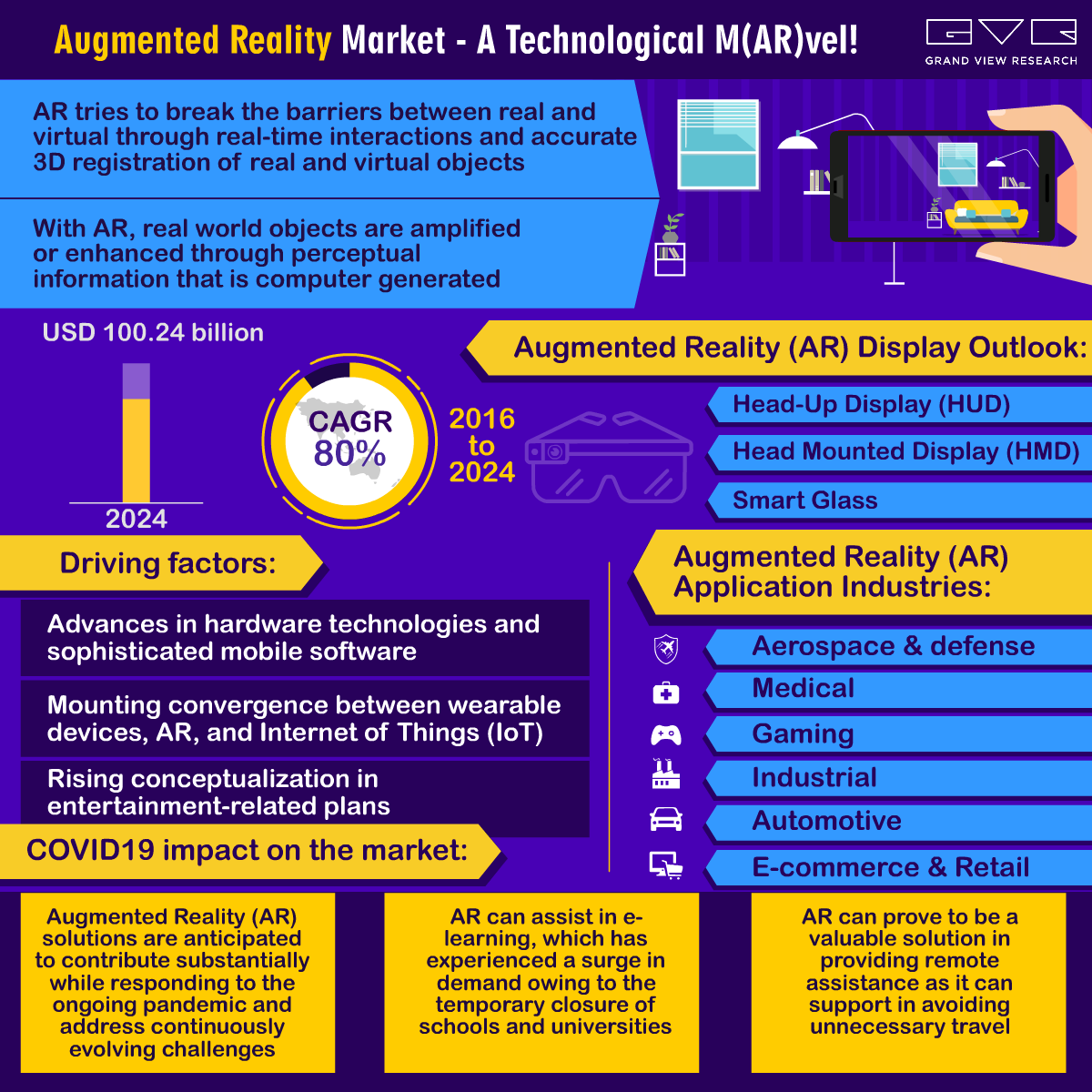 The concept of augmented reality goes as far as being visualized in the movie 'Minority Report' (2002), as well as the 'Iron Man' franchisee, for the teenage and young crowd. Many people, especially from the younger generations, must have definitely heard of this technology (unless they are living under a rock), but what they may not know is its exact functioning and just how far its reach goes.
A quick overview…
AR, in simple words, tries to break the barriers between real and virtual through real-time interactions and accurate 3D registration of real and virtual objects. Through this technology, real world objects are amplified or enhanced through perceptual information, that is computer generated. The objects can even be enhanced across various senses, such as visual, auditory, haptic, olfactory and somatosensory. It places digital objects/information in our physical realm, which are visible when looked at through AR lenses or smart phone cameras.
Augmented reality has had far-reaching effects on various industries in a way that few other technologies have had. It is poised to alter these industries, right from marketing and manufacturing to healthcare and education. Also, its mention cannot be complete without 'Pokémon GO', which now finds itself amongst some of the biggest cultural phenomena.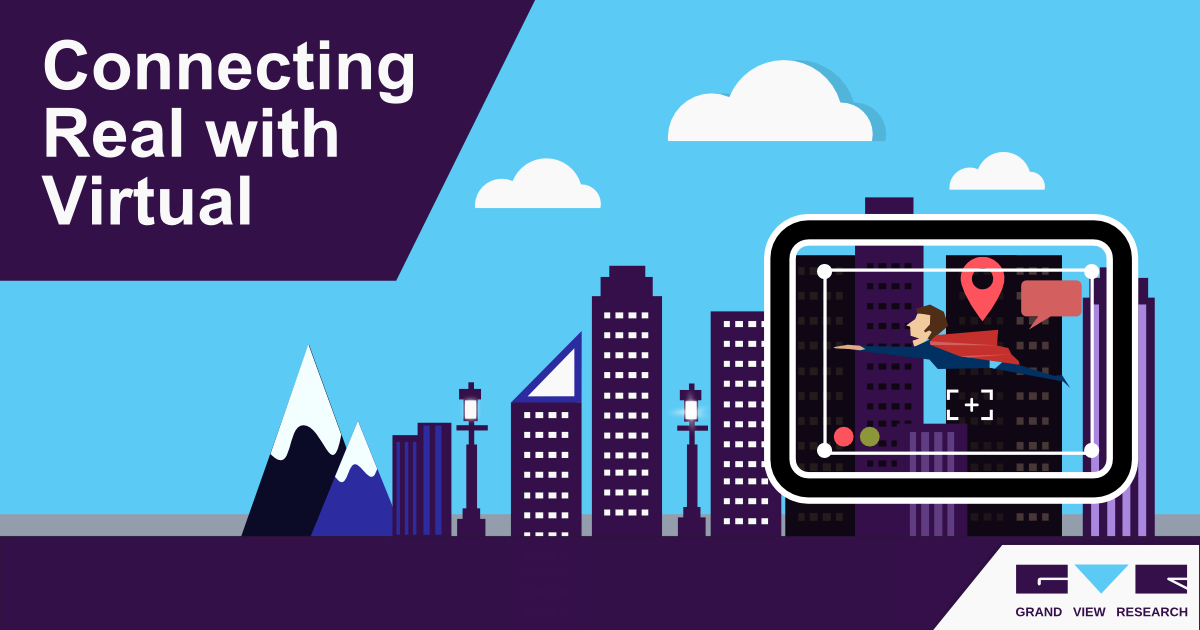 AR in Marketing
An instance of AR in marketing is that of furniture giant, IKEA helping customers visualize how its furniture would look when shifted in their homes. There is growing evidence supporting its positive impact on client engagement, market awareness, and brand recognition. It scores over 'Virtual Reality' (VR) in marketing, as it can be integrated with existing marketing campaigns. Unlike this, VR tends to isolate users in a completely virtual world. Steven Spielberg's 2018 thriller 'Ready Player One' took this technology to a whole new level by offering special immersive content when moviegoers held up their phones in front of the movie poster and scanned it!
AR in Manufacturing
The technology is particularly useful in the industrial and manufacturing sector, where there is only a very tiny room for error, as well as presence of a risky environment or working conditions. Engineers at Lockheed Martin wear AR glasses that are equipped with cameras, motion sensors and depth sensors to see depictions of parts, bolts, cables, and instructions for assembling particular components. This boosts their work speed by 30% & accuracy to 96%! Also, Atheer, an industrial technology company, has developed an application that offers a step-by-step task guidance, contextual documentation and manuals, and even barcode scanning.
AR in Retail
The technology is set to reshape retail, with vendors employing it to eliminate shoppers' pain points, improve client services, & create more personalized buying experiences. Several companies are working on AR usage across in-stores and out-stores. One of the ways that the technology has been integrated into the retail sector is through the use of smart mirrors, or digital mirrors, which also make use of AI and gesture recognition technology. Without the need of even getting out of their dresses, customers can try different combinations through this virtual changing room.
AR in Education
With children now being a step ahead of everyone in understanding new technologies, what better way to impart education than integration of AR in the education system? Not only does it make learning interactive and fun for the kids, it would also lead to favorable outcomes for the school in terms of results and personality development of students. For example, Dinosaur 4D+, developed by Octagon Studio, is a set of flashcards that provides knowledge to students about the characteristics, habitats and appearance of dinosaurs. Museums are an attractive area for integration of this technology, where students can learn much about history, science and even our existence through interactive learning.
AR in Healthcare
The technology is expected to become an integral part of healthcare in the next five years. From assisting pharmaceutical companies (in showing patients how drugs work inside their bodies) to surgeons (for medical purposes), it has many benefits. For example, a recent partnership between U.S.-based Magic Leap and Munich-based Brainlab offers innovations in surgical procedures and medical imaging through implementation of the technology.
Galloping Ahead!
Healthcare is one of the most important segments that has viewed this technology with much interest. With the medical field undergoing advancements and automation like no other, AR can be expected to benefit heavily from this sector. Another area in which it has found an increased use is retail and e-commerce, and with the number of consumers carrying out everyday shopping and transactions through e-commerce platforms, an increased demand is a certainty.
The growing demand for the technology has not gone unnoticed, and some of the industrial behemoths like Facebook, Amazon and Google have readily dipped their toes into this technology, accelerating market growth. Another factor playing into the hands of this technology is the penetration of smartphones, in developed as well as developing economies, as well as the accelerated rate of development of related devices.
However, infrastructural development with regards to augmented reality is still not efficient and consistent around the globe, which has checked the AR market growth. Another factor that affects the market is reluctance of consumers in buying the product, as many people, especially parents, are of the opinion that it may prove to be a big distraction for kids.
Andrew Ng, chief scientist at Baidu Research, stressed the difficulty in convincing people to spend heavily on AR/VR goggles. This has resulted in an opportunity for developers to migrate to mobile applications, which have gained a lot of recognition. Again, Pokémon GO's phenomenal success is a sufficient evidence to AR's mobile advantage. It is also expected to make huge inroads in the future in the booming travel and tourism industry.
Popular Among Leaders
Gauging the huge potential of the technology, industry behemoths like Apple, Google (Google Glass), Microsoft (HoloLens), and Facebook are heavily investing in it. Apple's acquisition of Metaio in 2015 reiterates CEO Tim Cook's belief in the technology. Metaio sold software that combined camera images and computer-generated objects. Other major industry participants include Total Immersion, Magic Leap, Sony, Blippar, Wikitude, PTC, Infinity Augmented Reality, and Daqri LLC.
Some of the most recent developments in this space include:
In November 2019, Microsoft made the HoloLens 2 available for sale, which it had introduced in February this year. This headset, at present, is targeted towards enterprises rather than mainstream customers.

In October 2019, Magic Leap announced a partnership with Jabil, a manufacturing solutions company from St. Petersburg, regarding the creation of Magic Leap's lightweight and wearable computer. The manufacturing is being carried out at a facility in Mexico's Guadalajara, which Jabil built specifically for Magic Leap.

In October 2019, Sony introduced a prototype for their AR headset at the Ginza Sony Park, where the technology would be implemented for a Ghostbusters-themed multiplayer experience. It is said to last for around an hour and would be ending by December 8th.

In March 2019, Alibaba completed the acquisition of 'Infinity Augmented Reality', wherein InfinityAR's R&D team will began working out of Alibaba's Israel Machine Laboratory, which is a part of the Alibaba DAMO Academy.

In-depth report on global augmented reality (AR) market by Grand View Research:
https://www.grandviewresearch.com/industry-analysis/augmented-reality-market