Buddha is quoted as saying that "Change is the only constant thing in life" and everybody knows that a growling engine of change in modern age is - Technology. It has the potential to build upon existing systems or completely overthrow redundant tech and substitute them with a modern efficient technology. Biotechnology is one of the shining examples of this phenomenon and will continue to be so until a long time.
What Exactly is Biotechnology?
'Biotechnology' is the broad area of biology, involving living systems and organisms and deals with biological processing of those living organisms & systems to develop new technologies. It also exploits cellular & biomolecular processes to create new products & technologies. This leads to improvement in the health of consumers and the planet boosting the growth of Biotechnology market. Along with many things, it also deals with Tissue engineering, DNA sequencing and Nanobiotechnology.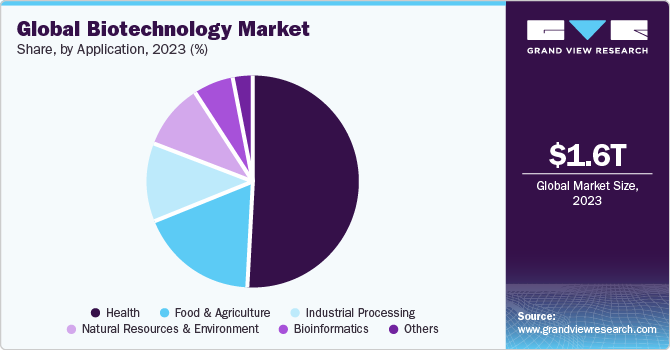 Biotechnology covers broad aspects in the utility arena. Although, it is used in several field, its apt usage is in four sectors, namely, Health care (Medical), Crop production and Agriculture, Non-food (Industrial) uses of crops and other products (e.g. biodegradable plastics, vegetable oil, biofuels), and Environmental uses.
For example, one application of biotechnology is the directed use of microorganisms for the manufacture of organic products (examples include beer and milk products). Another example is using naturally present bacteria by the mining industry in bioleaching. Biotechnology is also used to recycle, treat waste, clean-up sites contaminated by industrial activities (bioremediation), and also to produce biological weapons.
Its Role
Biotechnology is rooted in the science of microbiology, genetics, animal cell culture, embryology, cell biology, etc. The technology provides breakthroughs, developments, and products in biofuels, agricultural biotechnology, regenerative medicines, vaccines, and so on.
Biologists study cell functions & structure to get a better understanding of proteins, genes, and cells. The same helps fight orphan diseases, reduces carbon footprints, and provides cleaner energy. In addition, products developed from the technology boosts food sources, combats pollution, and improves nutritional health.
Its role in following sectors is quite prominent.
Healthcare (Medical): Biotechnology has been leveraged by the R&D professionals to bring more efficiency to medical practice and invade into arenas untouched by medicine. Technologies like Bioinformatics, Nanobiotechnology and DNA sequencing among others, has been of a big help. For example, Biotechnology has contributed to the discovery and manufacturing of traditional small molecule pharmaceutical drugs as well as drugs that are the product of biotechnology – biopharmaceutics. Modern biotechnology can also be used to manufacture existing medicines relatively easily and cheaply.
When it comes to health, genetic modification by biotechnology is also something to be highlighted. It has been applied in modifying the genetic structure of Mosquitoes (GM), resulting in the increase of capability to fight the outbreaks of harmful vector-borne diseases like Zika, Dengue and Malaria etc.
Crop production and Agriculture: Genetically Modified (GM) crops are developed with the help of biotechnology and has proved its worth in raising the yield of crops in the countries battling hunger and poverty. For example, Countries; like Burkina Faso, Nigeria, Egypt, South Africa, and Sudan are cultivating genetically engineered crops; such as Bacillus thuringiensis (Bt) cotton, corn, cow pea, nitrogen, water efficient rice, etc. Apart from this, scientists have also developed 3-D printed biotechnological CellPods that incubate seeds and accelerate their growth (with the help of adequate sunlight, air, & nutrition).

Non-Food (Industrial) Uses: Biotechnology is used in industries worldwide to develop several products, i.e.textile, fermented food products, paper and pulp, detergents as well as chemicals among others. Also, Genetically Modified Organisms (GMOs)

have been developed to enhance the diversity of applications and economic viability of industrial biotechnology.
Nowadays to alleviate the problems of growing plastic waste, Biotechnology is also being leveraged to develop biodegradable plastics. This provides a huge push to the climate change initiative.
Environmental Uses: - With growing concerns regarding the environment nowadays, countries are looking towards biotechnology for new developments and remedies and biotechnology answers! Bioremediation is a fine example of leveraging biological organisms to treat waste and oil spillage in the seas and oceans.
How is the market faring?
The global biotechnology market size is expected to reach USD 727.1 billion by 2025, at a CAGR of 7.4%. This shows the amount of potential this market has in the current time. The key players in the markets are putting pedal to the metal and investing heavily to cater to the growing need of biotechnological demands.
Key players are Johnson & Johnson Services, Inc., F. Hoffmann-La Roche Ltd, Pfizer, Merck & Co., and Sanofi among others. Mergers, collaborations, and manufacturing activities are the key strategies adopted by them to gain shares.
Recent Developments
San Diego's Eurofins Discovery and Shanghai-based PharmaResources are joining forces to combat issues of lack of speed and efficiency in drug development arena.

Sanofi's BTK inhibitor SAR442168 hit the primary endpoint in trial of relapsing multiple sclerosis patients, emboldening the French pharma to plot out a broad phase 3 program.

Roche reported data from the spinal muscular atrophy trial it hopes will establish it as a rival to Biogen and Novartis in the disease.

MaaT Pharma has raised an €18 million ($20 million) series B round. The financing equips MaaT to wrap up a phase 2 trial of its lead microbiome therapy in graft-versus-host disease (GVHD) while expanding into solid tumors.

In-depth report on global biotechnology market by Grand View Research:
https://www.grandviewresearch.com/industry-analysis/biotechnology-market