Industry Insights
The global bioinformatics market size was valued at USD 3.51 billion in 2013. Growing demand in the process of novel drug R&D and private and public funding initiatives to support R&D exercises are expected to be the key factors driving the market during the forecast period. Furthermore, the introduction of user-friendly and readily bioinformatics software such as RasMol, AUTODOCK, BALL, Bioclipse and growing market usage of these tools for accurate and effective analysis of biomarkers discovery programs that assist in toxicity detection during the initial stage of the drug development process are expected to drive the industry growth over the next five years.
European bioinformatics market, by product, 2012 - 2020 (USD Million)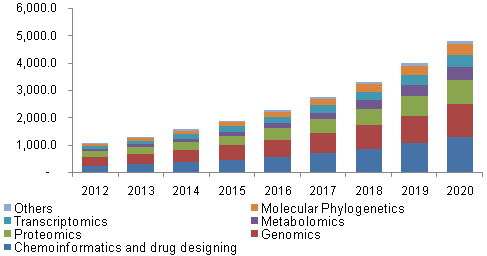 Bioinformatics software and tools are being used as integrated solutions that provide algorithms and statistical methodologies for data analysis and help in integrating data management and analysis for applications, such as next-generation sequencing, genomic and proteomic structuring and modeling, and three-dimensional drug designing. Increasing R&D initiatives in proteomics and genomics market including other related '–omics' fields are further expected to support the market growth to meet the demand for data storage and analysis.
Bioinformatics data storage and analysis applications capable of storing a large amount of genomic and proteomic information to facilitate research activities in the fields ranging from aging and carcinogenesis to preventive therapy for genetic diseases are also expected to significantly contribute towards the growth of this industry over the forecast period.
Product Insights
Bio-content processing and management was the leading product segment accounting for over 47.0% in 2013. High usage rates of bioinformatics tools and software in database management are one of the primary reasons attributing to its large share. Genetic sequence analysis platforms, on the other hand, are expected to witness a gain in revenue share during the forecast period due to rapidly growing demand for whole genome and exome sequencing technologies as a result of exponentially reducing costs of genetic sequencing.
Furthermore, there have been several developments in genomic technology that have given rise to significant improvements in the availability of prediction tools for secondary and tertiary structures of proteins and other biomolecular structures. Expected advancement of visualization software used for high-performance sequence analysis including DNA sequences, protein annotation, and contig formulation 3D model analysis is also a factor expected to significantly enhance the growth of this market over the forecast period.
Application Insights
Genomic was the leading application in 2013 accounting for approximately USD 1.0 billion of the global revenue. Growing demand for pharmacogenomics in drug development and sequence screening and the introduction of technological advancements aimed at managing large sets of genomic data are key factors accounting for this large share.
Chemo-informatics is expected to gain market share and grow at a CAGR of 23.5% during the forecast period wherein increasing demand for biomarker discovery and development is the primary reason accounting for this expected growth over the forecast period.
Proteomics has experienced extensive R&D investment and bioinformatics plays an integral role in analyzing and managing the resultant data. Also, this makes it simpler to handle heterogeneous and large data sets, introduce new algorithms, and improve the knowledge discovery procedure.
Regional Insights
North America was observed to account for the largest share of the revenue for 2013, wherein over 40% of the global revenue was estimated to have been generated from the U.S. and Canada combined. Europe bioinformatics market was valued at over USD 1.3 billion in 2013 and is expected to grow at a CAGR of 20.3% from 2014 to 2020.
Asia Pacific accounted for over 15% share in 2013. The presence of skilled and trained bioinformaticians and expected development of the region's IT sector are expected to enhance the capability of providing outsourcing services to developed economies. Supportive government policies are also expected to drive the growth of this region over the forecast period.
Competitive Insights
BIOVIA, IBM Life Sciences, Life Technologies Corporation, Illumina Inc., 3rd Millennium Inc., Agilent Technologies, Affymetrix, Celera Corporation, Rosetta Biosoftware, and BioWisdom Ltd dominate global bioinformatics market share.
Industry participants are involved in R&D of genetic and proteomic sequencing to enhance DNA, RNA sequencing capabilities to further reduce costs of genome sequencing. The development of next-generation sequencing technologies is expected to drive the bioinformatics industry over the forecast period.